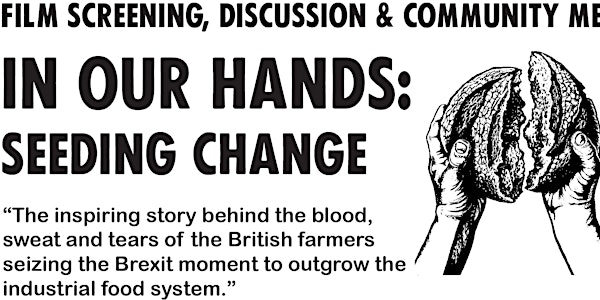 Film Screening, Discussion & Community Meal -'In Our Hands: Seeding Change'
Location
St Mary's Welcome Centre
8 Church Lane
London
E17 9RJ
United Kingdom
Refund policy
Contact the organiser to request a refund.
Eventbrite's fee is nonrefundable.
Join us at a film screening to get thinking more deeply about how our food systems are tied to our efforts to strive for climate justice.
About this event
Join us for a community meal, film screening and a chance to discuss a vision for the future. Organised in partnership with XR Waltham Forest, the Welcome Garden, Organic Lea and St Mary's Church, we will be showing the Landworkers Alliance and Black Bark films 'In Our Hands: Seeding Change', a film that came out in 2017 to address some of the issues of intensive agriculture.
Through this film screening and the discussion afterwards, we invite you to think more deeply about the ways in which access to good, nutritious food intersects with wider issues of privilege, race, class, and climate instability and breakdown.
You can view the trailer for the film here: https://vimeo.com/237904334.
Tickets are offered on a pay as you can basis. This means that if you can afford to pay to see the film, this will help cover costs and any surplus will be donated to a relevant organisation (tbc) doing work to realise food sovereignty. If you cannot pay, please come anyway. Payments are anonymous and all are welcome to come and join the meal, film and discussion.
Whatever you can afford, please do sign up as the venue has a limited capacity. On this note, if you become unable to make the event any longer, please do cancel your ticket to free it up for others.
Please do not attend this event if you have tested positive for COVID or if you feel like you might have COVID.
"In Our Hands has been made throughout the tumultuous year of the Brexit referendum as a collaboration between the small scale farmers' union the Landworkers' Alliance, and Black Bark films. It has been made to bring people together to think about their food and to bust the myth of the industrial farming system.
Our current industrial food system is like a vast wheezing giant, it's propped up by an outdated subsidy system that pays out to landowners, rather than land workers, and leaves many farmers adrift in its wake.
But ... from the hedgerows and by-roads, in the fields and in the furrows can be heard the stirring of change. Stories of struggle from the global South have spread like pollen on the wind and inspired farmers around us. They have learned of the idea of Food Sovereignty and have heard of a global movement to take back control of the food system.
A new agricultural landscape is emerging, one that will bring back life to the soil, a fair wage to the farmer and a flavour to the tomato.
The Landworkers' Alliance and Black Bark Films decided to unearth the farms and farmers that are making this change happen every day. In Our Hands is the inspiring story of real life farmers taking on the might of the industrial food system and taking back control of their lives.
We stand on the brink, the future is uncertain, but the seeds of a better food system are quite simply … In Our Hands!"