Our Halloween day of film starts with a Pixar classic. Bring the little ones for a monstrous start to the day, dressing up encouraged!
About this Event
Bring the little ones down to our monster-ific Halloween Screening of Disney Pixar's Monsters, Inc! Join Sully and Mike on the scare floor and settle in for one of our favourite adventures on the big screen.
🎃 Halloween fancy dress absolutely encouraged!
Dir: Pete Docter, David Silverman | Year: 2001 | Cert: U | Duration: 92 mins
£10 - Seats for up to two people
£20 - Seats for up to four people
£30 - seats for up to six people
Pre Order Your Cinema snacks and Pre-pay for your post-screening Halloween Lunch!
Choose your tickets and then pre-order your drinks and snacks to have while you watch the film in the check out (you select these just below where you choose your tickets) and we'll have them ready for you when you get here.
We are also running a post screening Halloween menu. Book your table and order your food in the check out.
Payment for the Cinema snacks and drinks will be taken on the day when you arrive. Lunch orders are paid for with your tickets
Lunch will be served between 11.45pm and 12.45pm.
Accessibility
Seating is split between floor seating and our seating rake, please tell us about any access requirements you may have when you're prompted in the checkout.
Doors 9.30am, films starts at 10am and finishes at 11.45am. Lunch service between 11.45am and 12.45pm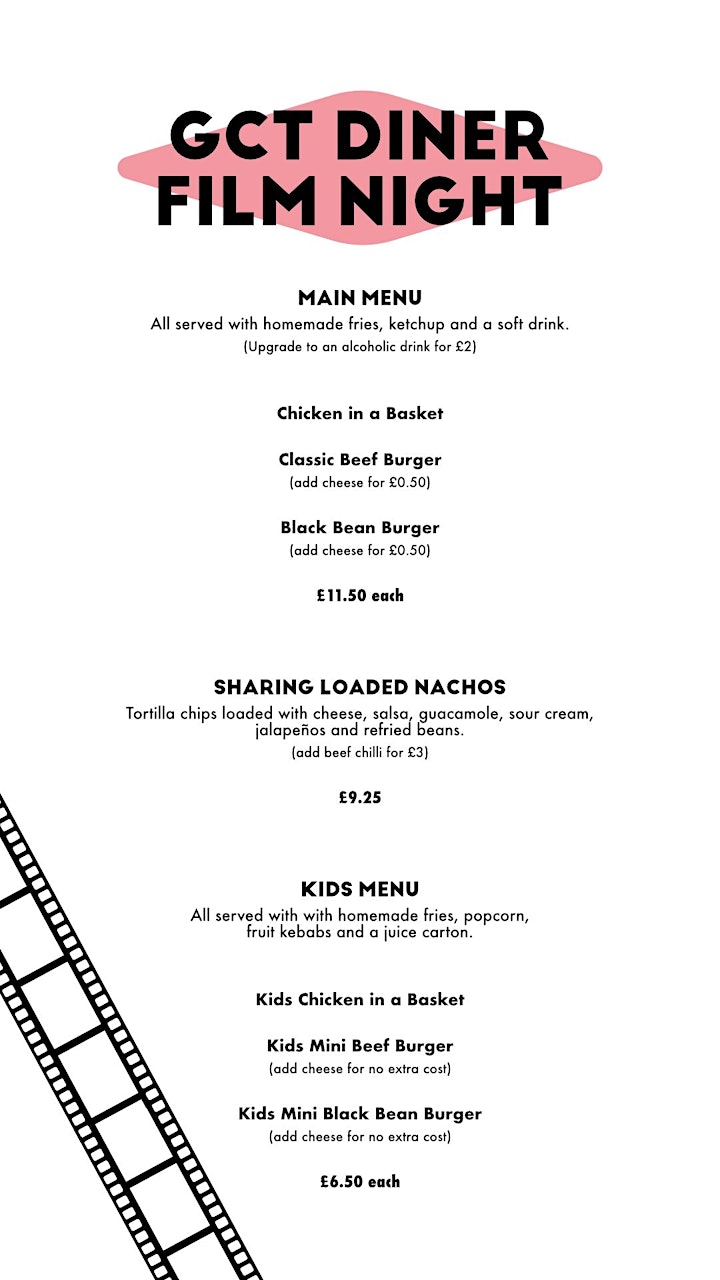 What to Expect from Your Visit
Entering and exiting the building
We will be operating a one way system on the evening. Whether you drive, walk or get public transport to GCT, please enter the building via our main entrance on the side of the building. A member of staff will greet you and show you how to pick up your pre-orders and find your seats. There is one door in to the Auditorium and one door to exit, these will be clearly marked.
Bar
Please pre-order your drinks and snacks in the check out and we'll have them waiting for you, this is so we can manage to serve you effectively and efficiently within current government restrictions.
Hygiene and Safety
Safety and confidence of you and our staff is the most important to us so we have put in the following procedures in place to assure you we are making GCT the safest it can be:
There are hand sanitising stations throughout the building and our staff will be undertaking regular cleaning of public areas.
On top of the aforementioned one-way system, we will be maintaining social distancing of at least 1m+ at all times.
We have left rows and closed off seating between groups of bookable seats on the Theatre seating and plenty of space between the free standing seating on the floor to allow for good social distancing.
We encourage contactless card payments where possible to limit the exchange of cash.
Please wear a face covering when moving through the venue.
Please stay in your seats after the screening to be ushered out.