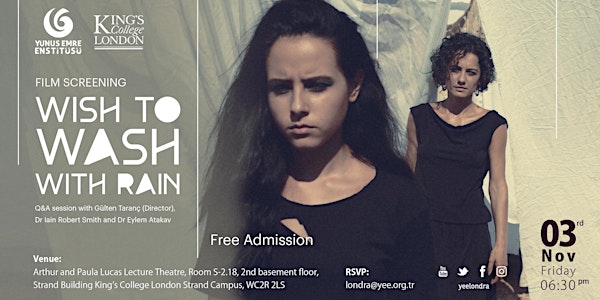 Film Screening of Wish To Wash With Rain with a Q&A session
Event Information
Location
King's College London
Strand
Arthur and Paula Lucas Lecture Theatre
London
WC2R 2LS
United Kingdom
Description
Yunus Emre Enstitüsü London and King's College London are delighted to present a free screening of the award-winning Turkish drama Wish to Wash with Rain (2016) along with a Q&A with director Gülten Taranç.
We are bringing Gülten over especially for this one-off event so she will be there on the night to introduce the film and then discuss it with Dr Eylem Atakav, author of the book Women and Turkish Cinema.
The movie looks at life through the eyes of those left behind when women are murdered. The story of Gamze illustrates that the victims are not only those that are murdered. In the story, the anger, loneliness, despair and longings of 15-year-old Gamze are presented from a fresh perspective. Now in her mid-30s, Hale (named Gamze when she was a child) begins to open the doors of her past which, until now, she has kept firmly closed. The change comes following the surprise proposal of her boyfriend Engin. It is hard for Hale to be human, to love other people and truly be herself. As Hale slowly begins to confront her past, so she becomes a warmer person. Neither the rain, nor Engin can erase the past; but Hale can overcome her past by facing up to her childhood as Gamze.
Date: 3th November 2017
Time: Doors open at 6pm for a 6.30 start.
Venue: Arthur and Paula Lucas Lecture Theatre,
Room S-2.18, 2nd basement floor, Strand Building
King's College London
Strand Campus,
WC2R 2LS
Tickets are FREE but please RSVP in advance!
RSVP via eventbrite or email (londra@yee.org.tr)
Gülten Taranç (Director) was born in Izmir in 1990. She went to Mexico as an exchange student with the Rotary Exchange Program in 2008. She took Spanish and Latin Dance classes at Universidad de Quintana Roo. She served as a jury member for the 18th MED Film Festival, Methexis Project organized in Italy in 2012. She competed in many domestic and international film festivals. In addition to her domestic and international exhibition which consisted of documentary photography, she is a documentary and short film director. She has been concerned with women's issues since 2010 up and produced films about the problems women experience in Turkey. She graduated from Dokuz Eylul University Faculty of Fine Arts, Department of Film Design and Directing in 2013. She got master degree from Marmara University Enstitute of Fine Arts, Department of Cinema and Television in 2017. She does freelance work in the film and advertising industries. In 2015 she founded Taranç &Taranç Film production company.
Dr Eylem Atakav is Senior Lecturer in Film and Television Studies at the University of East Anglia where she teaches courses on women and film; Islam and media; and Middle Eastern media. She is the author of Women and Turkish Cinema: Gender Politics, Cultural Identity and Representation (2012) and editor of Directory of World Cinema: Turkey (Intellect, 2013).
Dr Iain Robert Smith is Lecturer in Film Studies at King's College London. He is author of The Hollywood Meme: Transnational Adaptations in World Cinema (2016) and co-editor of the collections Transnational Film Remakes (2017) and Media Across Borders (2016). He has published widely on Turkish popular cinema, with a particular emphasis on 1970s Yeşilçam and its relationship with Hollywood.
Date and time
Location
King's College London
Strand
Arthur and Paula Lucas Lecture Theatre
London
WC2R 2LS
United Kingdom