Film Screening - The Ants And The Grasshopper - In Person
How do you change someones mind about the most important thing in the world? The film launches the Sheffield Global Climate Justice Summit
About this event
Anita Chitaya has a gift; she can help bring abundant food from dead soil, she can make men fight for gender equality, and she can end child hunger in her village. Now, to save her home from extreme weather, she faces her greatest challenge: persuading Americans that climate change is real. Traveling from Malawi to California to the White House, she meets climate sceptics and despairing farmers. Her journey takes her across all the divisions shaping the US, from the rural-urban divide, to schisms of race, class and gender, to the thinking that allows Americans to believe we live on a different planet from everyone else. It will take all her skill and experience to persuade us that we're all in this together.
This documentary, ten years in the making, weaves together the most urgent themes of our times: climate change, gender and racial inequality, the gaps between the rich and the poor, and the ideas that groups around the world have generated in order to save the planet.
YEAR 2021
RUNTIME 74 minutes
LANGUAGE English
DIRECTOR Raj Patel & Zak Piper
PRODUCER Rachel Wexler, Peter Mazunda
EXECUTIVE PRODUCER Julie Goldman, Gordon Quinn, Cynthia Kane, Steve James
CAST Anita Chitaya, Esther Lupafya
CINEMATOGRAPHER Clare Major, Peter Mazunda
EDITOR Katarina Simic, John Farbrother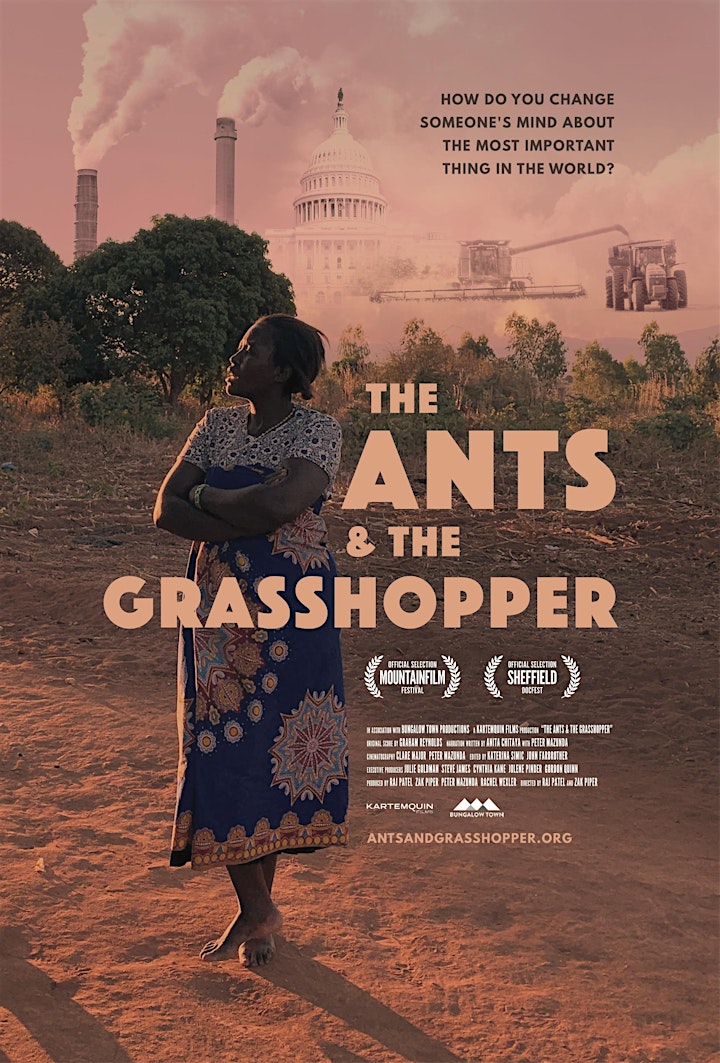 This Film is available to watch online from 6pm (GMT+1)22/10/2021 until 23:59pm 24/10/2021. A separate Eventbrite Event has been created for this online screening https://www.eventbrite.co.uk/e/film-screening-the-ants-and-the-grasshopper-online-screening-tickets-180010776077
This is the first event of the Sheffield Global Climate Justice Summit 22nd & 23rd October 2021 being held online and at The Sheffield Quakers Meeting House. The main event will consist of discussions and workshops highlighting the importance of 'centering justice' in the COP26 negotiations. At this very late stage we need to understand what COP26 could achieve, and for that understanding to be meaningful the voice of the Most Affected People and Areas needs to be heard, and COP has failed them throughout.
This is a safe space for all to come to the table, to leave behind preconceived ideas and to hear one another and be prepared to be challenged. A list of speakers will be published as they confirm – but we are hopeful of gaining some important voices with a lot of experience.
A separate Eventbrite Event has been created for this summit https://www.eventbrite.co.uk/e/sheffield-global-climate-justice-summit-talks-workshops-discussions-tickets-180146682577
A separate Eventbrite Event has been created for this online summit. This is only recommended if not local or shielding https://www.eventbrite.co.uk/e/sheffield-global-justice-summit-talks-workshops-and-discussions-tickets-181111468277
Organizer of Film Screening - The Ants And The Grasshopper - In Person