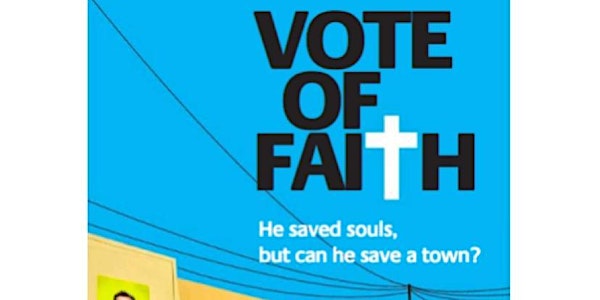 Film Screening: Vote of Faith - screening & talk with director Maya Mayblin
Event Information
Location
Teviot Row House Student Union
13 Bristo Place
Edinburgh
EH8 9AJ
United Kingdom
Join us and Maya Mayblin for a screening of her ethnographic film Vote of Faith including a post-screening Q&A.
About this event
STUDY ROOM, TEVIOT ROW HOUSE
Maya Mayblin is a lecture in Anthropology at UOE, with academic interests in Brazil and the anthropology of Latin America; ritual and religion; and the complex intersection of politics, gender, secularism and Christianity.
The film follows an election campaign in the town of Iati in the dusty interior of Pernambuco, Northeast Brazil. But this is no ordinary election. Padre Jorge, a Catholic priest and ex-professional footballer, is running for mayor. As a 'man of God,' he believes he has what it takes to rescue the town that has been stagnating under the rule of the same wealthy family for decades. But his opponents will stop at nothing to expose this priest's moral failings. As Padre Jorge works hard to win the trust of the people, he struggles with the loss of the religious life he has had to leave behind, being suspended from active service in the Church. As a goalkeeper he saved goals, as a priest he saved souls, but can he save a whole town?
Maya made and co-edited this film with colleague and friend Katherine Clough.
The film is in Portuguese with English subtitles.
Feel free to ask questions after the film!
As usual, we will provide teas, coffees, and biscuits and will have chats in the room before the screening begins so please come along and chat with Maya and members of the society!
We ask that you please adhere to university guidelines on COVID-19 measures and respect each other.
Can't wait for the film screening? Check out some of these resources about Vote of Faith such as Maya's paper on creating an ethnographic film here and find out more about Maya Mayblin's work here.
Date and time
Location
Teviot Row House Student Union
13 Bristo Place
Edinburgh
EH8 9AJ
United Kingdom