FILM: The Internet's Own Boy (6.30-9pm)
Sales Have Ended
Registrations are closed
Due to the nature of digifest - venues may change - we would like to give anyone the opportunity to participate and may try and change venues to accommodate levels of interest. Therefore please be responsible about making unused tickets available. It is easy to manage your bookings - just log into Eventbrite - go to the My Tickets tab for your account and cancel, book or join a wait list for sessions. If we are not able to accommodate levels of interest we want to live web stream sessions - of you can not get tickets why not volunteer then you will get to see the session and help make it happen - help others watch on the share live web streaming sites we want to be running throughout the festival. Many thanks The digifest team
Sales Have Ended
Registrations are closed
Due to the nature of digifest - venues may change - we would like to give anyone the opportunity to participate and may try and change venues to accommodate levels of interest. Therefore please be responsible about making unused tickets available. It is easy to manage your bookings - just log into Eventbrite - go to the My Tickets tab for your account and cancel, book or join a wait list for sessions. If we are not able to accommodate levels of interest we want to live web stream sessions - of you can not get tickets why not volunteer then you will get to see the session and help make it happen - help others watch on the share live web streaming sites we want to be running throughout the festival. Many thanks The digifest team
Description
FILM: The Internet's Own Boy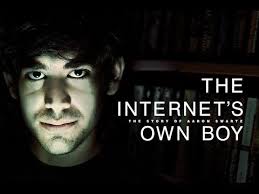 The Internet's Own Boy follows the story of programming prodigy and information activist Aaron Swartz. From Swartz's help in the development of the basic internet protocol RSS to his co-founding of Reddit, his fingerprints are all over the internet. But it was Swartz's groundbreaking work in social justice and political organizing combined with his aggressive approach to information access that ensnared him in a two-year legal nightmare. It was a battle that ended with the taking of his own life at the age of 26. Aaron's story touched a nerve with people far beyond the online communities in which he was a celebrity. This film is a personal story about what we lose when we are tone deaf about technology and its relationship to our civil liberties.
The film will be followed by a panel discussion (8.30-9pm).
---
Above text from: http://www.takepart.com/internets-own-boy
---
Participate on Twitter
Interested but can't make it to the session? Tweet your thoughts and opinions to @ucldigifest with hashtag #dfdownboy and populate the discussion online!
---
Filming, photography and recording
Participants are encouraged to take photographs, film clips and recordings of sessions and distribute these via social media. In addition the event organisers will be capturing the event and distributing photographs and film clips via the event website and other public channels. By attending a digifest event you consent to photographs and film clips being used in this way. Please inform the event organisers at each session if you do not wish to be recorded and we will endeavour to ensure this. For queries, please contact ele@ucl.ac.uk.
Organiser of FILM: The Internet's Own Boy (6.30-9pm)