Description
Relationships & Intimacy Talk Show with Anna & Faisal
Is your relationship nourishing or depleting your energy? Does it start well and then go horribly wrong? Are you attracting the right person for you or are you even visible to the right person?

Maybe you are in a relationship and feel lonely, but don't know how to reconnect? Or maybe you are in a loving relationship and would like to deepen the connection and intimacy.

Maybe you are single and want to find and keep love; but you are fed so much rubbish about the opposite sex, and your own sex that you've become clouded with this negative view of relationships and dating politics.

Join Faisal Khokhar, an international life coach and Anna Garcia, a woman's relationship expert, in an interactive chat style evening seminar on relationships, dating, sex, intimacy, psychology, spirituality, energy and so much more in a fun and open environment.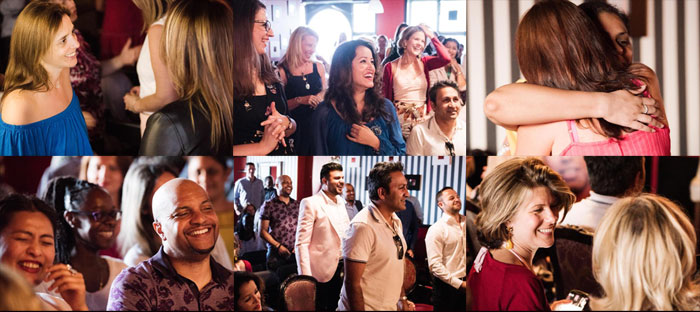 Hear them share their personal experiences and learnings after having spoken to thousands of people on the challenges men and women face when it comes to relationships, self insight, purpose and connection.

Faisal will bring the male perspective while Anna will bring a women's insight to create an evening where the insights and vulnerabilities you find will take you to the next level of discovery so you can build more meaningful and deeper relationships. Already in a relationship? Uncover the patterns you're playing out that are stifling your growth and the tools to overcome them, elevating your relationships to new heights.


Who is this for?
Whether you are married, single, complicated, confused or all the above, this is for you.

Benefits of this talk:
You'll walk away with the tools and insights that will help you get closer to your relationship vision, as well as have the opportunity to immerse and interact with two experienced life coaches. Throughout the evening you will also hear and learn from other members of the audience about the lessons, mistakes, successes and challenges we can all relate to.


Have the chance to ask your burning questions about relationships, dating, sex, intimacy, presence, communications.

Understand the basics of masculine and feminine energies.

Explore unhealthy relationships patterns and behaviours.

Delve into deep rooted triggers and wounds that show up in relationships or dates.

Discover the impact of your unconscious values and beliefs.

Learn how to identify and communicate your needs.

Ignite your relationship after the honeymoon period.

Identify relationship red flags.


Your hosts

ANNA GARCÍA
A playful, vivacious and inspirational facilitator/ relationship specialist committed to guiding individuals through their journey of self-discovery back to love & peace post painful relationships & events.

Anna is the founder of the Relationships Intensive programme. She has dedicated the past 10 years working with women to discover how extraordinary they are, to have them know their power and to understand how to be in their relationships with others and most importantly, with themselves after loss or relationship breakup. She has been showing women how to reconnect with their own journey again, whether they are in a marriage, single or separated, she has been gifting this to women throughout the world.
https://www.relationshipsintensive.com/


FAISAL KHOKHAR
Faisal is on a journey to inspire and passionately create transformation in the world, leading with an open heart and touching souls on the deepest level. He is the father of two young men, international speaker and a qualified life coach. He works with men and women to support them in aligning their life choices with the desires and values that matter most to them. He empowers men to live a truly authentic life from the heart to create a life full of freedom, love and connection.

He is involved in men's workshops and masterminds to help himself and other men understand and integrate healthy masculinity. He also teaches his learnings on Masculine & Feminine principles to help men and women create deeper connections.


Useful Info:

TIMING
6.30pm registration
7:00pm event start
9.30pm finish
9.30pm connecting, drinks

Can I still attend if I finish work late?
Yes provided you have a ticket.

Can I get tickets on the door?
Last event was sold out with a waiting list, if you are really keen to attend, we suggest you secure your space. It is possible that sometimes ticket holders are unable to attend, you can buy tickets on the door subject to availability.

Can I get a refund if I am unable to attend?
We operate a NO refund policy due to the low ticket pricing.

LOCATION
Beach Blanket Babylon Shoreditch
19-23 Bethnal Green Rd
Shoreditch
London E1 6LA
020 7749 3540
NEAREST TUBE/TRAIN:
Shoreditch High Street.
It is a two minute walk from the station.