Description
Finance For Tomorrow Programme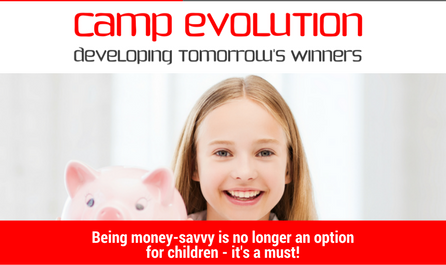 Love it or hate it, money is an essential part of our lives. We can't live without it, but if we are to live well, we do need to understand it. Being money savvy is, without a doubt, one of the most important life skills children can possess as no other set of skills better guarantees personal wellbeing and freedom. Moreover, as today's generation of children face increasingly complex financial futures, where money has already become virtual in so many ways, they need to be well equipped to become financially responsible adults.
Many teens enter their adult lives with little or no basic financial literacy. Many parents assume that children will learn these life skills as they did, by managing weekly pocket money and from there by trial and error. But this means that many children will have to learn about money the hard way.
Children pick up many life skills by observing their parents. Though parents try to set good examples, when it comes to money, learning by parental example is not always the best way. Now, that may sound harsh but no matter what a parent's financial status it's their relationship with money that they ultimately transmit to their children. A wealthy self-made man, for example, may fear to lose his money (perhaps stemming back to a poorer childhood). He may use money to placate his children, to try to impress his peer group and so on and so forth. Parents with more modest means may also fear not having enough money to pay the bills. Their children may grow to resent their parent's lack of money and find themselves drawn to highly questionable ways of earning fast money or quite simply become misers.

Relationships with money are not just good or bad; they fall somewhere along a spectrum. Children who gain objective and constructive financial awareness have a much higher probability of adopting a healthy relationship with money. These healthy money habits will accompany them throughout their lives and will contribute to their overall wellbeing.

We developed our financial awareness full-day workshop specifically for pre and early teens. During our full-day workshop, we explore and discuss multiple facets of money including understanding the role it plays in people's lives, ways to earn money, teen entrepreneur success stories and managing money wisely. We also focus on peoples' relationships with money and how the money habits we form inevitably impact on our physical, emotional and financial wellbeing. We also look at benefits of giving (to those less fortunate than ourselves but also the positive rewards we can reap from philanthropic actions).
We set a number of 'in the field' team challenges for children and assign them a specific budget to manage. These challenges will call upon our evolutioneers' newly developed leadership, collaboration and negotiation skills. Children attending our full-day workshop are invited (at no extra cost) to stay the night, enabling them to accompany their residential camp teammates in further related activities before some fun down time in the indoor heated swimming pool followed by dinner and games in the evening.
Boys and girls are accommodated on separate floors with communal relaxation areas. Bedrooms are shared with between two and six children and are equipped with washbasins. Toilets and showers are located on each floor. All bedding is provided.
We look forward to welcoming you!
Ezi, Shola & Rebecca


About The team
Shola holds a degree in Engineering and is a teacher of mathematics. She spent a number of years in the US working with children. Ezi holds a degree in Pharmacology and built a successful career in clinical research before branching out and founding a successful training, coaching and consulting firm. For many years Ezi has volunteered with youth groups. Rebecca holds a degree in Human Resource Management and worked almost two decades for two prestigious global investment banking houses in Paris. She is a member of the CIPD (Chartered Institute of Personnel and Development) and organises as part of her Manchester Branch elected Committee member role, learning events for business and HR professionals.
Further information
For further details about our workshop, to enquire about group bookings, private sessions (minimum six attendees) or our residential camps, please do not hesitate to contact us by email talktous@campevolution.co.uk or call our offices on 0161 706 0144. We will be more than happy answer all your questions either in person or via phone or email.
Refunds
if you can no longer attend an event or you've simply changed your mind about going please give us at least 7 working day's notice via email to talktous@campevolution.co.uk and we will be happy to refund 100% of your booking fee or book you on to a subsequent event to the same value. Cancellations after this time will be non-refundable and non transferable. If the event you have booked is cancelled, rescheduled or has changed location, you are entitled to a refund of at least the face value of the ticket.
Date and Time
Location
Camp Evolution UK
Terra Nova School
Chelford Road
Holmes Chapel
CW4
United Kingdom