Event Information
Refund Policy
Contact the organiser to request a refund.
Eventbrite's fee is nonrefundable.
About this Event
Who needs this workshop?
You are in a relationship
You want direction in understanding what are the values and guidelines that govern your decision making
You want to define what financial success looks like for both of you
You want a strategy to pay down your debts, pay off your mortgage, retire early or even become debt free
You want less financial disagreements
You want to create a financial plan to get the best of your combined incomes
You want to create a realistic and achievable ONE year, FIVE or even TEN year financial gameplan
Activities include:
1-Interactive presentation
2-Video Clips
3-Case studies
4-Q & A (There will be time for Q&A towards the end of the seminar where couples can ask THEIR questions!)
Come with your tea, coffee or wine and nibbles.
Important info!
This event will be done via Zoom and the Zoom code will be emailed to participants the week of the event. In addition a FREE copy of the 'Whats Your Financial Gameplan' WORKBOOK will be sent to you in the post.
If you want a copy of the workbook please send your mailing address to michael@whatsyourfinancialgameplan.com
The Workbook has 30 five star reviews on Amazon.co.uk, and was featured in the UK's top personal finance magazine, Moneywise.
Earlybird Discount applies; purchase tickets before the 18th Sept 2020 at £20. From the 19th Sept 2020 tickets go up to £25.
Why we are doing this workshop?
'Money worries top the list of reasons why married couples split up, with one in five saying it was the biggest cause of marital strife.' - A poll of over 2,000 British adults surveyed by legal firm Slater and Gordon
WYFGP develop and deliver finance products and seminars for individuals both young and adults. We have impacted hundreds of people in this way. Our belief is that it is essential for people to have the right skills, knowledge and attitudes to get the best out of their money. We also make learning about finances fun, engaging and simple.
Who we are:
Michael and Neala Okuromade have been married for over 15 years. From the very onset of their marriage they mapped out a clear strategy for their finances. This enabled Neala to transition from her career in the corporate world to being able to start a business and work from home.
Neala Okuromade is a Personal Finance Author of the book series 'What's Your Financial Gameplan?'. She is also a qualified Accountant with over 21 years experience in Business and Finance and a qualified Financial Advisor ( (MLIBF)
Neala has been featured in/on Moneywise magazine, Informed Choice Radio, Women In Finance Blog, Mumpress and UK Premier Radio. Alongside this Neala has also been featured on television/radio internationally.
Michael Okuromade is a qualified Business and ICT teacher (QTS/NQT) with over 16 years experience. He has taught in mainstream schools/colleges and 6th Form for over 10 years and has spent the last 6 years teaching in the SEN environment. In addition, Michael has delivered various life skills and leadership workshops in different parts of England & Wales.
Michael is also a Christian Rapper who goes by the name Hiddenman and released the Hiddenman album in 2010.
Visit whatsyourfinancialgameplan.com to read the latest blogposts from us.
What individuals have to say about our workshops and resources
"I have never really thought about my finances and its importance until I got married. We wanted to find suitable way of sharing our income between us and somehow save some of our earnings. We can now see how much money we will have saved in a years' time if we stick to our gameplan from now! Highly recommend it!" Mrs. Natalia G
"This has taught me that money is a tool, and it is important to tell your money where to go by means of a budget. It is also important to establishing long term goals for your money and work towards them daily. Good financial management does not happen by accident, it has to be taught." Ms Genevieve O
Outcomes of the event
Couples will hopefully leave the venue feeling confident you've been empowered to take charge of your finances and the finances of your family members.
• Able to identify your VALUES and GOALS about money
• To go over the components of putting together a sound financial plan and consider some of the challenges
• To have a better understanding of your current financial situation and future needs
• What has the biggest influence on your credit score
• You will be equipped with the tools to write SMART goals (e.g. wealth creation, create a monthly savings strategy, and finally pay off your debts and mortgage early)
• You'll discover how to FOOLPROOF your situation (no leaky finances)
• You will have the information to help you created a ONE-YEAR or More financial gameplan
There will be time for Q&A towards the end of the seminar where couples can ask THEIR questions!
The information provided in this workshop is not intended as financial,legal or tax advice. Please contact an Authorised Financial, Legal or Tax Advisor for specific advice regarding your situation.
Testimonials as seen on www.whatsyourfinancialgameplan.com
What do I need for the event? -
You will need the Workbook, pen/pencil, paper and a calculator and you can come with your partner if you can or feedback to them after ;)
Registration is 15 minutes before start of event @ 4:15pm
Using Zoom - We ask that video screens not remain blank but we have the ability to see your faces.
Laptops are preferable, it gives easy access to downloadable resources even though phones can be used. Downloadable resources will be sent to you at the end of the workshop if you use a phone. This will not affect your ability to take part in the workshop.
Don't miss a thing! Follow us on social media for regular updates:
Instagram: @whatsyourfinancialgameplan
Twitter: @nealaokuromade
Facebook: /whatsyourfinancialgameplan
LinkedIn: Neala Okuromade or Michael Okuromade
If you are not sure what to do next and want to learn how to avoid financial mistakes that can last a lifetime, then this workshop is for you!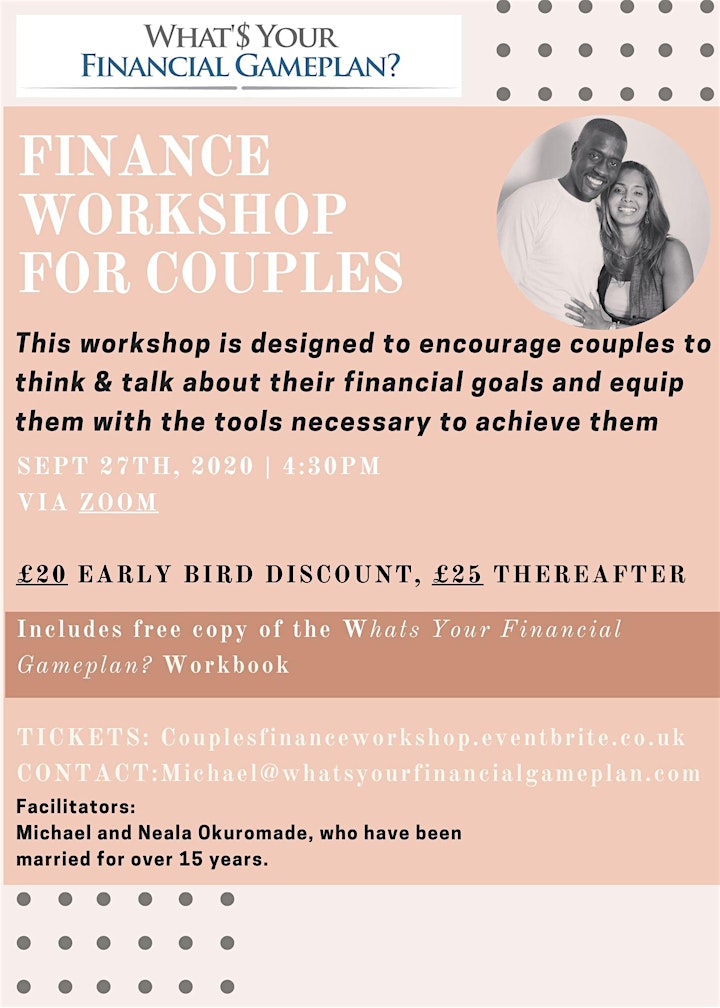 Date and Time
Location
Refund Policy
Contact the organiser to request a refund.
Eventbrite's fee is nonrefundable.