An introduction to the basics of financial literacy for freelancers and how to ensure you understand how to handle your money.
About this event
An introduction to the basics of handling your finances as a new or existing freelancer/small business or solo trader.
In the session, you will:
Join Bola Sol as she takes you through a a 90 minute Financial Wellness Workshop on the ins and out on how to handle your finances as a freelancer.
During this interactive session Bola will be discussing the main tools she's used to ensure she organises her day to day income and how she has understood how she has developed a streamlined way to dealing with her taxes, HMRC and budgeting. Of course, not forgetting her wins and lessons along the journey on learning about finances.
ABOUT BOLA SOL
Bola Sol is a Mathematics and Finance graduate who found passion in women coming together to discuss money matters.
She has weekly chats on social media about money, has worked with media companies such as the Financial Times + The Guardian on personal finance masterclasses, hosts 'The Last Three Digits' podcast and she has been featured for her work on the BBC, Forbes, Glamour, Gal-Dem, Huffington Post, Stylist Magazine and Refinery 29.
She is the author of 'How to Save It' published January 2021 with #Merky Books and the host of 'Secure The Bag' an educational series for young people about money with E4.
Through one conversation at a time, she wants to empower people to take the fear out of finance and harness a healthy money mindset.
Social handles: @bola_sol on Instagram and Twitter.
This event is part of Creativity Works, a Mayor's Fund for London programme supported by Citi Foundation and delivered by Create Jobs at A New Direction.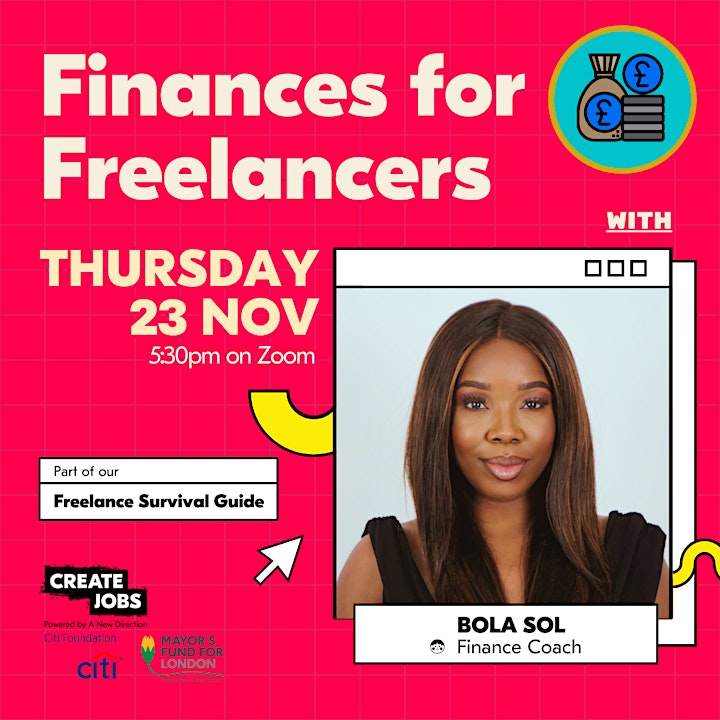 Organiser of Finances for Freelancers with Bola Sol