Discover Why Financial Advisory is right for your practice.
About this event
Increase fee income, profitability by building on the 'compliance' foundations you have already built. This interactive 2-day workshop will help you clarify exactly why Financial Advisory is the right 'Advisory' for accountants and discover how to implement it in your practice. The two days have been designed by accountants already doing it, to help you attract more 'ideal A clients'.
Typical Recurring Fee Income: £10,000.00 to £36,000.00 per annum, per client
Prices from just £ 348.50 +VAT all inclusive.
Discounts for multiple attendees from one practice: 1st person = £697.00, 2nd person = £522.75 (25% discount), 3rd, 4th… = £348.50 (50% discount).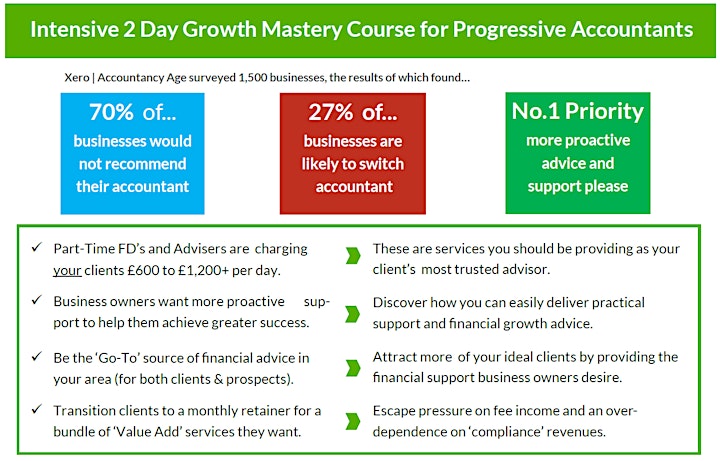 This highly focused 2-day workshop will help you understand:
Why you are critical to your clients long term success (the reasons may surprise you!).
Why advisory matters (and it's not because of the predicted death of compliance!).
What are the 9 key areas to focus on to achieve excellence.
The ideal structure your firm needs to deliver an exceptional client experience.
How to use your Financial Advisory thinking for team and client engagement.
How to target your client base for an effective and sustainable rollout of value added and advisory services.
What success looks like and the client journey – how to get help as you navigate the change process.
Why Financial Advisory services are key to becoming truly proactive in your client's eyes.
Extra Bonus For All Attendees
All attendee firms will also receive a 1 hour, online practice review with Richard Brewin to discuss the top 3 challenges they consider their firm faces and look at strategies for addressing them. Usually priced £250.
Plus… An online Practice Growth Potential workshop with Mark Walker to quantify the Advisory Growth Potential in your practice worth £500.
And… all attendee firms will also benefit from a 90 day extended free trial of VFD Pro, potential value = £ thousands…
Hear how Hugh Stedman picked up £35,000.00 of recurring fee income within 5 weeks.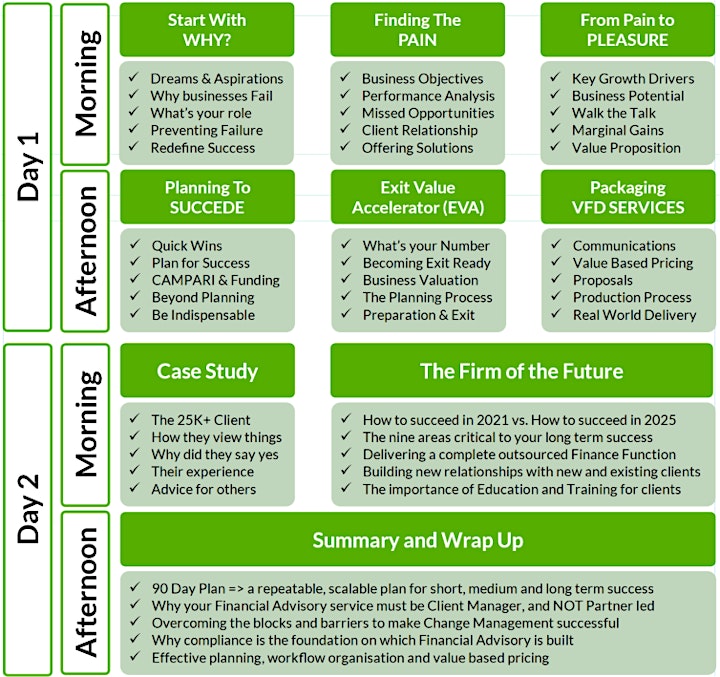 How would you feel if your client's are this excited about working with you?
Places are limited so please reserve your place now. With an unconditional 100% money back guarantee, you have nothing to lose and everything to gain.