Financial HUG - Personal Money Mentor

Weekly Event - Every Tuesday
Event Details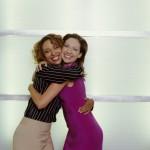 Financial HUG = Honest Unique Genuine Financial Advice 
What will you receive?
90 Minutes - Face to Face appointment.  We will have an open discussion and complete a full fact find. After your session you will receive an action based report creating practical activities to get you moving in the right direction.  With follow up emails for continous support and inspiration.  
What is a  Financial HUG?  The signature of Aleka Gutzmore
Financial Capability at it's best.  A chance to talk, ask questions and gain real practical advice and tips.  You may discover that this session is the start of a long relationship in your financial fit journey.
How do you feel after a HUG?
A financially fit One to One sessions, can feel like a Hug for many individuals. Generally you leave the sessions feeling more confident and equipped to tackle the most challenging financial elements of their lives.
Aleka's Summary!
There are so many elements to any one person's financial life that it is impossible to give a comprehensive account of the session. Generally we start in the same place...name, address and date of birth but where the conversation will go depends on the individual. 
Their needs, wants and aspirations are the most important and fundamental foundations of getting financially fit.  As my client base increased I realised that this was my passion and now focus.
I had an interest; I was a business owner and understood the sometimes stressful and essential components of our lives. I understand from firsthand experience the trials and tribulations of life as a self employed worker in tough economic times.  I understand the importance of protecting a family and raising well nurtured, educated children.
I also understand that we need time, patience and straight facts, not sales.
I was inspired to create the Financial HUG.....
My advice is independent and professional, I work within ethical boundaries which mean the advice and training is clear, factual and honest always taking into account your personal circumstances. The best bit is I get to be myself.  I'm always smiling and I believe there is gold at the end of the rainbow. My ultimate aim is to work with you to improve your cash flow, make savings and increase the quality of your life, making decisions that will improve your financial pathway.
Where

Head Office
8 Marlborough Business Centre
96 George Lane
E18 1AD London
United Kingdom


Weekly Event - Every Tuesday
Add to my calendar
Organiser
Aleka Gutzmore works with families and business owners to raise their personal financial awareness to plan for a secure financial future.
Her services includes money management master classes, Mortgage and Protection advice and Business Financial advice and seeks to help individuals adopt an early assessment and financial checks.