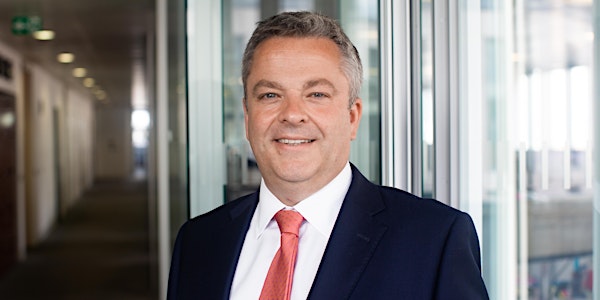 Financial Liverpool 02/20 - Infrastructure investing for inflation linked i...
Description
Financial Liverpool CPD Event - Thursday 6th February 2020

Title: Infrastructure investing for inflation linked income

Speaker: Jim Wright
Fund Manager of the LF Miton Global Infrastructure Income fund

Timing
Coffee and networking 12:00 - 12:30

CPD talk 12:30 – 13:30
Buffet Lunch and networking: 13:30 – 14:30
Venue
Tilney offices, Liver Building, Pier Head, Liverpool L3 1NY
PLEASE USE THE RIVERSIDE ENTRANCE
Details
In his presentation Premier Miton infrastructure fund manager Jim Wright, will discuss investing in infrastructure, and in particular, listed infrastructure as an emerging asset class. He will focus on the sector's unique characteristics that make it particularly relevant for retirees looking for a stable, inflation-linked income. With increased spend on infrastructure essential for global growth, Jim will highlight both the sustainable, long-duration nature of the sector's returns and also the growth drivers which can benefit investors. These include exposure to GDP-based spend, inflation-linkage and his perspective on long-term investment themes which will drive returns over the next years and decades.
To meet current global growth forecasts, economists estimate that US$ 3 trillion of annual investment in global infrastructure is currently required, with this figure set to rise to approaching US$ 4.5 trillion by 2030. Historically, infrastructure investment has been focused on institutions, investing either directly in assets or through large "limited partner" funds. Therefore, the opportunities for individual investors to become involved in this growing asset class have often been underestimated or ignored. However, with an ever-growing number of people investing for their retirement and looking for secure, inflation-linked income, Premier Miton Investors believe that investing in listed infrastructure provides an easily accessible route into the asset class. Individual investors can gain the diversification of capital and income growth which has been so attractive to institutional investors, and benefit from a retirement income stream offering direct exposure to regulated and contracted sources of inflation-linked dividends.
The target audience will be financial planners, paraplanners, legal professionals, accountants and investment professionals.
Learning objectives:
By the end of the event delegates will be able to understand the characteristics of listed infrastructure as an emerging asset class and it's ability to provide income.

About the speaker:
Jim joined Miton Group plc in January 2017. Miton Group plc & Premier Asset Management merged companies in November 2019 to form Premier Miton Investors. He was most recently at the British Steel Pension Fund. There he was the sole manager of its global listed infrastructure portfolio - the Global Duration Equity Portfolio - from its inception in October 2006 to the time of his announced resignation in October 2016. This portfolio represented over 95% of the Fund's allocation to infrastructure and its success was recognised with a nomination for "Best Use of Infrastructure" at the 2016 Institutional Investor UK & Ireland Awards. He is also a qualified chartered accountant.
Organiser of Financial Liverpool 02/20 - Infrastructure investing for inflation linked income
Financial Liverpool is a society for professionals working in the financial services sector in Merseyside, including financial advisers, discretionary fund managers, pension providers, private client lawyers etc.
We host ten meetings per year, usually the first Thursday of the month (from 2018 onwards).
The current format is a talk for about an hour followed by a lunch where you can network with fellow members.   The events start at noon and are hosted by Tilney in the Royal Liver Building.
The events are free for members, and membership is free if you are a member of CII/PFS (otherwise a charge of £60 applies for your firm's annual membership).
Click here for more information on how to join.
Financial Liverpool used to be called Merseyside Life & Pensions.