Part of the UK-Bangladesh Climate Partnership Forum virtual series
About this Event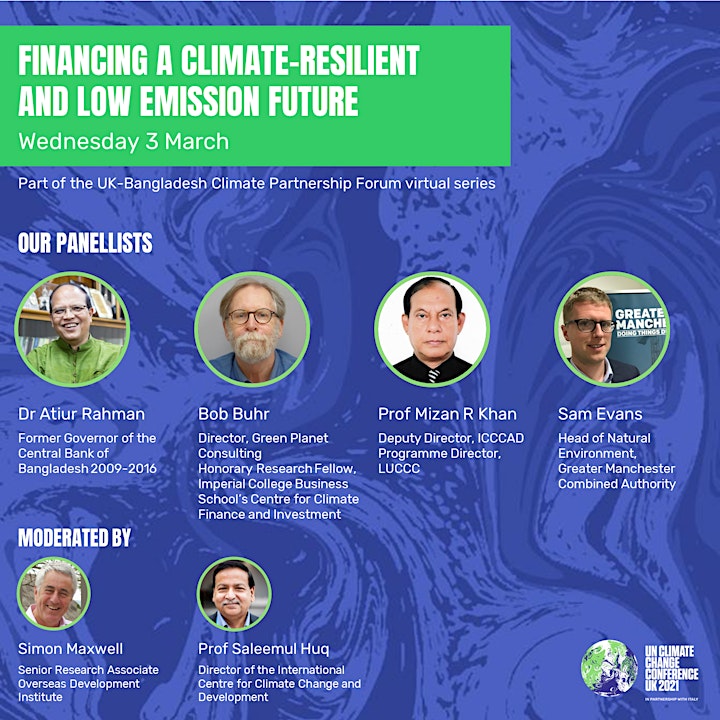 Given Bangladesh's vulnerability to climate change, climate finance is a high priority for the country. The Government has been a leader in efforts to mobilise climate finance, mainstreaming climate finance across a government budgets, and reporting on spending regularly and transparently. It is also pressing the international community to scale-up efforts to address loss and damage associated with climate change impacts including supporting people displaced by climate threats and establishing international responsibility for compensation for displacement.
The UK has committed to double its international climate finance to £11.6bn over 2021-2025 and has set out 11 COP26 priorities for public finance setting a clear benchmark for the international community. It has committed to align its entire ODA portfolio with the Paris Agreement, and will continue to support governments and central banks to fully integrate climate risk into macroeconomic financial stability systems. It will be the first country in the world to make the recommendations of the Taskforce on Climate-related Financial Disclosures mandatory and is channelling the appetite from the financial sector for investments in the low carbon transition by creating new methods for investors and governments to work together.  
A panel of experts from the UK and Bangladesh will give insights from both countries followed by a moderated discussion with questions from the audience.
This event is part of the UK-Bangladesh Climate Partnership Forum virtual series which is building momentum on the journey to COP26. Watch previous sessions and download resources.
If you are unable to attend this event but would like to receive updates about the series, sign up for updates
More details on speakers at the bottom of the page
Programme
Introduced by Judith Herbertson, Development Director, UK Foreign, Commonwealth and Development Office
Moderators
Professor Saleemul Huq and Simon Maxwell
Opening remarks
Hon'ble Deputy Speaker Advocate Md. Fazle Rabbi Miah, MP
Presentations
Leveraging domestic finance for a climate-resilient future - Dr Atiur Rahman, former governor of the central bank of Bangladesh 2009-2016
What capital markets can and can't do - Bob Buhr, Director at Green Planet Consulting Limited and Honorary Research Fellow, Centre for Climate Finance & Investment, Imperial College Business School
Global climate finance, the UK and Bangladesh - Prof. Mizan R. Khan, Deputy Director, ICCCAD and Programme Director, LUCCC
Funding models and finance mechanisms to deliver nature-based solutions in Greater Manchester - Sam Evans, Head of Natural Environment, Greater Manchester Combined Authority
Closing remarks
Robert Chatterton-Dickson, British High Commissioner in Dhaka
The Rt Hon Alok Sharma MP, President of the COP26 Climate Change Conference
About the UK-Bangladesh Climate Partnership Forum virtual series
This virtual series creates an opportunity to advance the climate agenda in the journey towards COP26 and beyond by bringing together experts and leaders from Bangladesh and the UK.
It will help to identify innovative ideas, partnerships and initiatives between Bangladesh and the UK, and further strengthen collaboration between the two countries by catalysing climate action and building a community of practice.
Each event will be structured around one of four key COP26 themes: adaptation and resilience, nature, clean energy and finance, and will feature a select panel of experts from Bangladesh and the UK, providing an opportunity to share knowledge and experience on tackling climate change.
COP26
The UK will host the 26th UN Climate Change Conference of the Parties (COP26) in Glasgow in November 2021. The climate talks will be the biggest international summit the UK has ever hosted; bringing together over 30,000 delegates including heads of state, climate experts and campaigners to agree coordinated action to tackle climate change. In its role as president of the Climate Vulnerable Forum, Bangladesh will be representing more than1.2 billion people living in 48 of the world's most climate vulnerable countries at COP26.
Speaker profiles
Prof. Saleemul Huq is the Director of the International Centre for Climate Change and Development (ICCCAD) at Independent University, Bangladesh (IUB) since 2009 and Senior Fellow at the International Institute for Environment & Development (IIED) in London. He is also Senior Advisor on Locally Led Action, Global Centre on Adaptation (GCA) and Advisor of Climate Change Programme at BRAC. Before that Prof.Huq was the Director of the Climate Change Programme at IIED and founding Executive Director at the Bangladesh Centre for Advanced Studies (BCAS). He has worked extensively in the inter-linkages between climate change (both mitigation as well as adaptation) and sustainable development, from the perspective of the developing countries, with special emphasis on least developed countries (LDCs). He has published numerous articles in scientific and popular journals, was a lead author of the chapter on Adaptation and Sustainable Development in the third assessment report of the Intergovernmental Panel on Climate Change (IPCC), and was one of the coordinating lead authors of 'Inter-relationships between adaptation and mitigation' in the IPCC's Fourth Assessment Report (2007). He has been named among the "World's 100 Most Influential People in Climate Policy for 2019" for making a positive difference by The Apolitical, a London-based public servants' networking group.
Simon Maxwell is an economist who began his career working in Kenya and India for the UN Development Programme, and then in Bolivia for the UK aid programme. He was a Fellow of the Institute of Development Studies in Sussex from 1981-1997, and was Director of the Overseas Development Institute from 1997-2009. Since 2009, he has been Executive Chair of the Climate and Development Knowledge Network (2010-17), and Specialist Adviser to the International Development Select Committee of the UK House of Commons (2010-17). He is currently on the Steering Committee of the annual UN Environment Emissions Gap Report. Simon is a past President of the Development Studies Association of the UK and Ireland. In 2007, he was awarded a CBE for services to international development. He writes extensively on development policy. In January 2016, Simon delivered the Anniversary Lecture of the Centre for Policy Dialogue in Dhaka, on the topic of 'Climate Compatible Development: Pathway or Pipedream'. For further information, see www.simonmaxwell.net.
Prof. Mizan R. Khan has a Ph.D in Environmental Policy and Management from the University of Maryland School of Public Policy, MD, USA. Currently he is Deputy Director, Int'l Centre for Climate Change & Development (ICCCAD), Independent University, Bangladesh (IUB), and Programme Director, LDC Universities' Consortium on Climate Change (LUCCC) at ICCCAD, Dhaka. He served at North South University (NSU), Dhaka as Chair of the Department of Environmental Science & Management (DESM) during 2003-2009 and had been Director of External Affairs at NSU during 2015. He was an Adjunct Professor at the Natural Resources Institute (NRI), University of Manitoba, Canada, during 2009-2013. Dr. Khan had been a Visiting Professor/Fellow at the School of Public Policy, University of Maryland at College Park, MD, USA during Fall 2018; Universite de Poitiers, France in February 2015 & at Brown University, USA during the Spring & Fall of 2012, Spring of 2013 and Fall of 2016. He is a Lead Author of the Intergovernmental Panel on Climate Change (IPCC).  From August 1981 he served at the Bangladesh Institute of International & Strategic Studies (BIISS), Dhaka, where he was a Research Director during May 1998–June 2001.  Before joining NSU, he served for four years (1999-2002) as UNDP Environment Policy Specialist, working with the Govt. of Bangladesh.  In the early 1990s, he worked for 3 years as a Senior Researcher at the Centre for International Development and Conflict Management (CIDCM) of the UMCP, MD. He was Vice Chair of the LDC Expert Group under the UNFCCC during 2002-2004.  He attends climate negotiations as the lead negotiator on climate finance with the Bangladesh delegation since 2001. Dr. Khan is the Focal Point of the Nairobi Work Program of the UNFCCC representing the Academia in Bangladesh.  He is an invited speaker in global expert meetings on climate change.  Dr. Khan is a reviewer of many peer-reviewed journals like Climate and Development, World Development, Climate Policy, Climatic Change, International Environmental Agreements, Ethics, Environment and Policy, etc. 
Dr. Atiur Rahman, Bangabandhu Chair Professor, Dhaka University has recently taken over the charge of chairmanship of the Executive Committee of Center for Advance Research on Arts and Social Sciences of the same University. Popularly known as the 'Poor Peoples' Economist' and a 'Green Governor', Dr. Rahman is a many time awarded central bank governor with a human face.
A life-long campaigner for sustainable development focusing on financial inclusion and green growth Dr. Rahman has demonstrated his commitment for empowering the poor and the disadvantaged both as a researcher, teacher, and a regulator. After a long spell of research tenure at the Bangladesh Institute of Development Studies (BIDS) he joined Dhaka University as a Professor of Development Studies in 2006. He was picked up as the tenth Governor of Bangladesh Bank by the Government in 2009 where he served about seven years. He returned to Dhaka University in March 2016 and continues to serve the University as a honorary Professor at the same Department. In addition, he is currently the chair of the board of directors of the national think tank Unnayan Shamannay and its subsidiary Shamunnay. He is a Fellow of Bangla Academy and Life Member of Asiatic Society, Bangladesh and Bangladesh Economic Association. He is also contributing globally for improving the state of inclusive sustainable development as a Special Adviser to Social Innovation Japan (SIJ), a diverse platform of change-makers led by Professor Emiratus Sei Yonekura of Hitotsubashi University, Tokyo. He has also served as a member of the Advisory Board of UNEP's 'Inquiry on Designing Global Sustainable Finance' and continues to share his green mind with the group. Until recently, he was traveling a lot around the world advocating inclusive sustainable development, green finance movement and promoting peace building through participatory development.
He has published more than 65 books in English and Bengali, besides, numerous papers in national and international journals. His book titled 'Peasants and Classes' which has been published by both Oxford University Press, Delhi and Zed Books, London- is considered a semi-classic and taught all around the world. He has been awarded profusely both at home and abroad for his seminal work and professional performance. His significant achievements include: 'The Best Central Bank Governor Asia and Pacific, 2015', awarded by the Banker (of the Financial Times); 'The Central Bank Governor of the Year for Asia 2015', awarded by the Emerging Markets (of the Euromoney); Winner of the 'GUSI Peace Prize International 2014', awarded by GUSI Foundation Manila; 'Indira Gandhi Gold Plaque 2011' for his outstanding contribution towards human progress, Asiatic Society, Kolkata; 'A Regulator with a human Face', awarded by Dhaka University; 'Sheltech Award 2010' for financial inclusion; and National Literary Award (Bangla Academy Award) for 2015.