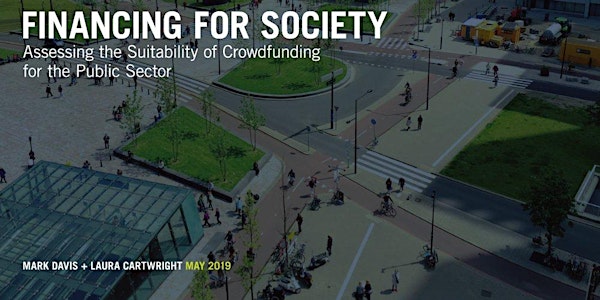 Financing for Society: Local Authority Training Workshop
Description
---
Workshop invitation
"There are some 400 unitary authorities in the country and we don't want each one of them having to go and learn this stuff each time. So, once it's been understood in one area, it can then be shared out." Richard Lowe, Bristol City Council.
On 1st May, the University of Leeds – in collaboration with Local Partnerships and Abundance Investment – launched a landmark report assessing the suitability of investment-based crowdfunding for the public sector.
Working with six public sector case studies, we found that a major barrier to local authorities capitalising upon new models of finance was under-capacity when trying to acquire the necessary knowledge and expertise to do so.
We would therefore like to invite you to participate in an active local authority training workshop, to be held in Leeds on Tuesday 18th June, at which you will:
Hear from the research team and local authority case studies on how investment-based crowdfunding can be used to support public sector project delivery;

Acquire advice on the legal and regulatory framework of local authority crowdfunding;

Be introduced to the concept of Community Municipal Bonds, an innovative approach to local authority borrowing co-created by the research team and public sector partners that aims to raise money from the public at rates cheaper in both capital and administrative costs than the Public Works Loan Board (PWLB);

Acquire also a better understanding of local donation-based crowdfunding, to explore the full range of additional finance options for your local authority; and finally

Learn about future grant opportunities to pilot the use of investment-based crowdfunding in your region.
Please visit our Local Authority Guide to find out more about our research into investment-based crowdfunding for the public sector.
---
There are a limited number of spaces for this workshop due to the focus on training and learning outcomes, so please register your interest early.
Please note that listed timings are provisional and subject to change. This page will be updated, and registered attendees emailed, if any changes are made.
---
Context: research project and case studies
Since the 2008 banking crisis, the UK financial sector has innovated and diversified and now boasts a world leading alternative finance sector which provided more than £3Bn into the real economy in 2017. Regulated investment-based crowdfunding has made a significant contribution to that change delivering longer term patient capital (debt and equity finance) for private businesses.
Crowdfunding has provided efficiencies and much needed competition into the market for private business finance. With this backdrop, the time is ripe for public sector organisations to examine the benefits crowdfunding could bring to their own financing and broader community engagement strategies.
In 2018, the Government's Inclusive Economy Unit (GIEU) within the Department for Digital, Culture, Media and Sport (DCMS) awarded a research grant to establish the Financing for Society project at the University of Leeds. This enabled a cross-sector research team – comprising of the University of Leeds, Abundance Investment and Local Partnerships – to work with six public sector organizations to assess the suitability of crowdfunding for socially and/or environmentally beneficial infrastructure projects.
This work was facilitated by the provision of a 'pilot fund' for the six case studies to work with the research team and to contract with professional services firms to provide technical and independent advice, including Archus Ltd., BDO, KPMG and Walker Morris.
This May, the final report, Financing for Society: Assessing the Suitability of Public Sector Crowdfunding, is published by Dr Mark Davis, who led the research.

One of six recommendations made in the report was to produce and deliver tool kits, guides, professional development training, and knowledge exchange events to ensure expertise is shared across the public sector.

---
"When thinking about finance, knowing the social value of different types of money matters. Assuming the overall cost of capital to be equivalent, if there is a higher social value in one form of capital than another, we would prefer to see this option selected." Financing for Society, University of Leeds, 2019
---
Venue and accessibility
thestudio is a 10 minute walk from Leeds train station. The workshop will take place on the 8th Floor in the "View" room. Coffee, tea and cookies will be available for attendees.
Please visit studiovenues.co.uk/venues/leeds/directions for written and video directions to the venue, including a stair-free route from the station, and directions from the nearest car park. This page also has information about onsite disabled parking and bike storage.
The building is fully accessible to people using wheelchairs.
Staff are happy to provide water bowls for assistance dogs.
Hearing loops are not installed - please contact the event organiser if you require a hearing loop.
Please see the venue's Access document for further access details.
If you are lost on the day, you can call the venue on 0113 243 6739 and they will be happy to assist you.
Organiser of Financing for Society: Local Authority Training Workshop