Description
Financing Your Business
Our regular business surveys suggest that finding affordable finance to support sustainable growth or invest in improved resource efficiency such as renewable energy systems is one of the most important but difficult issues for business, especially for SMEs

There are a range of services available but how does a business owner find the most appropriate option and ensure that the company has the relevant processes in place to secure funding and manage finances effectively.
Find out more from a range of professionals at MEBC's Access to Finance workshop.
Programme
Presentations including:
ES Catapult Welcome and Context for Energy sector
NatWest / RBS Group
Traditional Finance, Invoice Finance and Asset Finance

ART Business Loans - (Community Development Finance Institution)
Loans for business and social enterprises

BCRS Business Loan Ltd
Small Business Loans including Midlands Engine Investment Fund
Pure Leapfrog
Delivering financial products for business and community collaborations investing in renewable energy installations
Managing your finances – "Free Agent"
Hear from Multi Award winning Free Agent about Digital accounting software which can save time on financial administration, provide a full snapshot of your financial positional, and assist with making major strategic decisions.

1:1 Introductions Session

Who should Attend
Businesses, Social Enterprises, Business Intermediaries and Organisations seeking finance for growth.
Supported by: NatWest & Hosted by ES Catapult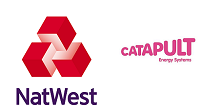 All information used in this presentation you are registering for relating to financing your business is produced by NatWest, The Royal Bank of Scotland, Lombard, ART Business Loans, BCRS Business Loan Ltd, Pure Leapfrog and Free Agent for information purposes only and is for the sole use of the attendees at the presentation.
Whilst we feel this topic is beneficial to business owners, the views expressed are not intended to be and should not be viewed as individual advice or as a recommendation
To the maximum extent permitted by law we expressly disclaim all representations, warranties, or assurance of any kind, expressed or implied, that are made to the accuracy or completeness of the information contained in this presentation and no member of NatWest accepts any obligation to update or correct any information contained herein.