Location
Stratford International Train Station
International Way
Olympic Park
London
E20 1YY
United Kingdom
Description
Find a book festival, find inspiration, find connections. Find the beach?
Solo travellers especially welcome and encouraged! Margate or Kent explorers can meet us there.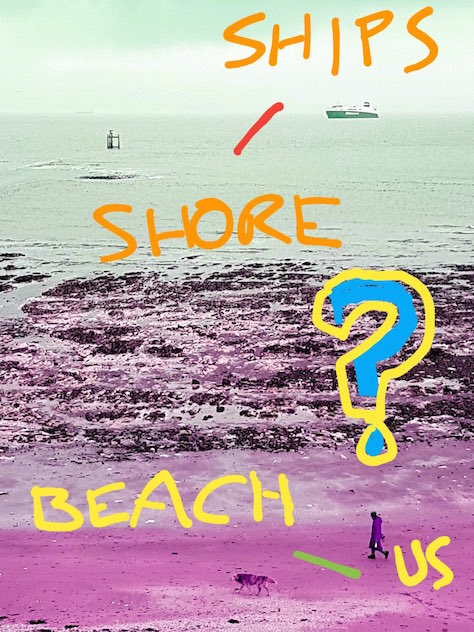 Saturday May 5th – Day Trip Dérive to Margate Bookie literary festival
It's the first ever Margate Bookie 'Spring Bookie' so we're dipping our toes into the sea of inspiration in Margate again. With a playful nod to the 50th anniversary of the events of Paris '68 and Situationist ideas like Psychogeography, we're taking a trip to - and around – Margate. We're literally and metaphorically 'finding the beach'. And you can join us at East London or in Margate.
Come and explore the joys of exploration at the seaside: a book festival plus fun, sun and some creativity too.
The journey is part of the experience: you'd be amazed how much there is to take in, if you know what to look for. From nature to Cold War and naval history, the journey is as much fun as arriving. This trip is all about being fully immersed in the moment and appreciating the world around us. We might take some photos, we might draw something. We might not! We decide where to find whatever it is we're looking for...
If you're into Psychogeography and Debord (see events under the #Hackney68 hashtag in East London), we can go deeper into the concept of the Dérive. If you just want to have fun, we can do that too!
Itinerary:
9.30-9.45am
Meet in front of the cafe at Stratford International (this is NOT the tube/Overground/National Rail station). Sort out group tickets etc to get the ticket reduction (bring your railcard if you have that).
10.15am
Train to Margate and en-route exploration. Find out how the Thames Estuary and Kent coast is a treasure trove of stories and history.
12 Noon
See – and join in a performance at the Turner Gallery as part of an event by the Walking With the Wasteland group. Free!
MARGATE RESIDENTS PLEASE JOIN US HERE, OR AT 1PM (location confirmed on booking)
1pm
Regroup for a group wander through the ever-quirky Margate with its book shops, galleries, arcades, vintage/antique shops and more. We'll take some photos and go with the group flow as we decide where to go – and what to look at!
Please free to skip out and attend any of the brilliant book events at the Margate Bookie. At 2pm there's Louis de Bernieres (Captain Corelli's Mandolin) and at 4pm Jake Arnott (The Long Firm, The Fatal Tree) is in conversation with Simon Wroe.
3pm
Regroup at the Fez in Margate High Street to 'debrief' over a beer. Again feel free to nip out to Bookie offerings.
5pm
Join us for a clifftop interactive event about 'Margate Ships', part of the Lookers Watchers project. Find out what the ships off Margate are up to: where they go, what they carry, who works on them and much, much more.
6pm
Come up for tipple in the Sands Hotel in the High Street. Watch the glorious sunset while listening to PJ Whitely and his literary band. Surprise guest, sssh! Free, but please book in advance.
7.30pm
Visit the Lifeboat in the old town for another post-event debrief/social/general chinwag.
8.30/9.30pm (subject to group decision)
Return train to East London/St Pancras.
Get in touch with Half Day Holidays and follow us on Twitter