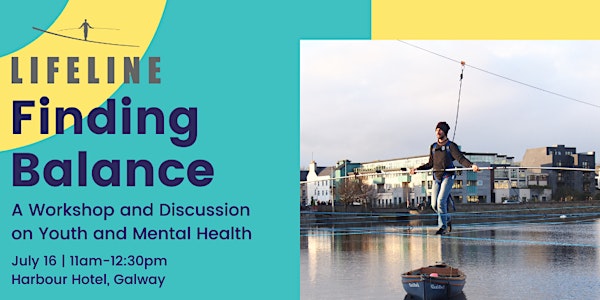 Finding Balance: A Workshop & Discussion about Youth and Mental Health
Location
Harbour Hotel
The Docks
H91 E9PR Galway
Ireland
A youth mental health panel discussion and a workshop.
About this event
Join the Finnish Institute in the UK and Ireland, Jigsaw Galway and Galway Community Circus for a youth mental health panel discussion and a workshop on the practical ways we can take care of our mental wellbeing. The discussion aims to respond to the themes being investigated within Galway Community Circus' Lifeline highwire spectacle and will focus on understanding mental health, having a greater awareness of what helps and hurts our mental health, and recognising what helps and blocks us from accessing support.
The workshop is aimed at young people interested in taking care of their mental health and wellbeing. The discussion is aimed at mental health professionals, local communities and grassroots organisations in the area.
The speakers include Erika Karstinen from Yeesi (Youth Mental Health Association in Finland), Juliette O'Donnell from Galway Community Circus, and Maeve Gilmore and Michaela Austin from Jigsaw. The discussion is moderated by Lisa Regan.
Schedule:
11am-11:45am: A workshop delivered by young adults for young people interested in taking care of their mental health and wellbeing
11:45am-12pm: tea and coffee
12-12:30pm: A panel discussion on youth and mental health