Description
As part of Social Media Week in London (22nd - 26th September) sounddelivery are delighted to be hosting a special film screening of Finding Mike.
In 2008 Jonny went to Waterloo Bridge to take his own life, a stranger 'Mike' stopped him and saved his life. The film documents Johnny's quest to find Mike and how he made use of social media in his search.

The screening, kindly hosted at London Metropolitan University on Holloway Road, will be followed by a Q & A with the production team at Postcard Productions and Rethink, the mental health charity.
The event takes place in room TM1-83 on the first floor of the Tower building. Directions will be signposted on the day. Registration is from 6pm and the film begins promptly at 6.30 pm. Places are free but spaces are limited so please book a ticket soon.
We look forward to seeing you on Monday 22nd September. Hashtag for the event is #SMWFINDINGMIKE
http://www.findingmike.co.uk/ www.sounddelivery.org.uk
Please note by signing up to this event you agree to be added to the sounddelivery digitalnews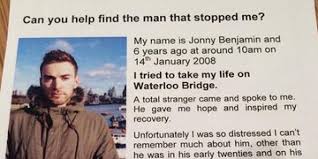 Organiser of Finding Mike - Film Screening + Q & A
sounddelivery media is a new charity working alongside people with direct experience of social injustice to advocate for themselves and their communities publicly by providing training, support and mentoring, media meet ups and media opportunities. We work to address representation and diversity of voice in the media, finding platforms for our networks and building trusted relationships with journalists. We tackle the barriers that prevent these experts from engaging with the media who have the power to influence change.