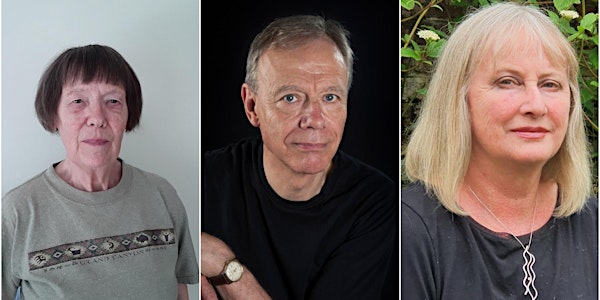 Finding the Words: Jenny King, Rosemary Palmeira & Nigel Pantling
Come and listen to some of the best poets from Yorkshire and beyond at Finding the Words, our relaxed and welcoming poetry evening
About this event
Finding the words: Jenny King, Rosemary Palmeira & Nigel Pantling
Jenny King was born in London in 1940, during the Blitz. Her parents (both language teachers) encouraged her when I started to write poetry as a child. I went to school in Hammersmith and then took an English degree in Cambridge and a teacher training certificate in Nottingham and went to teach English in Shrewsbury then moved to Sheffield where her husband, Edmund, was in the university history department. She has continued to write poetry all her life and has published three pamphlets, Letting the Dark Through (1981) Tenants (2014) and Midsummer (2020) and a full collection, Moving Day (Carcanet 2021).
Rosemary Palmeira was born in Oporto, where the river meets the sea and came to England when she was eight. She now lives near Beverley, East Yorkshire, near river and sea. She is a writer, artist, musician and psychotherapist and has worked many years with refugees and asylum seekers. She is married with three children and granddaughter. She loves music, travel, reading and swimming. She recently walked the Anna Purna trail in the Himalayas. She edited In the Gold of Flesh – Poems of Birth & Motherhood (Women's Press), co-edited Rainbow Jesus, The People's Psalms and collaborated in Causeway with Deirdre McGarry (Arrowriver). She contributed to Small Candles (Amnesty International), edited Poems for Peace, completed Sea of Childhood, Oporto Memoir and recently published her single collection Blue Saxophone (Stairwell).
New Collection Description: Blue Saxophone reflects the best of thirty years' writing and encompasses lost childhood, longing, love, sickness, healing, spirituality, social conflict and travel. Her love of nature, art, music, social justice and sense of place comes out in many of the poems. She would describe her work as elemental, sensory and spiritual and seeks to mine the 'treasures of darkness'.
Nigel Pantling's poetry draws heavily on his experience as a soldier in the Seventies, a Home Office civil servant during the Thatcher years, and since then as an investment banker and a strategic adviser to chief executives. His poems have appeared in The North, Rialto, Magma, and Smiths Knoll. Nigel's two pamphlets, Belfast Finds Log and Hip Hind Hook (both about soldiering) were published by Shoestring Press in 2014 and Smith|Doorstop in 2018. Two full collections, Kingdom Power Glory (2016) and It's Not Personal (2020) were also published by Smith|Doorstop. He is currently finishing a pamphlet which was short-listed for the Alastair Reid Pamphlet Prize in October 2021. He is poet-in-residence at the Chartered Institute for Securities and Investment.