Description
Do you want to discover your purpose in life and overcome the limiting mindset that prevents you from walking in your purpose?
If so, come along to this inspirational day where you will hear from transformational speakers who have discovered their purpose and are reaching their full potential.
This workshop will:
Teach you three strategies to discover your God-given purpose
Share stories from accomplished people who are walking in their God-given purpose
Teach you how to overcome the limiting beliefs and barriers to walking in your purpose
Show you how to turn your dreams into reality and walk in your God-given purpose
Demonstrate how to turn your talents and gifts into your profession so that you can thrive in your calling.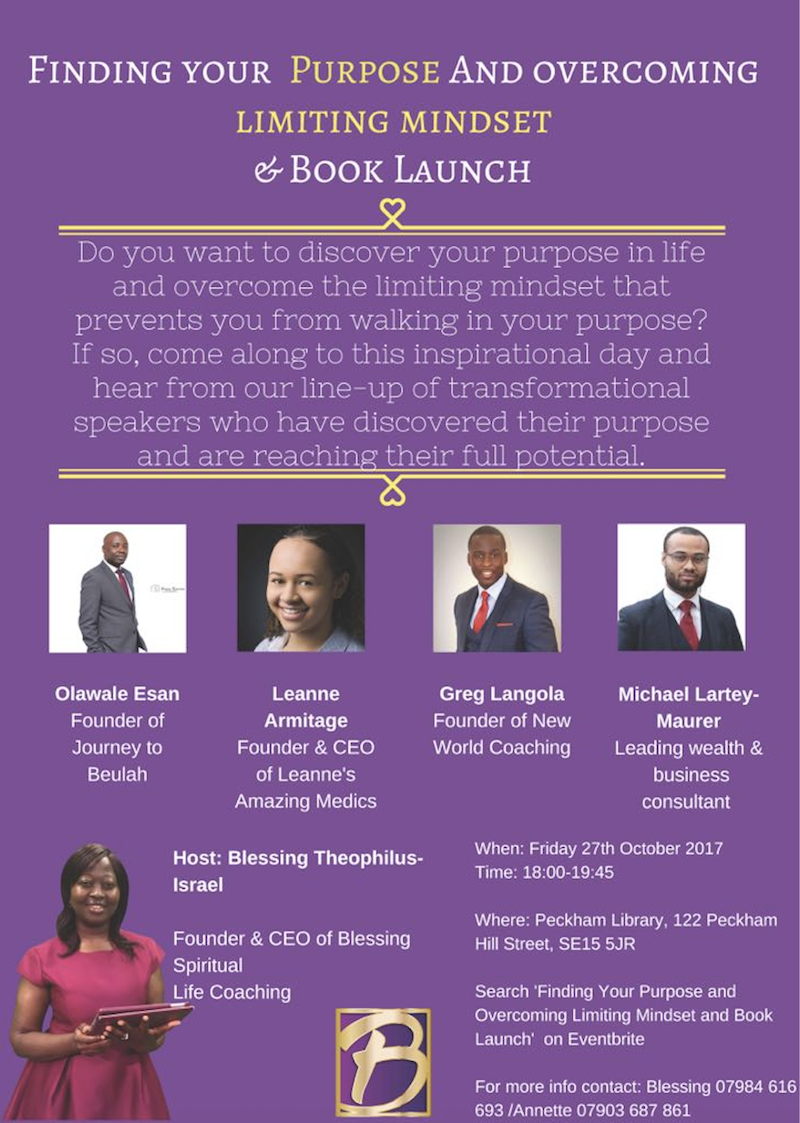 Speakers include:
Blessing Theophilus-Israel (Host)
Founder and CEO of Blessing Spiritual Life Coaching which empowers its clients to discover their purpose and reach their full spiritual and financial potential.
Michael Lartey-Maurer
CEO MoneyMike is a leading wealth and business consultant who transforms peoples' finances through introducing them to simple and superior money management. Wealth Etiquette Group will show you how to save at least £250,000 over your lifetime and how you can make at least an extra £250,000 through your job or business.
Olawale Esan
Olawale Esan is the Founder of Journey to Beulah, a Christian Board Game.
Greg Langola
Greg Langola, Coach and Founder of New World Coaching, and host to an inspiring talk show called, The Simply Greg Show. As a young boy growing up in a council estate, Greg was never one to sit back and settle for less. From turning down a drug deal for £7,000 a week, to coaching and inspiring people around the world. Greg now helps other people to Discover Their Purpose, and Become The Success They Aspire To Be.
Leanne Armitage
Founder and CEO of Leanne's Amazing Medics - A programme designed to inspire, equip, and increase the self-belief of students who want to study medicine and who come from under-represented backgrounds.
Book Launch
There will also be a book launch by the host, Blessing Theophilus-Israel, who will be available to sign your books. The books on sale are:
How to Discover Your Life Purpose Through Dreams
How to Find Your Purpose in Life in 30 Days Workbook
How Jesus Healed
How to Stop the Negative Voices in Your Head
Why I Changed My Name
For more information, please contact info@blessingcoaching.com or call +44(0)7984616693 or visit www.blessingcoaching.com