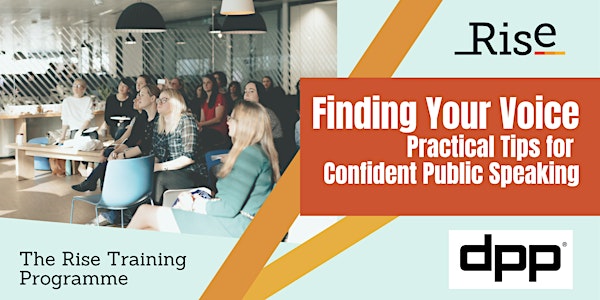 Finding your voice: practical tips for confident public speaking
Location
ITV
200 Grays Inn Road
London
WC1X 8XZ
United Kingdom
Join us and the DPP to discover practical ways to conquer your nerves and become a confident public speaker.
About this event
There is no such thing as a naturally good public speaker. The people who make it look easy are just the ones that have learnt what it takes.
In this very practical workshop, DPP CEO Mark Harrison (who has coached many people in public speaking) will share key techniques that will help you conquer your nerves, and be at your best when speaking in front of others – whether it is a team meeting, or a huge conference.
And to bring those techniques to life, a Rise mentee who will have worked with Mark for the first time that day, will make a short presentation – and share what she has learnt.
This session will run from 15:00-17:00, followed by a networking drinks reception from 17:00-18:00
About the Rise Training Programme 2022
Running throughout 2022, the Rise Training Programme is designed to offer practical support, advice and guidance to women at all stages of their careers, their allies and organisations from across the media technology sectors.
These sessions are free and exclusively available for Rise members. By attending, you will gain insights into key development areas ,to super-charge your career progression and help you to develop strategies to improve your, and your colleagues' workplace wellbeing.
Other training sessions in this series include:
What's imposter syndrome really about?| 17 May 2022, 10:00-12:00 (BST) | Jigsaw24, London
Building career resilience | 12 July 2022, 16:00-17:30 (BST) | Online
Finding your voice: practical tips for confident public speaking | 7 June 2022, 15:00-17:00 (BST) followed by a networking reception | ITV, London
Introduction to leadership | 21 September 2022, 10:00-13:00 (BST) | Venue TBC
Why you need to get serious about the menopause | October - Time and date TBC | Online
Enhancing performance through stakeholder management | 8 November 2022, 09:00-10:30 (GMT) | Online
Find out more and sign up by visiting the Rise website