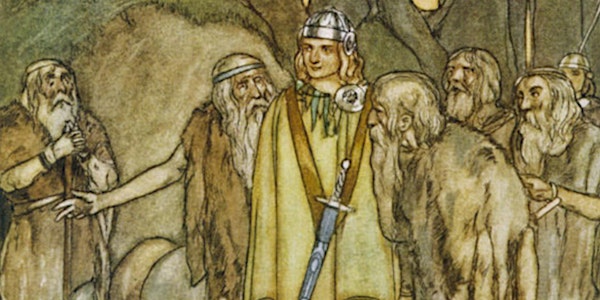 Finn mac Cumaill / Finn mac Cool by Dr Mark Williams
Refund policy
Refunds up to 1 day before event
We will be following their adventures and those of the Lord Finn tonight
About this event
Celtic Myth by Dr. Mark Williams
These lectures introduce a range of famous figures and fascinating stories from the medieval Irish and Welsh past, including many characters who number among the gods and goddesses of the Celts. The aim is to explain their cultural context and status as literature, showing who produced these stories in the form in which we have them, and why. Each lecture also draws attention to the ways any given story has been reimagined in modernity, being forged anew for our own times. In each case I have suggested one paperback to read beforehand.
Finn mac Cumaill / Finn mac Cool - 9 Oct 2022
Finn is the other great hero of medieval Ireland – a complex figure leading a band of warriors and hunters known as the Fíanna. They are the subject of some of the most complex and beautiful literature that has survived from medieval Ireland, and we will be following their adventures and those of the Lord Finn tonight. Finally we will look at the afterlife of Finn – including an influential eighteenth century literary fraud, James Macpherson's Ossianic prose-poems, which were purportedly written by Finn's son Oisín.
Reading: Tales of the Elders of Ireland, trans. Ann Dooley and Harry Roe
don't worry if you miss it - we will send you a recording valid for two weeks the next day
Bio
Dr Mark Williams is Fellow and Tutor in English at St Edmund Hall, University of Oxford. He is a specialist in the medieval languages and literatures of Wales and Ireland, and the author of Ireland's Immortals: A History of the Gods of Irish Myth (Princeton, 2016), and The Celtic Myths that Shaped the Way We Think (Thames & Hudson, 2021). He is in training as a Jungian psychoanalyst
Further Reading
W. B. Yeats, 'Rosa Alchemica' in Mythologies (many editions)
George Russell, 'The Legends of Ancient Eire' https://www.teozofija.info/Russell_Legends.html