Location
Ivy Farm
Ivy Lane (off East Road)
East Mersea
CO5 8US
United Kingdom
Description
2018 Fire Camp
Expect the Unexpected - we are changed when we encounter 'the other'
Fire Camp is not your usual Baptist Gathering.
We are committed to co-creation and co-production. We create art, reflection and story-telling - a space to be and to do together as an expression of the body of Christ. At Fire Camp, a temporary community comes into being to explore collaboration, faith and our collective future.
When you click on 'Tickets' it is not clear that you can scroll down to reveal additional ticket types. You can! And may need to do this to see the 'donation' and 'deposit only' type of tickets, etc.
View comprehensive 2018 Guide (PDF)
Is this your sort of venture? We would love to welcome you to Fire Camp 2018.
Like us at www.facebook.com/baptistfirecamp to chat to people who have been before and to keep up to date with the plans.
See you in the summer!
Fire Camp Team: Graham Conway-Doel, Rachel Conway-Doel, Steph Twilley, Pete Twilley, Howard Jones and Iona Jones
Get in touch: info@firecamp.org.uk
Comments from Fire Campers in previous years:
"...an amazing time. Thank you Firecampers for the fellowship and fun and space to reflect and rest in God"
"Thank you to those who dreamed this up and held space for us to co-create together. A really fun and inspiring time!"
"It was an amazing few days and we thank God for you all and the opportunity to share in Firecamp with you."

Fire Camp is
a collaborative, camping, mini-festival for baptists and friends

on Mersea Island, Essex

all age
4 days and 4 nights to co-create the experience
organised by grass-roots baptists
a time to relax, party, explore and meet

tickets limited to the first 80 people



The Fire Camp principles
Fired by the story of God
lots of fires, both metaphorical and literal. Bring a blanket and gather round the campfire with a story to tell and a heart to listen.


Grass-roots collaboration
No pressure, just opportunity for all to join in and create. A safe place to have a go, share your talents and learn new skills in a community of many voices.


Radical roots
A gathering to conspire and dream of the Baptist movement that wants to be. Drawing on our radical past and looking forward with energy: prophetic, reckless and restless.



Inclusive community
We camp in villages and build new friendship with space to sit-back, fish off the shore, and relax with a diverse group of safe people.

Sneak peek
In previous years we have had didgeridoo making, fire-lighting, enviro art, pizza making and story-telling. We've also had water volley ball, foraging and tree climbing. But you might want to get a group building a prayer shelter or cooking something we've foraged. Or you could join a group that sleeps under the stars in hammocks. Start thinking now about how you can get involved.
Bursaries
We want Fire Camp to be a place where people can come whatever their income. Drop us an email to apply for a bursary. Do you know someone who would struggle to pay because of unemployment, being on benefits or a student? After getting their permission, drop us an email and we can offer them a bursary which could reduce tickets to as little as £20 each.
Timings
Arrive from 2pm, Fri 27 July 2018 or from 10am, Sat 28 July.
Depart by 12pm, Tue 31July.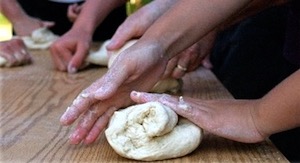 Event operated by Urban Expression Cobridge