Description
***BOOKING DEALINE 14 JULY at MIDNIGHT***

Fire Camp 2017 has the theme ~ Heaven and Earth ~
And we will be exploring what it means to welcome heaven rather than just waiting for it.


Fire Camp is
a collaborative, camping, mini-festival for baptists and friends

on Mersea Island, Essex

all age
4 days and 4 nights to co-create the experience
organised by grass-roots baptists
a time to relax, party, explore and meet

tickets limited to the first 80 people
What people said at Fire Camp 2016

"an epic first year!" "amazing few days
" "space to reflect and rest in God
" "really fun and inspiring time
" "space for us to co-create together"


Further resources:
Comprehensive 2017 Guide (PDF)

A4 Poster to Print and Display (JPG)
PowerPoint Slide (PPTX)
Download all 3 above resources as a bundle to use offline.
The Fire Camp principles
Fired by the story of God
lots of fires, both metaphorical and literal. Bring a blanket and gather round the campfire with a story to tell and a heart to listen.


Grass-roots collaboration
No pressure, just opportunity for all to join in and create. A safe place to have a go, share your talents and learn new skills in a community of many voices.


Radical roots
A gathering to conspire and dream of the Baptist movement that wants to be. Drawing on our radical past and looking forward with energy: prophetic, reckless and restless.



Inclusive community
We camp in villages and build new friendship with space to sit-back, fish off the shore, and relax with a diverse group of safe people.

What we did
During Fire Camp 2016 we gathered together for an hour or so each morning and in the evening; talked around the fire; sunbathed; shared BBQs, explored Bible themes and Mersea Island; made didgeridoos; prayed; foraged; smelted pewter jewellery; smoked fish; slept in hammocks under the stars; and too much more to list...
Bursaries
We want Fire Camp to be a place where people can come whatever their income. Drop us an email to apply for a bursary. Do you know someone who would struggle to pay because of unemployment, being on benefits or a student? After getting their permission, drop us an email and we can offer them a bursary which could reduce tickets to as little as £20 each.
Timings
Arrive from 2pm, Fri 21 July 2017 or from 10am, Sat 22 July.
Depart by 12pm, Tue 25 July.
Get in touch: info@firecamp.org.uk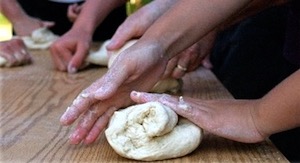 Church from Scratch - registered charity no. 1147116