Fireside Chat series will feature people, ideas and projects in open and reproducible research.
About this event
On 10 December 2021, 17:00 - 18:00 UTC, the next fireside chat will take place on the topic "Shared Concerns in Open Research Communities". We have allocated 30 minutes after the session (18:00 - 18:30 UTC) to have open discussions with attendees and hear their reflection of the topic.
The Fireside Chat series features experts, champions and their projects from across different international communities in reproducibility, open research, ethics, collaboration and everything in between. This event is hosted by The Turing Way - a community-led handbook on data science and research. We invite interested communities to get in touch with us to host a next session (email: theturingway@gmail.com) and help catalyse cross-community collaboration and knowledge sharing.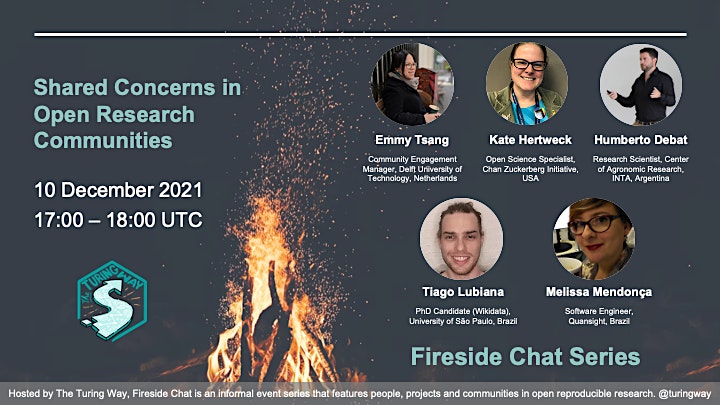 The session will be hosted by Malvika Sharan (co-lead of The Turing Way) who will welcome Emmy Tsang (session moderator), Kate Hertweck, Tiago Lubiana, Humberto Julio Debat and Melissa Mendonça to reflect on their experiences from both the grassroots as well as established open research communities.
As members of multiple open science and research groups across the Global South and North, they will explore what concerns, values and goals are shared by different communities. They will bring their combined perspectives as community builders, educators, trainers, mentors, researchers and facilitators of open and reproducible practices at both local and global scales. Read more about these speakers below.
This event will invite future discussions on building cross-community collaborations, establishing context-specific support systems and working together towards global sustainability of the open infrastructure.
About the speakers
Emmy Tsang is the Community Engagement Manager for the TU Delft Open Science Programme, where she coordinates the Open Science Community Delft and works with researchers, teachers, students and staff to design and build pathways for everyone in the community to meaningfully engage with open science. She is also a co-lead of Open Life Science, a cohort-based training and mentoring programme to support individuals in becoming open science ambassadors. Before, Emmy contributed to the development of open-source research and publishing technology as Innovation Community Manager at eLife. She is passionate about community design and making research more open, equitable and user-friendly.
Humberto Julio Debat is a Research Scientist at the Center of Agronomic Research of the National Institute of Agricultural Technology in Argentina. Humberto studies the interface of viruses and crops from a systems biology perspective and for the past year, he has worked in the Argentine Project on SARS-CoV-2 Genomics. He is a member of the advisory committee in open science and citizen science of the Ministry of Science of Argentina. Humberto has been an ASAPbio ambassador, fellow and eLife community ambassador. He is an affiliate of the bioRxiv preprint server and co-developer of PanLingua, a multilingual discovery and reading tool for preprints in the life sciences. Humberto advocates for open science practices and access to scientific knowledge as a human right.
Kate Hertweck is a scientist and educator who endeavors to uphold core values like: diversity/equity/inclusion, accessibility of information, and learning over knowing. Kate's graduate training at University of Missouri focused on genomic evolution of plants, and was followed by a postdoctoral fellowship at the National Evolutionary Synthesis Center (NESCent, Duke University) where they began working exclusively in computational biology. Kate then spent four years as an assistant professor teaching bioinformatics, genomics, plant taxonomy, and scientific communication. Kate then transitioned to supporting biomedical researchers in applying reproducible computational methods and other open science skills, first as bioinformatics training manager at Fred Hutchinson Cancer Research Center, and currently at Chan Zuckerberg Initiative. Kate is an instructor and trainer for The Carpentries (serving as a leader in community governance from 2016-2019), and is an advisor for Metadocencia. These non-profit groups support best practices in teaching for data/computational skills and Spanish-speaking educators, respectively. Kate likes to spend their time enjoying all things science fiction and knitting sweaters from handspun yarn for their tiny, grumpy, elderly rescue dog, Loki.
Melissa Weber Mendonça is an applied mathematician and former university professor turned software engineer. She works at Quansight, developing open-source software and working on consulting projects. She has been involved with the Brazilian Python community for some time, with a focus on outreach and education. She is a maintainer for NumPy, and believes in the power of open-source contributions beyond code.
Tiago Lubiana is a PhD candidate at the University of São Paulo, working with Wikidata and the ontological modelling of concepts related to cell types under a FAPESP scholarship. After doing internships in 10 different labs in Brazil and overseas, according to him, he found peace in computational biology. He is also a Research Scholar at the Ronin Institute, a virtual organization for independent researchers, and a member of WikiMovimento Brasil, an NGO supporting local activities related to Wikimedia. I believe in open knowledge as a tool for happier lives on Earth, and I am joyful to work on that front. More about him: https://lubianat.github.io/
Session Host
Malvika Sharan is a senior researcher for the Tools, Practices and Systems research programme at The Alan Turing Institute. She co-leads The Turing Way project that aims to make data science reproducible, collaborative, ethical and inclusive for researchers around the globe. She is a co-founder of Open Life Science, a mentoring and training programme that empowers researchers to gain an understanding of open science principles, build collaborations with experts and adopt best practices in the context of their communities. After receiving her PhD in Bioinformatics, she started her career in community building at the European Molecular Biology Laboratory. She is a Software Sustainability Institute fellow, Open Bioinformatics Foundation board member, Code for Science & Society Event Fund Selection Committee member, Metadocencia Advisory team member and an active contributor of open source projects. Connect with her on topics including community building, open science, bioinformatics and representation of marginalised members in data science and research leadership. More about her: malvikasharan.github.io.
For more information, or to express your interest to join as a speaker or host, please reach out to The Turing Way team by emailing theturingway@gmail.com.