Join The FIRM team for our #FIRMday in Birmingham as we dive into the hot topic of DE&I.
About this event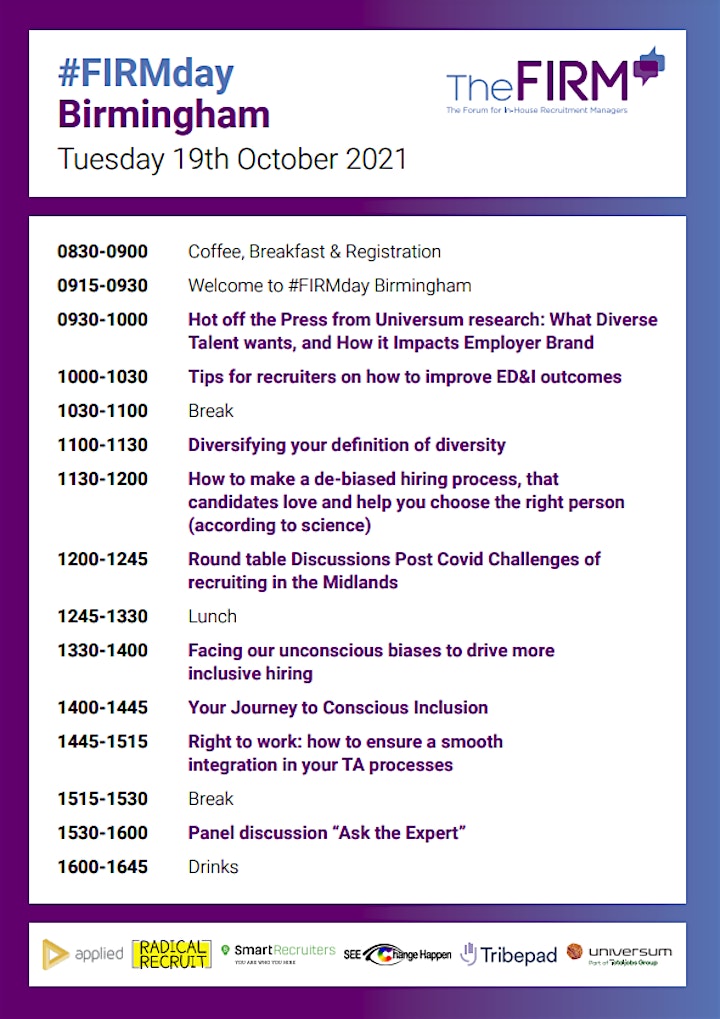 Research shows that DE&I is top of the agenda for TA teams again this year – and quite rightly so. And with National Inclusion Week taking place across the latter part of September and early October, our Birmingham #FIRMday is an opportunity to continue the all-important conversations about how to dial up diversity and inclusion – with a focus on innovative solutions and approaches to help attract, select and hire diverse talent.
Aimed at anyone working in TA, this full-day event will bring to you real life case studies, live presentations, insights, peer -to-peer networking and round table discussions – and not forgetting the all important face-to-face experience we have all missed so much.
So if you are ready to learn, share and be inspired in the company of your peers, join us at The Studio in Birmingham on 19th October by registering for your ticket here.
Breakfast & networking: From 8.30am
Presentations & Roundtables: From 9.15am - Lunch is included
Finish: 4.00pm for Drinks
Hot off the Press from Universum research: What Diverse Talent wants, and How it Impacts Employer Brand
Two pieces of talent research were closed in August, and now some of the insights are available to share.  Universum's UK professional survey was announced last week, we will look at some of the trends and perceptions around DE&I and even more pertinently, our UK Ethnic Talent survey has also been completed. Universum's UK Director Steve Ward, will share some of the insights that compare the different needs, drivers and career motivators with each group and how we can use them to understand the attraction of diverse talent much more intelligently.
Tips for recruiters on how to improve ED&I outcomes
Using real-life client examples, Neil Armstrong, Commercial Director at Tribepad will explore:- Incorporating ED&I throughout your process from application to reporting- How to maximise the use of your TA platform to reflect your ED&I strategy- Embedding ED&I within your team and culture
How to make a de-biased hiring process, that candidates love and help you choose the right person (according to science)
Applied use behavioural science, algorithms and data science to  build processes and technology that make wonderful candidate experiences, give huge, measurable boosts to diversity and improve the quality and consistency of hiring and decision making. We'll be going under the hood to show you how it's done, with takeaways you can apply to your process today, as well as ideas that you can implement for the future. This is for talent leaders who are always looking to the science to tell them how to make their hiring more ethical, predictive and efficient, and want to be change catalysts in their organizations.
Your Journey to Conscious Inclusion
Joanne Lockwood from See Change Happen, will share her thoughts as to why the DE&I approach currently taken by many organisations is broken, and how we develop a conscious inclusion culture and vision to recognise the value of all people.
Right to work: how to insure a smooth integration in your TA processes
Facing our unconscious biases to drive more inclusive hiring
In this session, our very own Rachel will be giving you a taster of one of our most popular training sessions - inclusive hiring. With a specific focus on uncovering and facing our own unconscious biases, this session aims to give food for thought to help us as recruiters up our own game and educate our hiring managers too!
Plus, Round table Discussions Post Covid Challenges of recruiting in the Midlands, "Ask the Expert" Panel session and plenty of networking
PLEASE NOTE 
We are unable to offer refunds but will accept name changes up until 5 days before the event 
Sessions, timings and speakers may be subject to change 
This is a members-only event. If you are an in-house recruiter you may attend this event. If you are not a member of the FIRM, please join our LinkedIn Group as below. 
Please do not register and pay if you are not a member of The FIRM as we are not able to provide refunds.
By registering for the event, you will automatically receive updates from The FIRM regarding research, events and news.  You can unsubscribe at any time.
https://www.linkedin.com/grp/home?gid=44518&trk=my_groups-tile-flipgrp
Organiser of #FIRMday Birmingham 2021
Run by in-house recruiters for in-house recruiters The Forum for In-house Recruitment Managers (The FIRM Ltd) was founded as a LinkedIn Group in December 2007. Now with over 8800 members in 70  countries, we are a supportive and collaborative community of corporate recruitment professionals that provides both an online and offline hub for members to network, request help, share knowledge and give advice on all aspects of recruitment and talent management.
We aim to Support, Develop and Inspire our members as well as working to ensure integrity and best practice throughout the in-house resourcing and talent community. Through doing this we aspire to raise the standard of service our members provide to their internal customers and receive from external suppliers.