#FIRMday Back On The Road - Re-connecting you all
About this event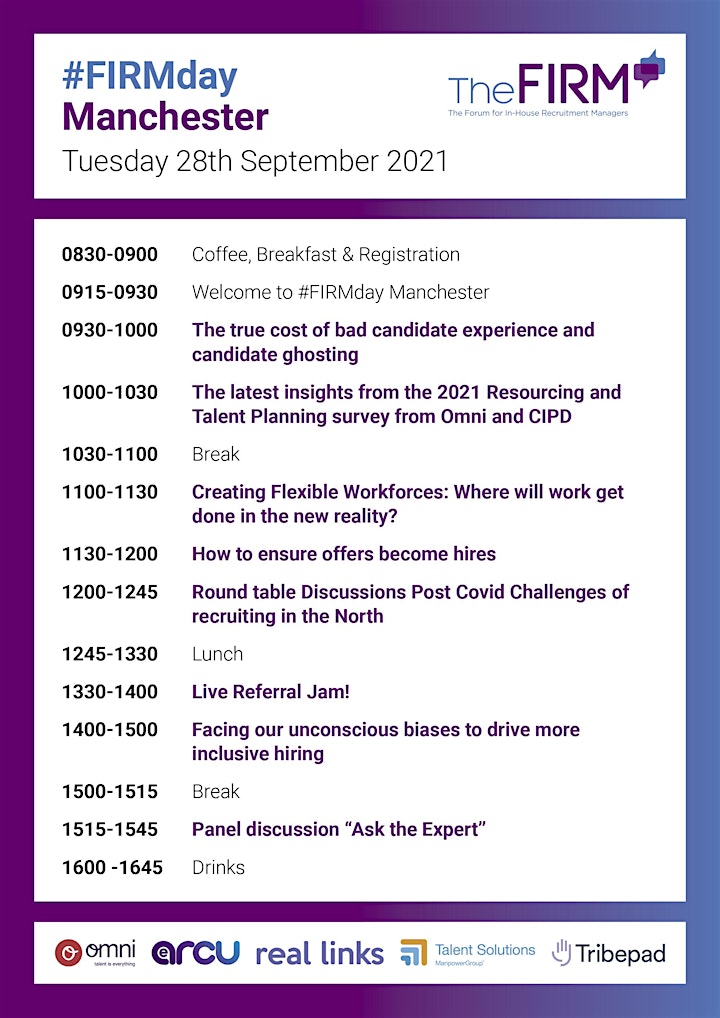 Join us for our first in person #FIRMday of 2021!
In this full-day face-to-face (yes you heard us right!), we will bring to you all the things you love about FIRM events - real life case studies, live presentations, insights, peer -to-peer networking and round table discussions - all focused on what is hot and what is not when it comes to TA in 2021 and beyond.
So join us back on the road, this time in Manchester, ready to learn, share and be inspired.
Breakfast & networking: From 8.30am
Presentations & Roundtables: From 9.15am - Lunch is included
Finish: 4.00pm for Drinks to celebrate being back together
The true cost of bad candidate experience and candidate ghosting
Have you ever considered how your candidate experience might be negatively impacting your organisation? Have you ever taken a microscope to your own recruitment process and examined how it affects your candidates? In this session with Neil Armstrong, Commercial Director at Tribepad, you'll discover the REAL cost of a bad candidate experience on
• The mental health of your candidates
• Your ability to source candidates in the future
• The reputation of your organisation
• Your organisation's bottom line
The latest insights from the 2021 Resourcing and Talent Planning survey from Omni and CIPD
The CIPD's Resourcing and Talent Planning survey, in partnership with Omni, is now in its twenty-second year. The survey examines resourcing and talent planning practices and the key challenges organisations are facing to provide people professionals and their organisations with benchmarking data on important areas such as recruitment costs, employee turnover and retention.
It is a challenging time for organisations experiencing the continued global impact of the COVID-19 pandemic and, on top of that, the delayed impact of the UK leaving the EU. In response to this ever-challenging backdrop, this session will share both the key findings as well as make suggestions on key aspects of Resourcing and Talent planning for 2021 into 2022.
Creating Flexible Workforces: Where will work get done in the new reality?
While city centres are opening up again, work has decoupled from the office and workers don't want to lose the flexibility they have gained in the past year, with most preferring 2-3 days a week in the workplace. "Going to work" has a different meaning today – a growing acceptance of remote work is remaking how organisations are thinking about optimising their workforces, and as technology has untethered talent from location, a 'work from anywhere' mindset is creating infinite possibilities for employers to tap into skills beyond borders. During a period of hiring freezes, talent gaps and challenges with contingent hiring, it has been the industries with more flexible models that outperformed others.
Join Jill Bassett, Brand Leader at Talent Solutions, and Jo Taylor, RPO Operations Director at Talent Solutions, as we discuss insights from our latest report into flexible and scalable talent models and the benefits and challenges of remote work, taking a closer look at:
• The state of adoption of hybrid working models in organisations
• Emerging trends in workforce location strategies
• How to effectively untether talent from location
How to ensure offers become hires
The benefits of a better onboarding process. Unprecedented change has been made throughout many business processes in the past 18 months. Companies who historically used paper based approaches to onboarding candidates had to go online and found that their existing HR technology, whilst functional, was not engaging to those candidates. With the rise in job vacancies now exceeding the rate it was pre COVID-19 and an extremely low unemployment rate, we explore how to mitigate "buyer's remorse" from candidates and engage them early on.
Live Referral Jam!
Come join Real Links for a live Referral Jam!
If you thought referrals were a long term strategy then think again! This is referrals in record time to help businesses in this challenging market uncover the talent you need. All through your employee networks.
See how they are transforming referrals within organisations like the Ocado Group with this innovative way of engaging challenging hiring areas.
We also want to help you! So if you have Talent Acquisition roles you are having trouble filling then let us know and we can include them in the Jam. There will also be prizes on offer so every reason to take part! All you have to do is bring your phone.
Facing our unconscious biases to drive more inclusive hiring
In this session, our very own Rachel will be giving you a taster of one of our most popular training sessions - inclusive hiring. With a specific focus on uncovering and facing our own unconscious biases, this session aims to give food for thought to help us as recruiters up our own game and educate our hiring managers too!
PLEASE NOTE 
We are unable to offer refunds but will accept name changes up until 5 days before the event 
Sessions, timings and speakers may be subject to change 
This is a members-only event. If you are an in-house recruiter you may attend this event. If you are not a member of the FIRM, please join our LinkedIn Group as below. 
Please do not register and pay if you are not a member of The FIRM as we are not able to provide refunds.
By registering for the event, you will automatically receive updates from The FIRM regarding research, events and news.  You can unsubscribe at any time.
https://www.linkedin.com/grp/home?gid=44518&trk=my_groups-tile-flipgrp
Organiser of #FIRMday Manchester 2021
Run by in-house recruiters for in-house recruiters The Forum for In-house Recruitment Managers (The FIRM Ltd) was founded as a LinkedIn Group in December 2007. Now with over 8800 members in 70  countries, we are a supportive and collaborative community of corporate recruitment professionals that provides both an online and offline hub for members to network, request help, share knowledge and give advice on all aspects of recruitment and talent management.
We aim to Support, Develop and Inspire our members as well as working to ensure integrity and best practice throughout the in-house resourcing and talent community. Through doing this we aspire to raise the standard of service our members provide to their internal customers and receive from external suppliers.