Join the FIRM team for this online event aimed at anyone working in TA, this event will focus on reimagining all areas of the TA lifecycle.
About this Event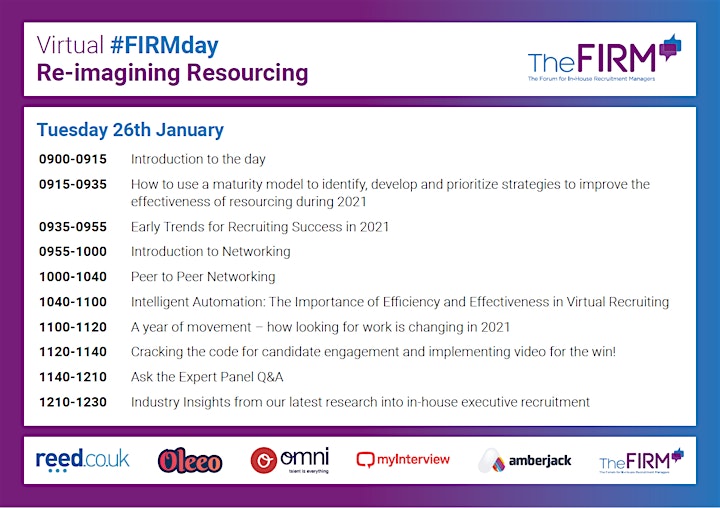 Registration begins at 9.00am BST
Each day closes 12.30pm BST
Transformation is a word commonly used in talent acquisition but what does this mean in practice?
In our January morning #FIRMday we tackle this head on to provide you with insight, ideas and support to review your approach to TA and identify areas to progress and improve.
Key Topics as follows:
How to use a maturity model to identify, develop and prioritize strategies to improve the effectiveness of resourcing during 2021. Objectives include:
The road to Maturity;
Key elements to develop how you brand, attract, select, onboard and retain talent
Key measures of success – measuring the real ROI of talent acquisition
A year of movement – how looking for work is changing in 2021
Find out what really matters to jobseekers, in the wake of the pandemic – and how you can adapt your recruitment strategy to target top talent in 2021.
Early Trends for Recruiting Success in 2021
2020 was a year like no other. Yet, in 2021, speed and agility will continue to be critical attributes of successful recruiting strategies. Whether you are dealing with a resurgence in job openings, or needing to wade through a deluge of applicants to find top candidates for the limited strategic openings you have, undoubtedly the needs of the business will shift and change as the year progresses, possibly in unexpected ways. As the new year begins, this session will explore how you can make speed and agility core to your recruiting strategy in 2021.
Industry Insights from our latest research into in-house executive recruitment – understand the approaches other organisations use to hire leadership talent into their business
FIRM Awards winner insights – Lessons learned from the 2020 winners to help you prepare your TA approaches for 2021
Adaptability, resilience and agility were defined as the key behaviours required for recruiters – we will get you thinking around stretching development goals to help you acquire these skills in 2021
Plus not forgetting our popular virtual round table discussions and our fast paced speed networking!
All of our sessions are live, not pre-recorded and we promise lots of interaction, learning and fun!
Agenda to follow shortly....
PLEASE NOTE:
By registering for the event, you will automatically receive updates from The FIRM regarding research, events and news. You can unsubscribe at any time.