Join The FIRM team for this interactive virtual half day event focusing on Attraction, Branding and Sourcing.
About this Event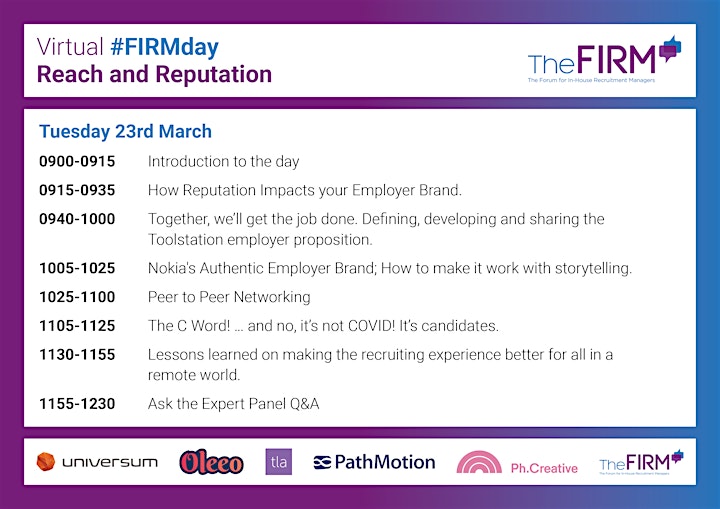 Registration begins at 9.00am GMT/UTCThe event closes at 12.30pm GMT/UTC
EVP and Employer Brand are one of the top three strategic priorities for our members in 2021 so join us for this interactive event as we immerse ourselves in this topic!
Key sessions include:
How Reputation Impacts your Employer Brand.
More than ever, candidates make decisions based on the reputation of your organisation, or how they perceive you as an employer. This means we need to be listening to them, understanding the impact and responding accordingly.
Steve Ward from Universum will be joined by Vicki Hyland, until recently Global Head of Talent Attraction at BP; as they discuss the ways to recognise and develop better reputation, and we learn something of the BP story too.
Nokia's Authentic Employer Brand; How to make it work with storytelling
In this session, PathMotion will take a look at their original research into how authentic storytelling works for HR, to improve employer branding and authenticity through storytelling. They'll be joined by Sandrine, Global Social Employer Brand Lead for Nokia, to delve deep into how they are promoting their employee advocacy programme amongst their global team and their ideas for the future.
Together, we'll get the job done
Defining, developing and sharing the Toolstation employer proposition
Lessons learned on making the recruiting experience better for all in a remote world
Candidates need to be quick off the mark to be in with a chance of success and with so many people out of work and searching for new jobs, recruiters have their hands full trying to keep up with new hire demand. When there are less positions open than people looking for jobs, leaders must get creative and resourceful in order to ensure they are hiring the right quality. Recruiting Enablement is the key. This session will explain more including:
• How automation can help support diverse and inclusive recruiting strategies at scale
• How to maintain superior candidate experience despite the volume challenges
• How to effectively screen out unqualified candidates without putting them off
• How to pinpoint and fast-track the highest quality candidates while removing bias from the process
• How to ensure hiring managers enjoy the experience despite the high volumes
The C Word! … and no, it's not COVID! It's candidates.
You need to start looking at what candidates are thinking about, your actions prove who you are in many aspects of life and likewise in your candidate experience.
Plus not forgetting our ask the expert panel and our fast paced speed networking!
All of our sessions are live, not pre-recorded and we promise lots of interaction, learning and fun!
PLEASE NOTE:
By registering for the event, you will automatically receive updates from The FIRM regarding research, events and news. You can unsubscribe at any time.