First Minister's National Advisory Council on Women & Girls - Celebratory C...
Description
Dear Circle Member
First Minister's National Advisory Council on Women and Girls (NACWG) – Celebratory Circle Event - Edinburgh
We're delighted that you'll be joining us at the First Minister's National Advisory Council on Women and Girls (NACWG) Circle session on Wednesday 29 January 2020 in Edinburgh. Further information regarding the venue will be shared in due course.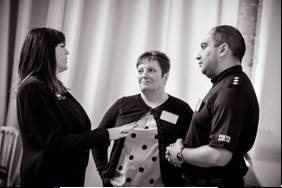 At this Circle event we will be celebrating the publication of the NACWG's 2019 Report and Recommendations on the topic of Policy Coherence – how is policy made and do policies work against each other… and will hear the Scottish Government's initial response. There will be a range of speakers, a creative performance and a facilitated breakout session. If you didn't manage to attend any of our events in 2019, or would like a reminder of the discussions, you can see the interactive meeting notes here and the film footage from each event here.
Circle sessions are open to all, women and men, girls and boys, and those who don't identify – we want to hear from everyone!
We look forward to seeing you all again and welcoming new members – we have a rich and thought provoking agenda, which is currently being finalised, outline timings are:
09:15 Registration

10:00 Event starts

13:30 Event ends (lunch included)

We will provide a crèche facility at this event if there is demand for one. In order to adequately plan for this service we ask that you let us know directly at ACWG.gov.scot if you would interested in using this facility by 12 December at the latest.
These events fill up quickly and we usually operating a waiting list - we therefore ask that you let us know as soon as possible if you can no longer attend or pass your ticket forward so that someone else can participate.
Please note that our events are filmed and we have a photographer on site – this allows us to share the day wider and use some of the material for promotional purposes. You can let us know when registering if you do not want to be captured this way.
Thank you for continuing to commit to this ambitious agenda for Scotland and #GenerationEqual. We look forward to seeing you on Wednesday 29 January.
If you have any questions, please do not hesitate to contact us at ACWG@gov.scot.
Yours sincerely
NACWG Secretariat

Note: By registering/attending an event we consider this a request to join our growing Circle membership of 1000+ allies and you will be added to our mailing list. This means you will receive communication about the NACWG including invites to events and how you can get involved in #GenerationEqual. You can withdraw from Circle membership at any time.