Description
A truly 'one-night-only' event, Marcus John Henry Brown's 'The Passing' will have its first public performance in London. Described as 'If Black Mirror and TED had a baby...", 'The Passing' has already left audiences speechless around the world, and now it is London's turn, but the performance is not the end of the night. After drinks and the performance have concluded, a stellar panel of experts will debate the future we are creating, big technology's role in this and if we are destined to become slaves to technology. Panellists include Aliya Ram - the FT's European Technology Correspondent, OBE and author of 'Fully Connected' Julia Hobsbawm, 'Exponential View' Chief Azeem Azhar and CEO of Foresight Factory, Meabh Quorin. All attendees also get a copy of Julia's new book along with other surprises on the night. Tickets are limited and this event will not be repeated so secure your place now.
WHAT IS 'THE PASSING' Set in 2059, The Passing is a performance that explores a society designed by advertising executives, biochemists, spies, technology startups and influencers. Describing a future where too much trust has been placed in products created by a privileged, technology-driven culture. Trust us, you've never seen anything like this. The Passing encourages you to imagine a much better future than the one the performance describes and asks them to work towards making that better future happen. The performance urges people to take a long hard think about the trajectory of our society and how our relationship with technology, media and the never-ending cult of influence are all propelling us towards something unimaginably dark.
>>>>>>> SPONSORS <<<<<<<<
The event is made possible by the Foresight Factory, the leading global consultancy that offers the most robust data and trends intelligence on consumers available today. Additional activities will be provided by Heaps & Stacks, Cygnett and Knomo.

>>>>>>> THE PANEL <<<<<<<<
Big technology is ruling our lives. Or is it? Are we destined to be slaves to technology or are we moving into a new age where technology truly pushes humanity to new limits? What are the exponential technologies that should give us hope and which should give us cause for concern? Is the future more '1984' or '2001: A Space Odessey. Should we really be worried that our mobile devices are changing our behaviours? These and more questions will be answered by these accomplished panellists.
PANELLISTS: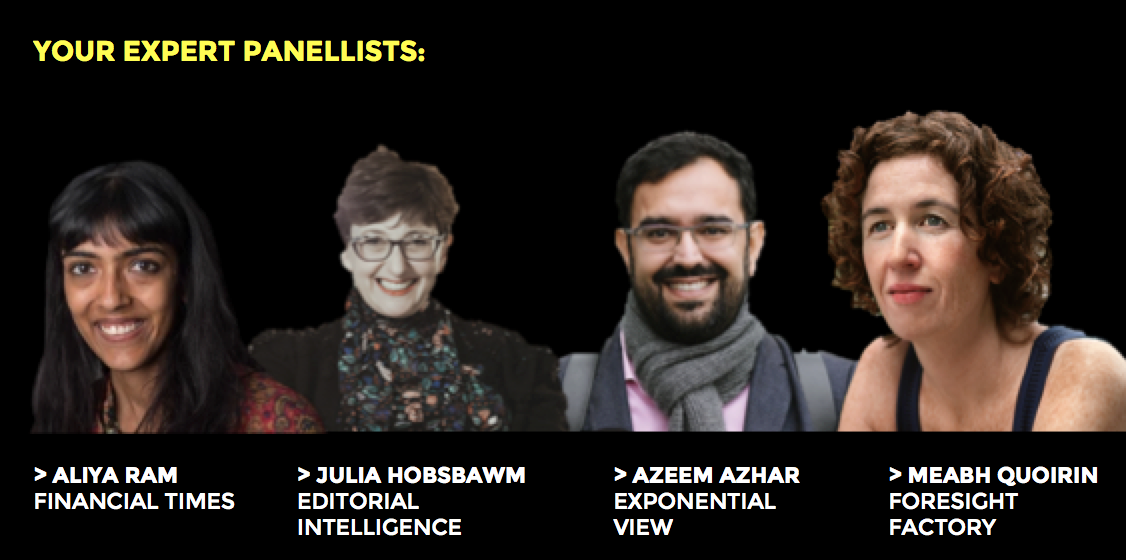 Aliya Ram (Financial Times)
Aliya Ram knows big tech. As European Technology Correspondent for the Financial Times Ram asks the tough questions and demands proper answers. From MedTech to Facebook, Ram is making waves across Europe for her work and ability to break news. Ram previously covered asset management and the consumer industries, and reported on India from the FT's Delhi bureau.
www.ft.com
Julia Hobsbawm (OBE, Editorial Intelligence)
Julia Hobsbawm is possibly the most connected woman in the UK. Her ideas are being featured by, amongst others, the World Economic Forum, and The OECD. Her new book ('Fully Connected') about Social Health has been shortlisted in Britain for the Chartered Management Institute's Management Book of The Year and for Business Book of the Year. Hobsbawm also founded the incredible 'knowledge networking' business Editorial Intelligence.
www.juliahobsbawm.com
Azeem Azhar (Exponential Technologies)
Azeem Azhar is an entrepreneur, investor and adviser with a two-decade career in technology. He runs the highly-cited newsletter, Exponential View, which covers the societal implications of technology and is a totemic source for the investors, entrepreneurs and policy-makers. Azeem is the Senior Advisor on AI to the CTIO of Accenture. Azeem also advises breakthrough entrepreneurial firms, including Kindred Capital, Onfido, Ocean Protocol & ReInfer; as well as the Harvard Business Review.
www.exponentialview.co/
Meabh Quorin (CEO, Foresight Factory)
Meabh Quoirin is CEO and Co-Owner of Foresight Factory. A bi-lingual and experienced public speaker, Meabh knows what's coming in consumer trends and analytics. A 'Top Voice' on the LinkedIn Influencer network, Meabh specialises in helping businesses profit by better understanding consumers.
www.foresightfactory.co
Marcus John Henry Brown
Born the son of lorry driving Scotsman, Marcus moved to Germany in 1993 having studied Art & Social context at Dartington College of Arts. He founded MJHB Office for Creative Intelligence in 2014 and CreativeWalks.com in 2015. He is a performing artist and creative mentor living and working in Munich. This will be the first time 'The Passing' has been seen in London.
www.marcusjohnhenrybrown.com
SPONSORS: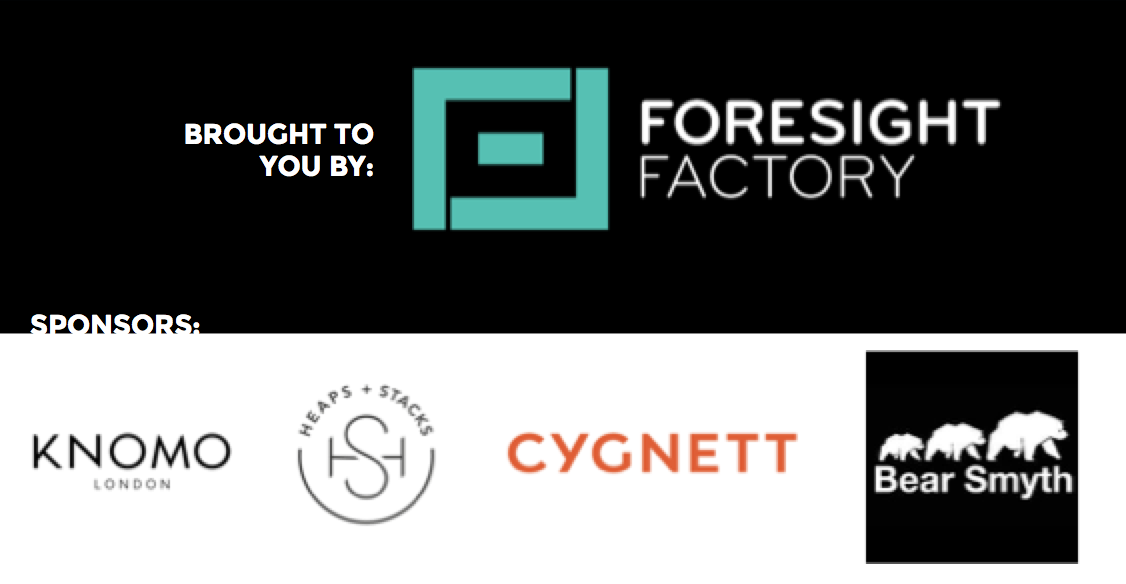 Heaps + Stacks
A creative programming and event production agency specialising in producing engaging workshops, cultural line-ups and environments in which the creative moments sit within. Often sought out for their high detail and rich design aesthetic, their work celebrates the talent of genuine artists and craftspeople (whether its contemporary basket weavers or glass blowers) who help them to create something very intricate and one-off to perfectly complement their client's tastes and style. Heaps + Stacks client list spans across fashion, lifestyle and property portfolios, with the team of talented producers having executed international concepts for the likes of Facebook, Nike, Google and The Soho House Group.
www.heaps-stacks.com
Knomo
We believe life is better when we mix it up. That's why we make bags that help people break the routine. Beautiful, capable and distinctive bags that let people live seamlessly. For people who want to get more from every day - wherever, whenever, however – Knomo design bags that work.
www.knomo.com/uk
Bear Smyth
Trusted drinks partner to national arenas, caterers, events and festivals, Bear Smyth, brings innovative drink solutions to the market that works for 'both sides of the bar'. From high-end wine that's perfect for travelling with 'Enjoy Life By The Glass' to the new 'Mr & Mrs Smyth's Primo Vino' brand (sparkling Prosecco tones and the new 'Shake 'n' Serve' range including mojito, margarita, cosmopolitan, long island iced tea amongst others.
www.bearsmyth.com
Cygnett
Cygnett believes that digital technology shouldn't place boundaries. It should inspire new ways of working, playing and living. The Cygnett range includes over 100 digital accessory products, including cables, chargers, cases and a full range of Power Banks. Available in more than 200,000 retail outlets through 42 countries, Cygnett won the CES 2018 Innovation Award for its latest Power Bank.
www.uk.cygnett.com/