Welcome to the annual Fish Passage Conference 2021. This year we will host a webinar showcasing cutting edge research and much more!
About this event
About this event
This year's annual Fish Passage Conference will be an international webinar on fish passage engineering, fishway research and telemetry studies, river restoration measures like dam removal, mapping migratory routes of fish, legislation and much more. With this webinar we want to showcase cutting edge research, celebrate successful projects, discuss challenges and promote networking and knowledge exchange between various sectors.
The setup:
Over the course of 4 days we will organize 4 sessions (2.5 hours/session), making sure to give people from all continents the opportunity to attend (i.e. adapting to different time-zones).
12 international selected speakers will be invited to highlight the latest developments in fish passage.
Live on-site interviews from international showcase projects and labs. We are also giving room for PhD's students/doctoral students and early stage researchers to highlight their latest research.
Commercial breaks with videos to feature companies within this field of work.
Main program (CET)
Day 1 (21 June): The Americas |18:00-20:30
Day 2 (22 June): Africa |12:00-14:30
Day 3 (23 June): Europe |15:00-17:30
Day 4 (24 June): Oceania and Asia |6:00-8:30
*To see the full program and for more information, visit https://fishpassage.fisheries.org*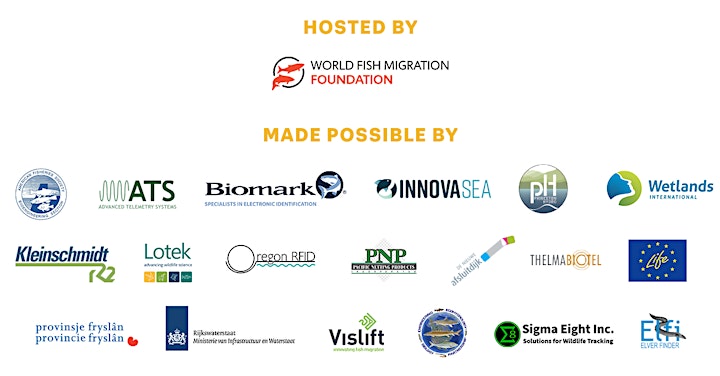 Organiser of Fish Passage 2021