An evening of Roman cooking with food historian and chef Sally Grainger
About this event
As part of our 50th Anniversary celebrations, the Study Group for Roman Pottery welcomes food historian and chef Sally Grainger for an evening lecture on her latest research into the nature of the various forms of ancient fish sauces - garum, liquamen, muria, and allec - which were consumed in all levels of Roman society.
It is apparent from elite consumption texts such as Roman satire that some forms of garum were served at table at Roman banquets in special blended sauces collectively known as oenogarum. From the evidence of texts and kiln-load markers, it was proposed that certain forms of ceramic cups, such as Samian ware forms, were associated with these sauces. To test the idea, Samian vessels from the Thameslink excavation in Southwark, London, carried out by Oxford Archaeology and Pre-Construct Archaeology, were subjected to residue and use-wear pattern analysis, and replicas will also be tested.
Sally will also invite you to take part in the social event of the #SGRP50 conference on the 2nd July 2021! If you haven't already booked your ticket for the conference, you can do it HERE.
Sally Grainger is a Roman food historian and chef (BA Ancient history University of London, MA Archaeology Reading university). She works with archaeologist and historians in reconstructing ancient cooking and dining practices. Her published works include The Classical cook Book, British museum Press, 'Cooking Apicius' and 'Apicius:' a critical edition, Prospect Books 2006. She has worked with universities and museum around the world in reconstructing ancient banquets including the British Museum; The Getty Villa, Los Angeles; The museum of London and The Ashmolean She is currently working on her book The Story of Garum: fermented fish sauce and salted fish in the ancient world with Routledge due out in 2021.
This paper co-authored with Edward Biddulph (Oxford Archaeology) will be published in Grana, L., Ivleva, T., and Griffiths, B. (forthcoming 2022) The Bloomsbury Handbook of Experimental Approaches to Roman Archaeology, Bloomsbury Publishing, London.
Check out Sally's Roman cooking videos on her YouTube channel HERE.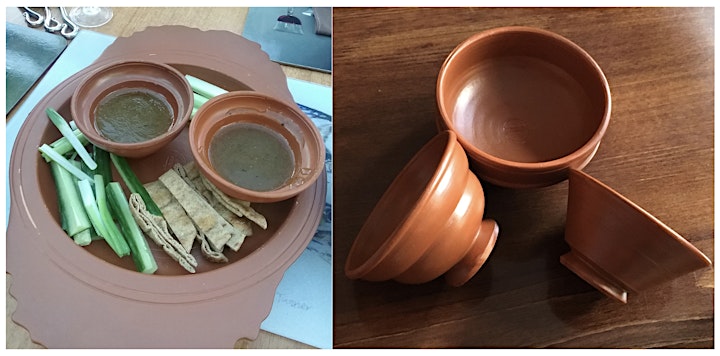 Organiser of Fish Sauce at the Roman Table - Guest lecture by Sally Grainger