Multiple Dates
Fishing DAY TICKET - Black Park (Autumn/Winter 2020)
About this Event
Located 100m from the car park, the lake has easy access with several benches and a pathway around it; an accessible fishing bay is located near the Nature Reserve.
Fishing at Black Park Country Park is by Annual Permit or Day Ticket only during car park opening hours. However during the remainder of 2020, only Fishing Day Tickets are valid for fishing at Black Park.
Annual Permits are available to purchase now but are not valid for fishing till Jan 2021. Both Day Tickets and Annual Permits are available to purchase in advance of your visit, online only.
The annual coarse fish closed season applies from the 15th March to the 15th June inclusive. Please see Fishing Rules and map of fishing areas attached for full details.
The most prolific types of fish are Rudd, Roach, Bream and Tench. Rudd and Roach can be caught on simple float fishing tactics with maggots, caster or bread baits. Bream and Tench can be caught fishing on the bottom with either floats at close range or feeder/leger a bit further out. Pike and Carp are present at a low stock level and are tricky to catch requiring a dedicated specialist approach.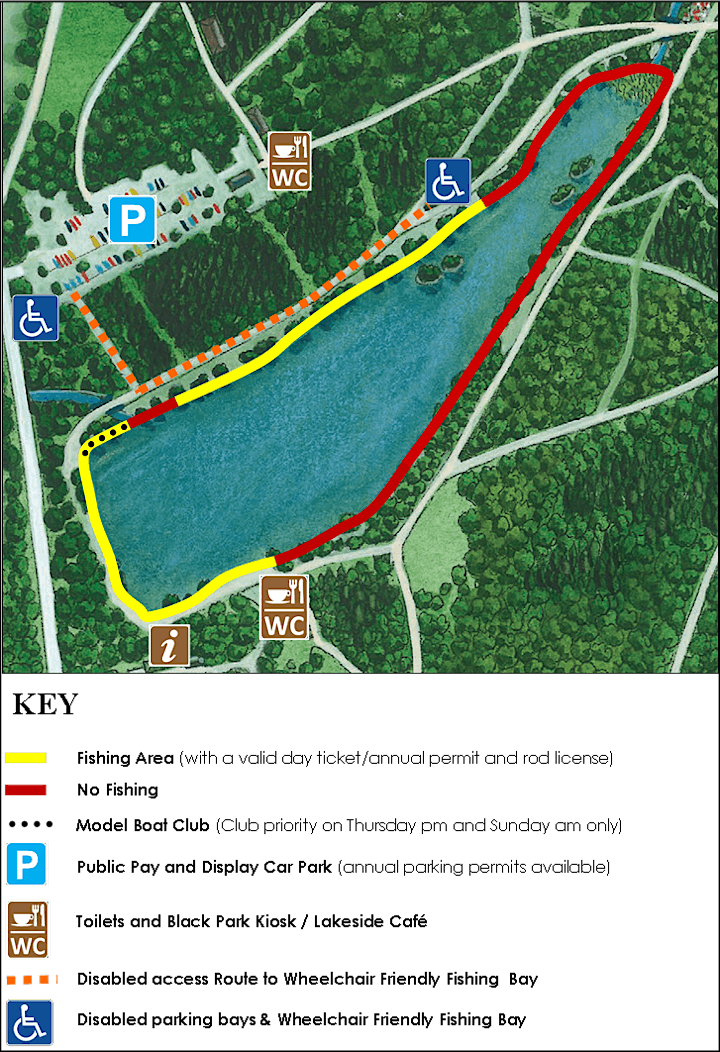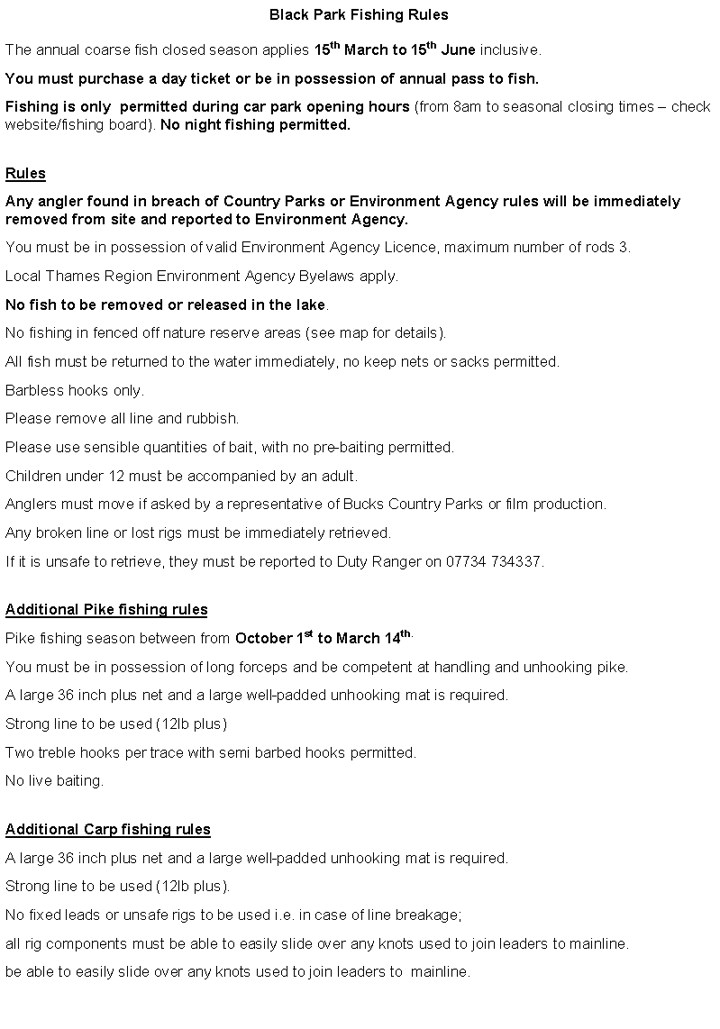 Black Park Fishing FAQ's
Where can I buy a day ticket / annual permit from?
During COVID-19 restrictions our Visitor Centre at Black Park is closed. Therefore all Fishing Day Tickets and Annual Permits need to be purchased in advance online. Please note that Fishing Annual Permits are not valid for fishing until Jan 2021 and are valid for one calendar year.
How much will a Fishing Day Ticket cost me?
Day Ticket: Adult £6* / Concession £4.50* / Child £1*
*Please note that there is a small online booking fee added at checkout.
Does the adult need to buy Day Ticket as well as child if only the child is fishing?
No. If only the child is fishing, then only a child ticket needs to be bought. However if you have multiple rods then both adult and child will need a ticket.
Can I fish anytime of the year?
Black Park continues to operate a closed season 15 March-15 June inclusive.
Can I night fish?
No. Fishing is only permitted in Black Park Lake during car park opening times (8am-seasonal closing times daily).
Are there any rules I need to abide by when I fish?
Yes, fishing rules are attached on email to every Day Ticket purchased. Please make yourself familiar with these.
Where can I fish?
The map above shows you where you can / can't fish on Black Park Lake. Please make yourself familiar with this.
Who do I contact if I would like to discuss Black Park Fishing further?
Buckinghamshire Country Parks Team 01753 511060 / countryparks@buckinghamshire.gov.uk