Are you getting bored of your bog standard exercise class?? YES, i hear you say... Then you need to come and try Fitness Fusion!!
About this event
In our Fitness Fusion classes we "Get up offa that thing + dance til' you feel better..." itness Fusion is a combination of high impact dance workouts, a guaranteed fun way to "dance yourself fit". This class will keep you on your toes and work you to your limits. The combination of different dance exercises means that you get a variety of benefits, from fitness and endurance to flexibility and mobility, to strength and toning, anything and everything involved in this class is a way to improve your body shape and overall fitness in some way or form.
Street Dance, Dance Fitness, Aerobics, Zumba and our Chief Wellbeing Officers own unique dance style are used in each session to create routines that alternate between fast-paced and slow paced dance moves. This makes #FitnessFusion a fun and uncomplicated way to learn dance moves and means you need relatively little dance skills.
Burn calories, improve fitness and build stamina whilst toning all those vital areas. #GetFit #Destress - Most importantly have fun!!
The fee for this class is £5 per session.
Fitness Fusion is part of our hybrid timetable, if you are unable to attend the studio you can participate online by requesting the Zoom link via our 'Get in-touch' bar. You can also join one of our monthly subscription options, just check out our Online Subscriptions on the class page.
Fitness Fusion is suitable for ages 14+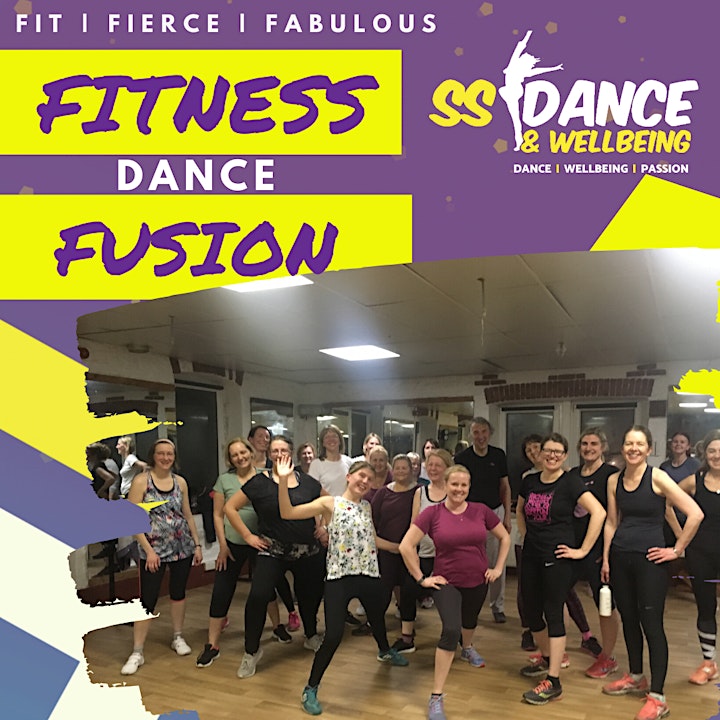 Organiser of Fitness 'DANCE' Fusion
To inspire people's wellbeing, confidence and happiness through dance. 
It's no secret that people's physical and mental health are so closely linked. It's also no secret that getting together with others to learn something new builds confidence, creates enjoyment and helps overcome feelings of isolation and loneliness. This is what dance can do. 

For many people, dance might seem out of their reach. It might be too expensive, it might be too far away, it might feel too intimidating. It doesn't have to be this way. SS Dance & Wellbeing brings the inspiration of dance to you and your community. As a social venture we are committed to making sure dancing can be enjoyed by those who would feel the wonderful benefits and positivity of movement.