Five Points on Sea at The Fountain Head for Brighton Tap Takeover Festival
Description
The Five Points Brewing Company are headed to Brighton, bringing Five Points on Sea to The Fountain Head pub as part of Brighton Tap Takeover Festival! Meet the team who've come all the way from Hackney, and enjoy some of the our beers in cask and keg throughout the festival including Hook Island Red, Five Points XPA, Railway Porter and more!
Head to Five Points on Sea at The Fountain Head for Brighton Tap Takeover Festival for a Five Points Takeover Extraordinaire! Chat with The Five Points team on Friday, the 31st, from 6pm until 10pm, and on Saturday, the 1st, from 3pm until 7pm. We'll be bringing goodies to give away and to win as prizes, so come along!
Here's what will be on the bar for Five Points on Sea!
Keg
Five Points XPA, 4.0%
Five PointsPale, 4.4%
Five Points Pils, 4.8%
Five Points IPA, 7.1%

Cask
Hook Island Red, 6.0%
Brick Field Brown, 5.4%
Railway Porter, 4.8%
Also, check the menu for Fountain Head x Five Points food and beer pairings, plus beer & cheese boards! And don't miss out on the sure-to-be-legendary Bingo Night with Boogaloo Stu on Sunday, the 2nd, at 7:30pm.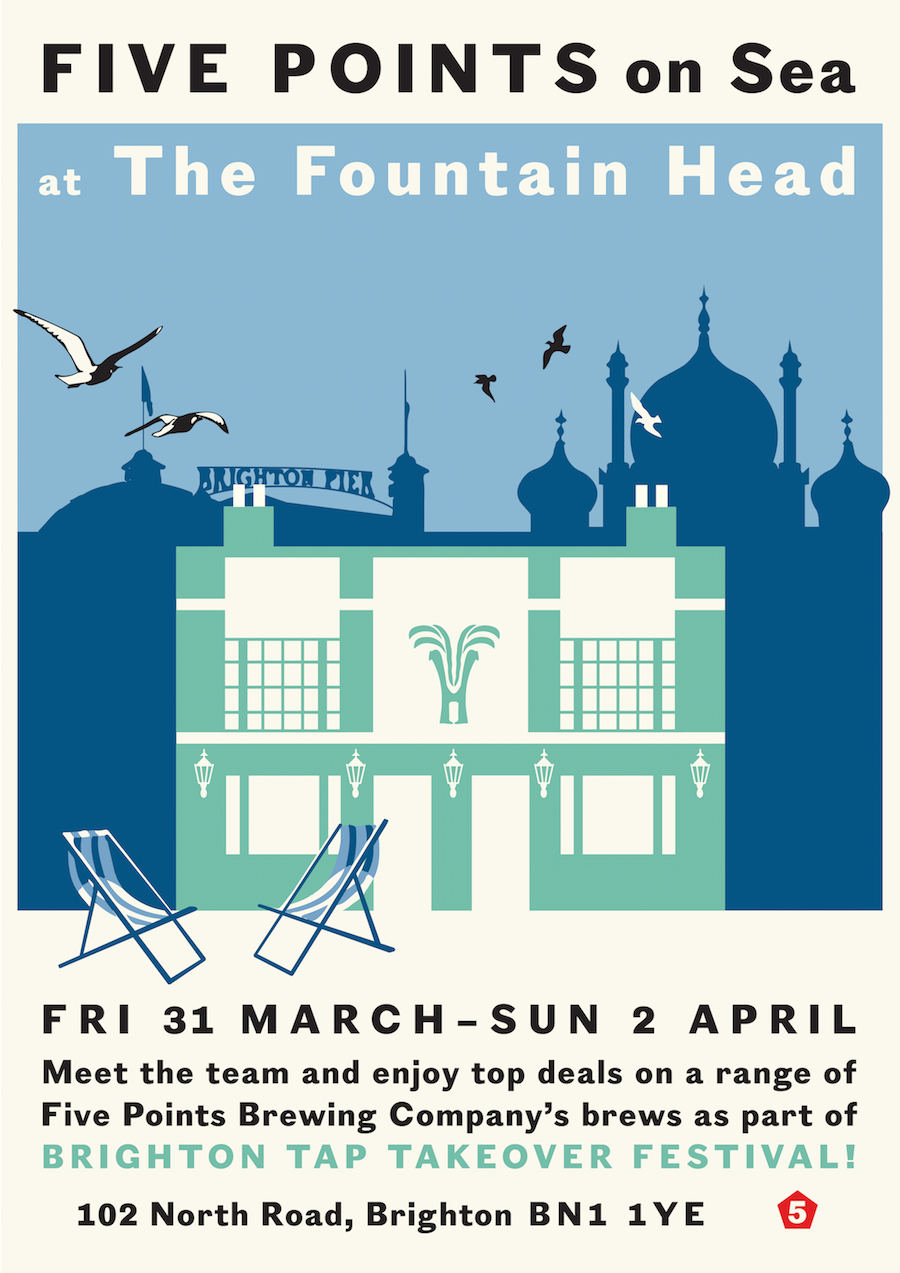 The Five Points is proud to be holding court at The Fountain Head, but be sure to see the other venues taking part in Brighton Tap Takeover Festival, and get your wristbands to take advantage of the best deals around town! You can enjoy Five Points on Sea without a wristband as well, but you'll be missing out on discounts and free beer! Have a look at the Brighton Tap Takeover Festival website for more information!