About this Event
The way advertising works has to change - and fast. Join us at the brand new Samsung KX space in Coal Drops Yard for a global summit featuring expert speakers, industry leaders, incisive debate and cutting-edge tech.
Speakers include: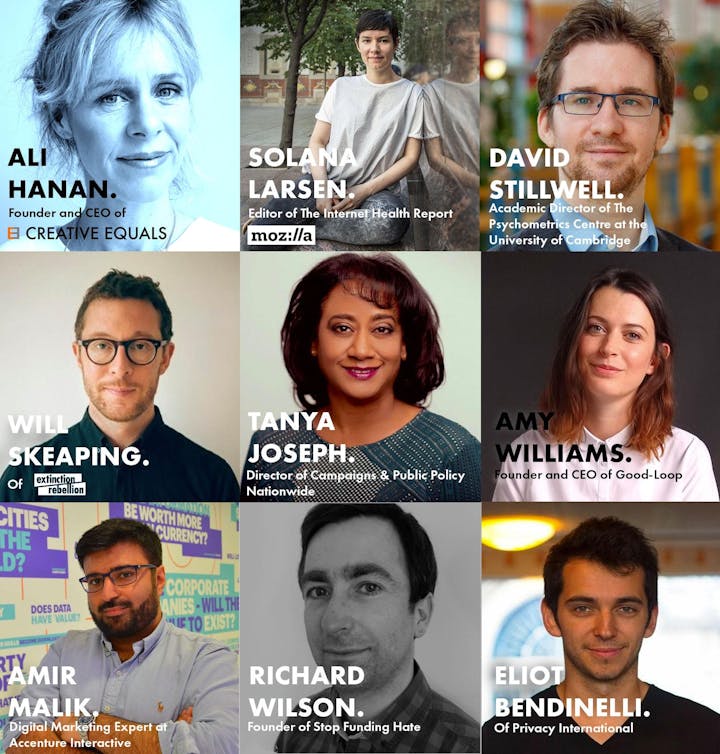 Find out what's wrong with advertising, why it matters, and what you can do about it - through a combination of short talks, workshops and tech demonstrations.
Brought to you by a coalition of advertisers, activists and advocates, including:
Inclusion or Hate? - curated by The Conscious Advertising Network and Creative Equals
On one hand the advertising industry is taking steps towards greater diversity in work and the workplace. On the other, we are still dealing with issues such as the inadvertent funding of hate speech. In Inclusion Week, why are we still talking about hate? And how can we use our influence to promote a more just society? Featuring:
Nandini Jammi, Co-Founder of Sleeping Giants
Ali Hanan, Founder & CEO of Creative Equals
Richard Wilson, Founder of Stop Funding Hate
Tanya Joseph, Director of Campaigns & Public Policy at Nationwide
Amy Williams, Founder & CEO of GoodLoop
The Future of Targeting - with the Mozilla Foundation and Critical Purpose
The insatiable demand for personal data drives so many negative practices in the Ad Industry and beyond - and it's rooted in the promise of ever more effective targeting. What can we do about it? Featuring:
Dr David Stillwell, Academic Director of The Psychometrics Centre, University of Cambridge
Solana Larsen, Editor of the Internet Health Report, the Mozilla Foundation
Eliot Bendenelli, Technologist at Privacy International
Felix Szabo, Policy Researcher at Who Targets Me?
Advertising & the Climate Crisis - featuring Extinction Rebellion and Purpose Disruptors
Avoiding a climate catastrophe will mean radical changes to our lifestyles and consumption. The advertising industry must play a crucial role. Is it ready?
An interactive session run by Jonathan Wise of The Comms Lab, and Will Skeaping of Extinction Rebellion
A free lunch is included from noon.