Welcome to our Flax and Linen Festival Hub at Stocks, Links St, Kirkcaldy. Join curator John Ennis for an Exhibition and Festival Talk
About this event
John Ennis of Journeys in Design offers an introduction to Scotland's first Flax and Linen Festival and to Our Linen Stories Festival Exhibition at 2.30pm.
Kirkcaldy can claim to be Scotland's foremost town of linen heritage. It was home to the last linen weavers in Scotland, who closed their doors only this year and at its height, more people per head of population were employed in the linen industry here than in any other town in Scotland. Fife is home to a creative community that draws on this rich heritage, offering contemporary process and product.
This Festival Exhibition offers new focus for design and heritage in Fife and embarks on European and North American tours in the coming months.
The Exhibition is in the former Stocks Linen Factory, now repurposed as a Carpet Warehouse. At Stocks, we ask you to help us build a 'Linen Works Kirkcaldy' display, with your stories and artefacts, adding to those you have generously offered since our first visit in 2018.
The exhibition includes a novel mapping of 'The Flax Fields of Fife' and a tribute to the hard-working women of the Linen Industry called 'Making Millie'.
In our Flax Futures display, are stunning contemporary designs in flax fibre and linen from including Flax Skis, a Flax Chair and Flax Building components.
Journeys in Design is a cultural initiative with a design focus offering rolling programmes of exhibitions and events. Details of the full Flax and Linen Festival Programme and background to Our Linen Stories exhibition can be found on our websites
https://ourlinenstories.com/
https://www.journeysindesign.com/
Images 1: Flax Fields 2, Lorna Brown; Image 2: Flax and Linen Festivals Scotland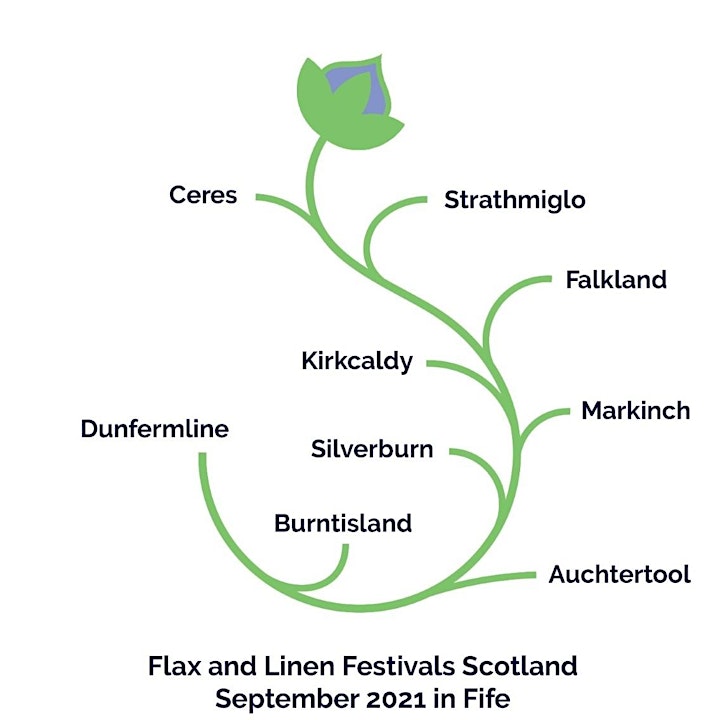 Organiser of Flax and Linen Festival Exhibition Intro and Insights