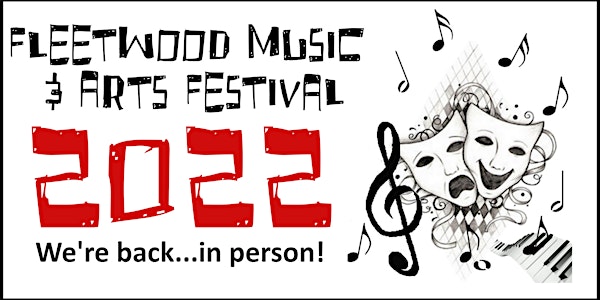 Fleetwood Music & Arts Festival 2022 - Join us for our In Person Event
Location
Rossall School
Broadway
Fleetwood
FY7 8JW
United Kingdom
Fleetwood Music and Arts Festival is an annual celebration of the Arts. Competitions for amateur actors, instrumentalists and singers.
About this event
You are currently viewing our in person event page!
Our 2022 festival is taking place in two ways.
After another challenging year for all, (especially those in performing arts professionally) we're excited to announce our local festival (aimed at providing a platform for amateur performers of all backgrounds) is again able to go ahead is back in person AND will continue online.
Two opportunities for you to share your talent and receive professional feedback.
The full syllabus is the same apart from set pieces in each genre where there will be separate choices for online and in person.
This aims to give you the choice to perform live on Festival Day with different pieces and still enter the Online Festival for extra feedback if you wish! Or you can make your choice dependant on your circumstances.
Head over to our Festival 2022 You Tube Playlist for helpful videos to support you in choosing your performance categories.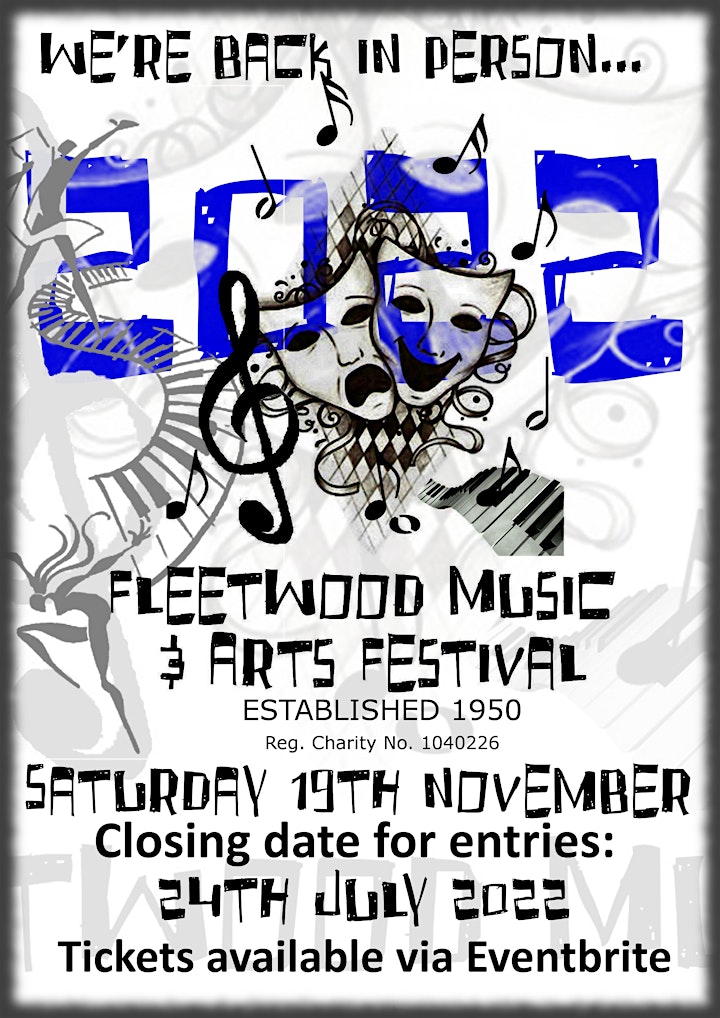 How to Enter
For all competitive classes available please click on the green tickets button to the right where our syllabus is displayed in ticket format.
Please select your classes by adding a ticket for each class you would like to enter. This will add the entry ticket for that class into your basket.
Once all the classes you'd like to enter are in your basket please go to checkout and pay your entry fee.
N.B. We have kept our entry fees for classes as low as possible to reflect the fee for each ticket Eventbrite add for administration.
The fee is non-profit making and only funds the adjudicators, their expenses and festival disbursements.
This festival is only open to amateur performers. You are not eligible to enter if you have been paid for performing on a regular basis at any point in the last 10 years or currently teach performing arts.
Things to note before you purchase your ticket
Please understand that once a class entry ticket has been purchased you will not be entitled to a refund should you decide to no longer take part in the festival.
N.B. Tickets bought on this page are for our in person festival only and cannot be transferred to the online festival.
For our online festival please visit the online festival's Eventbrite page by clicking here.
By purchasing a ticket you are agreeing to our terms and conditions and giving permission for the festival to process your personal data to allow you to take part.
If you're under 16yrs of age permission must be granted by a parent or guardian at the checkout stage.
Our Adjudicators
Details of our Adjudicators will be added to the site soon.
Rules for Competitions
If you have any questions please email fleetwoodfest@gmail.com.
Competitors can only perform once in any solo class.
To comply with the current agreement made with the Authors Licensing and Collection Society, the TITLE, AUTHOR and PUBLISHER must be provided when requested at checkout stage.
In under 18 age classes the age stated in the syllabus is that of the competitor on the date of the Festival :19th November 2022
An electronic copy of own choice music or script must be uploaded to the One Drive folder you are provided with by the 31st August 2022. Failure to do so may result in your entry to the festival being cancelled.
A Festival Accompanist will be available.
If you require an accompanist you must inform the festival at the point of entry.
If you do not you are welcome to use your own.
A CD backing track with NO OTHER VOCALS is acceptable to use for any class where it is specified.
Alternatively you may sing unaccompanied.
For all modern instrumental classes a backing track with no vocals may be used to play alongside. For all traditional instruments you must play unaccompanied.
Costume is not allowed throughout all of the classes.