Description
Float is a one-day festival in Manchester, England and will bring together makers, foodies, idea creators, mindfulness practitioners, business/personal development gurus and yoga teachers to open your eyes and quiet your mind.
Throughout the day we will have awesome pop up retail where you can shop cool independent retail and things to make you feel good.
We'll also have music, glitter, reflexology and free massages.
Chill out zones, food, drink demos, soap box talks, ideas and conversation and general great vibes!! ❤️❤️❤️
Once you've purchased your ticket we will be in touch to ask you to choose ONE workshop and ONE talk in advance.
Full line-up below:
So, to round up :) here's what you get within your ticket price:
1) Access to amazing pop-up retail, inspiring stories, pop-up fitness classes, massage, reflexology, live performances + MUCH more. All hand-picked by us to make you feel good!
2) Access to ONE workshop (pls reserve your place in advance)
3) Access to ONE talk (pls reserve your place in advance)
4) One Smoothie Bowl by Well Bar Bowl.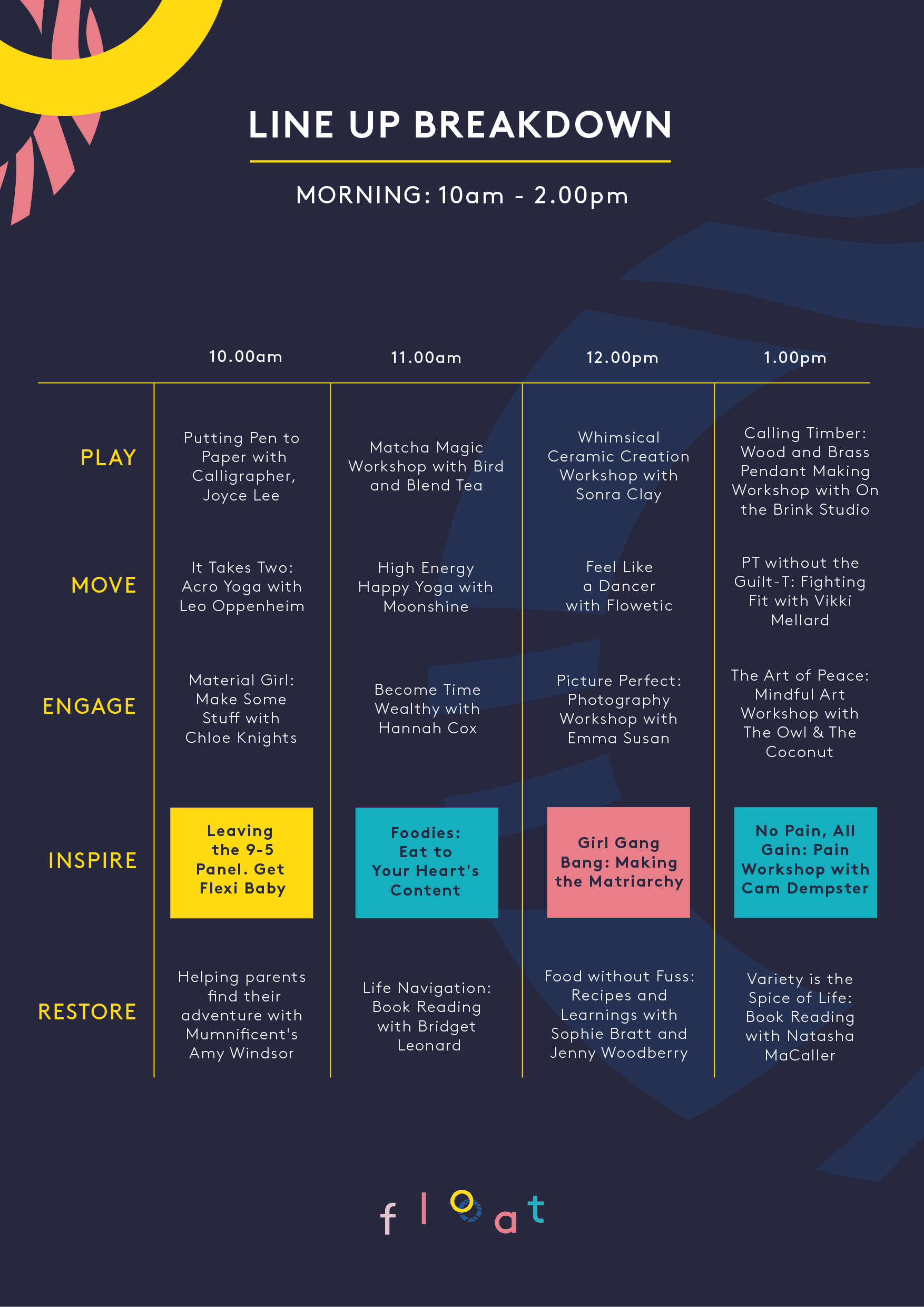 Float is an annual event organised by Yolk and The Vibrancy Hub.
More info at floatfestivalmcr.co.uk
£5 of all ticket sales will go to Forever Manchester.
"Wellness is talking, learning, exploring, stumbling, creating.
Wellness is not perfection in body or mind, string-chasing or self-hating.
Wellness is trial and error, buoyancy in stormy seas and anything that feels liberating.
Wellness is people that breathe and talk and eat and grow; self-acceptance, a quiet mind, a desire to believe.
It's an idea worth contemplating."
In a world of sink or swim, let us be your Float.