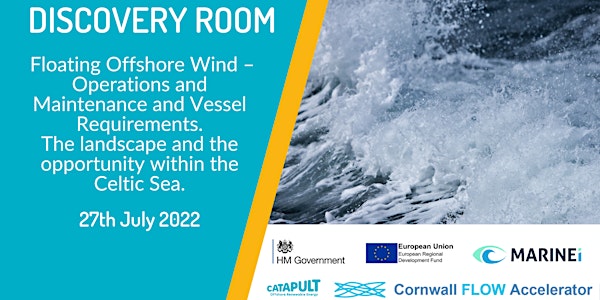 Floating Offshore Wind – Operations and Maintenance and Vessel Requirements
Delivered by the Marine-i Project, led by Offshore Renewable Energy Catapult in conjunction with Cornwall FLOW Accelerator
About this event
The Marine-i project is a £5.5m project part funded by ERDF. The partners are University of Exeter (lead), University of Plymouth, Offshore Renewable Catapult, Cornwall County Council, Cornwall Colleges and Cornwall Marine Network. Marine-i provides leadership and a focal point to galvanise and support business-led and market-driven Research, Development and Innovation (RD&I) in Cornwall and the Isles of Scilly.
The Discovery Room will be an introduction to O&M and associated issues. This event is designed to:
Emphasise the size and scope of Floating Offshore Wind in the Celtic Sea area
Explain the multi-faceted nature of O&M
Explain the vessel requirements to service Floating Offshore Wind
Explore the future challenges and potentiality for innovation and provision of products and services from within the Celtic Sea region.
Identify areas for deeper dive workshops to be held in person later in the year/2023.
Schedule
10:00 Lisa Beverley-Jones – University of Exeter: Introduction to the Marine-I project
10:05 Simon Cheeseman – Offshore Renewable Energy Catapult: Floating Offshore. Wind in the Celtic Sea. Status and Future Development
10:20 Katharine York – Offshore Renewable Energy Catapult: Floating Offshore Wind - the O&M effect. The long term impact of floating offshore wind on careers and the business community
10:40 Simon Cheeseman / Katharine York: Short Q&A
10:45 Arup Group: Operations and Maintenance from an industry perspective
11:05 Simon Cheeseman / Arup Group: Short Q&A
11:10 Chenyu Zhao – University of Exeter: Operation & Maintenance Cost. A floating offshore wind case study
11:30 Simon Cheeseman / Chenyu Zhao: Short Q&A
11:35 David Cooper – Offshore Renewable Energy Catapult: Floating Offshore Wind support vessels and the opportunity for UK supply chain. A look at the forecast demand for vessels in offshore wind and the opportunities and risks for UK supply chain
11:55 Simon Cheeseman/ David Cooper: Short Q&A
12:00 SSE Renewables
12:20 Simon Cheeseman / SSE : Short Q&A
12:25 All Presenters: Panel Q&A
12:40 Simon Cheeseman: Summary
12:45 End
Marine-i is an ambitious programme designed to enable innovation in the marine technology sector in Cornwall and the Isles of Scilly. Part funded by the European Regional Development Fund, the project brings together expertise and key infrastructure from our partners: University of Exeter, Cornwall Council, University of Plymouth, Offshore Renewable Energy Catapult, The Cornwall College Group and Cornwall Marine Network. More information can be found at: www.marine-i.co.uk