Description

Flood Modeller Suite 2017 is one of the industry's premier flood modelling events. The 2017 conference will take place on Thursday 19th October at The Geological Society in London.

Download the conference programme
A one-day training workshop on efficient and effective flood modelling will also be taking place on Wednesday 18th October at CH2M's office in Hammersmith, London.

The 2017 conference provides an excellent opportunity for new and existing users of Flood Modeller Suite (which includes Flood Modeller Pro, Flood Modeller Free, Flood Viewer and Flood Cloud) to find out more about the software.

CH2M's Technical Director for Flood Modeller Suite, Dr. Jon Wicks, will open the conference by unveiling the innovative new tools and features provided within our industry-leading flood modelling software. The event will then allow delegates to learn more about the varied applications of Flood Modeller Pro, and associated tools, through a series of presentations delivered by users of our software.
What's new in Flood Modeller
Jon Wicks, CH2M
Flood risk communications
Craig Woolhouse, Environment Agency
Insight into Flood Modeller Pro 2D troubleshooting
Emma Bullen, Arcadis
Working with one of Europe's biggest hydraulic models
Rob Fraser, GBV and Simon Lewis, Environment Agency

Replacing 111 flow forecasting models with Flood Modeller Pro by developing and adapting a global template
Odell Harrison, JBA Consulting
Advanced functionality for everyday projects
Konrad Adams, CH2M
Modelling of the River Cree using Flood Modeller Pro
Callum Anderson, Kaya Consulting
The application of Flood Modeller Pro in Sri Lanka
Chris Whitlow, Edenvale Young Associates
Challenges and lessons learnt in converting a hydraulic model to a different software package
Sam Bray, Amec Foster Wheeler
Overview of GeoRiver v5.0
Ben Gibson, JBA Consulting (lunchtime presentation)
Benefits of CIWEM membership
Tim Simms, CIWEM (lunchtime presentation)
Attendees will be able to network with others in the industry, meet the Flood Modeller Suite team and help direct the future development of the software.
The conference is supported by the Chartered Institution of Water and Environmental Management (CIWEM) and will contribute towards your CPD.

Delegates with a Flood Modeller Pro support and maintenance contract benefit from a discounted registration fee. Academic users can attend at no cost.
Attendees of the technical workshop and/or conference (arriving early for the next day's proceedings) are invited for informal drinks and networking at a local pub in Hammersmith (venue to be confirmed).
Further details, including a full agenda, will be published in upcoming months.
Presentations and photographs from previous events can be found on our website.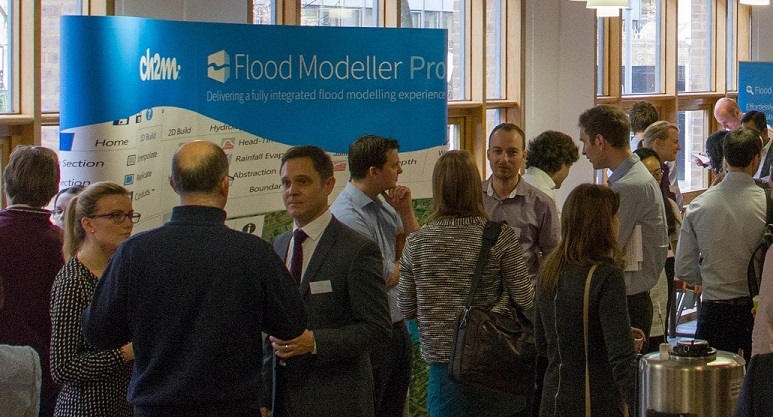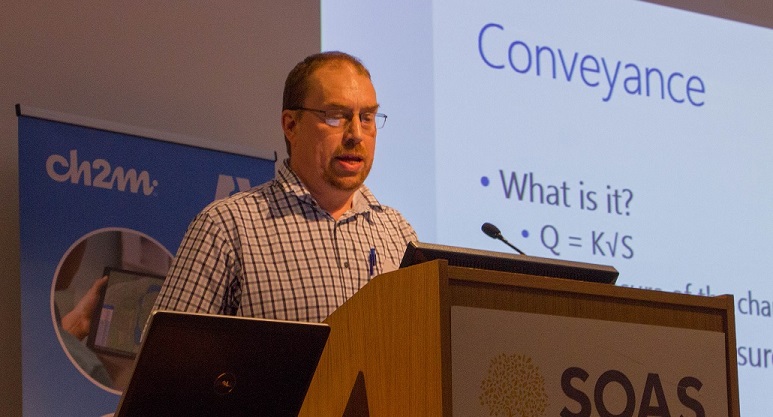 FAQs
Can you invoice me if I wish to purchase multiple tickets?
Yes, if you wish to purchase multiple tickets, CH2M can invoice you directly and provide registration codes to book your tickets through the system. Contact Alastair Sheppard at Alastair.Sheppard@ch2m.com for further information.

What are the nearest London Underground stations?
Green Park and Piccadilly Circus are both 5 minutes' walk from the Geological Society. These underground stations are easily and quickly accessed from Victoria, Charing Cross and King's Cross St. Pancras train stations.
Does the Geological Society have any on-site parking?
The Geological Society does not provide any parking facilities and we advise all attendees to use public transport.
Can I book CPD hours if I attend the conference?

Yes, the conference is supported by the Chartered Institution of Water and Environmental Management (CIWEM) and will contribute towards your CPD.