Description
The Flourish Wellbeing Festival takes place at the beautiful Glasshouse Arts Centre in Stourbridge. The theme of the festival encourages us to consider how to live well and flourish.
Throughout the day there will be a range of interesting speakers with a focus on improving wellbeing. There will be opportunities to take part in a range of activities throughout the day including mindfulness and yoga tasters and wider activities that contribute to wellbeing such as creative arts.
You can expect fantastic healthy street food to be eaten in friendly communal areas that encourage new friendships to be made. A wellbeing marketplace and bookshop will be open all day for you to peruse at your leisure. A pop up cinema screening short films will be provided by the Friendly Neighbourhood Cinema.
We're hoping that the festival will encourage you to make small changes within your life that could transform your wellbeing.
Although the festival is open all day you may choose to come along for only part of it. Keep checking our Facebook page for the full festival programme for the day.
The festival venue is well worth a visit in its own right within easy reach of Stourbridge by bus or a 20 minute stroll or short bike ride along the picturesque canal. Plenty of car parking on site. The site is an artistic and cultural hub for the local community and hosts international art and glass festivals. The Glasshouse Arts Centre and the Ruskin Glass Centre form part of the Ruskin Mill Trust Glasshouse College and are housed in a former glass factory in the heart of Stourbridge's Glass Quarter. The site comprises an array of craft workshops, social enterprises, theatre and conferencing facilities and artisan studios.
The festival is being organised with the full support of the Glasshouse Arts Centre by New Wellbeing Ltd which is a small business run by Stourbridge resident Sarah New. Sarah a former nurse and public health commissioner successfully organises the very popular Street Food Affair and Twilight Market events further along the canal at the Bonded Warehouse. Sarah is working with her niece Charlotte Ellis, a wellbeing practitioner, to bring about Stourbridge's first wellbeing festival. The festival organising team is working collaboratively with a range of local businesses, artists, charities and social enterprises to provide the festival programme and a platform for them to promote their talents and services to festival goers.
Bringing Children?
In the main our festival is for adults but you are very welcome to bring your children with you and their entrance is free. We hope that you appreciate that due to content some of the festival activities are not suitable for young children i.e. the Inspire Speakers Forum, Wellness Studio and Wellbeing Workshops in the Zodiac Room. However children are welcome in the Nourish Cafe and Feel Good Marketplace and communal outdoor space. If Street Food Affair is anything to go by we find that the children always enjoy the live music. We have created a family friendly area where you can meet Casey who will be running Relax Kids taster sessions throughout the day. We also will have art materials to entertain and will be inviting you to paint rocks with your children as part of @stourbridgerocks and then hide them in the community. Events by Tommy's Treasures have their Harry Potter stall and their very own Professor Calculus will be running a wand class and spell casting sessions. Children will be fascinated by the Homes for Bugs outdoors. Plus we have been told that we may have Blue Watch at Stourbridge Fire Station pay us a visit with their fire engine at 2pm provided there isn't an emergency.
Confirmed Wellbeing Workshops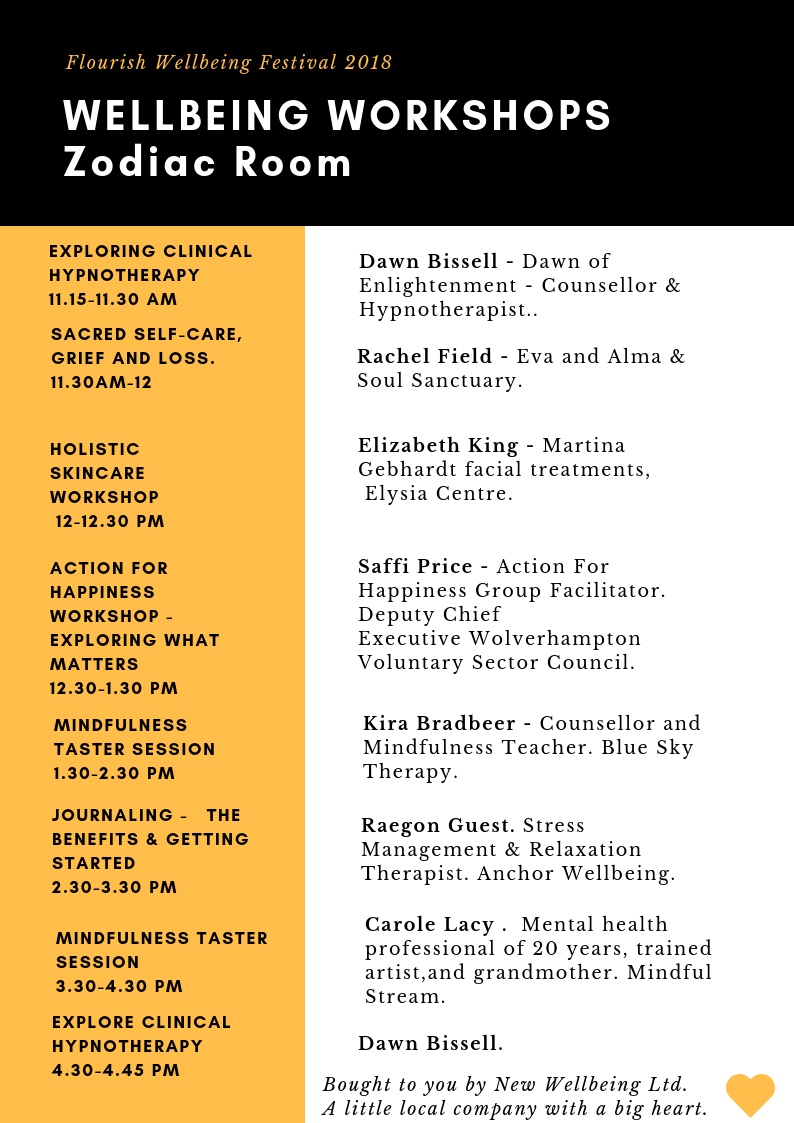 Confirmed instructors in Wellness Studio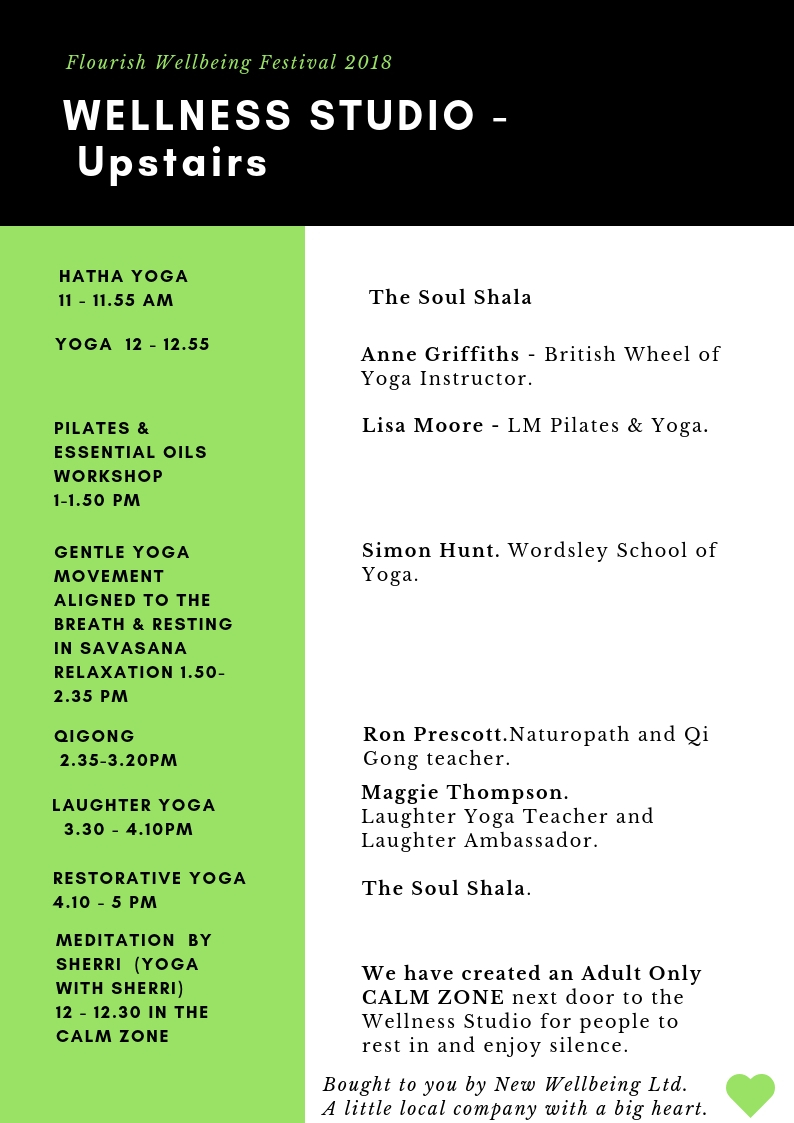 Confirmed Speakers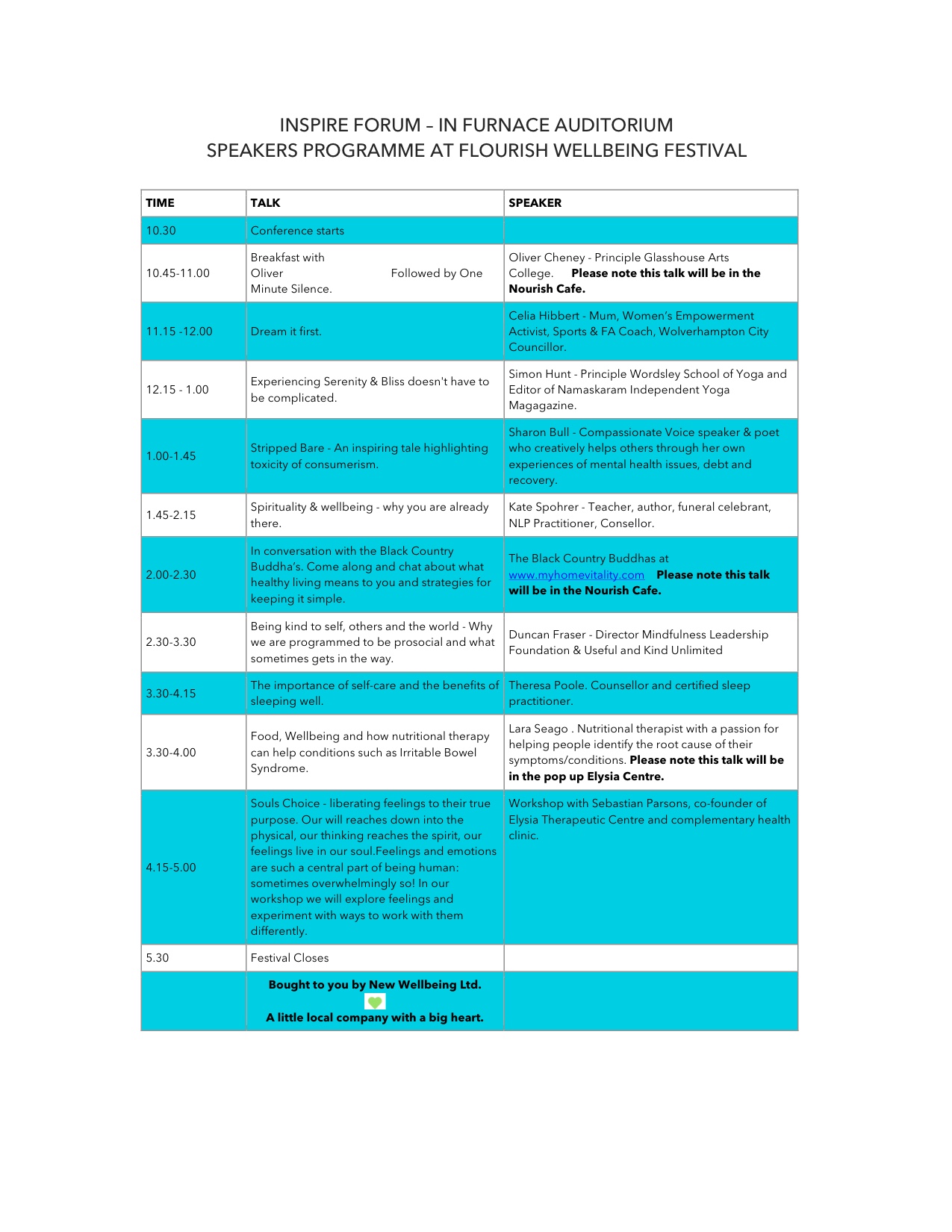 Update: Feel Good Marketplace.
We have some lovely practitioners offering tasters and lovely stalls in the Feel Good Market Place. From massage to organic beauty products to food to jewellery. Something for everyone.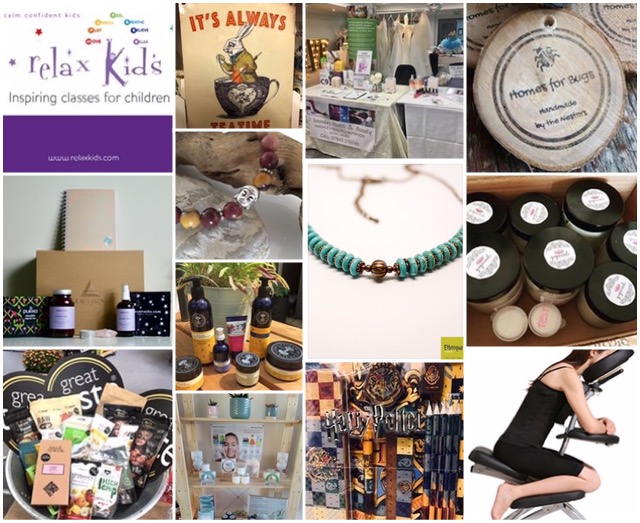 Update: Healthier Street Food and Refreshements in the Nourish Cafe. We are proud to also be a designated Happiness Cafe by Action For Happiness.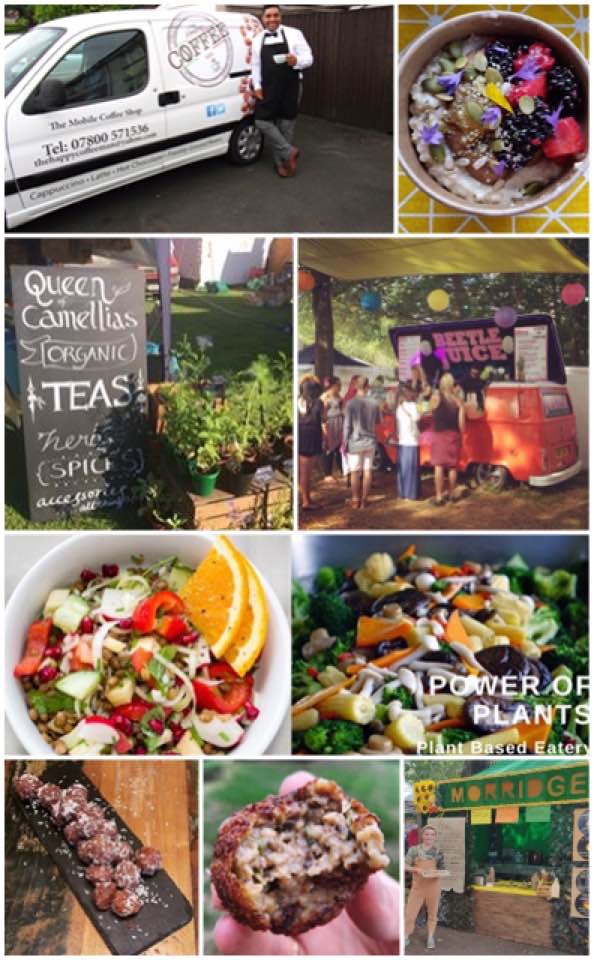 Here's a little sneak preview of the Flourish Festival programme. We couldn't fit everything thats going on onto one page! We are starting to get really excited about this now. Please make sure you like our page to get updates on other speakers, activities, musicians, therapies and food and stall holders. It's not too late to get involved. Make sure you get your tickets in advance. Just £5 for adult admission which gets you free access to everything on the programme. Children under 16 are free. We have introduced a 'Flourish Lite' £1 ticket for those people who don't want access to the full festival programme. A 'Flourish Lite' £1 ticket is payable on the door and gets people access to the street food dining room and wellbeng marketplace only. Please note that 'Flourish Lite' ticketholders will not be able to access any of the talks, workshops or other activities. However people can upgrade for a full festival ticket on the day. We will be checking peoples tickets and only those with full access festival tickets will be admitted into the rooms where the talks, workshops and craft activities are held. If you intend coming on the day and purchasing a 'Flourish Lite' ticket then please like our facebook page and 'Flourish Lite' event to get updates and let us know you are coming to help us plan accordingly.