Location
Aberfoyle Bike Hire & Cafe
Main Street
Aberfoyle
FK8 3UQ
United Kingdom
Learn What It Takes to Succeed Effortlessly by Operating in the "Flow State" on this Weekend Cycling Adventure in Aberfoyle (Level 1)
About this event
This level 1 cycling course on forestry tracks and hybrid bikes is for those with a basic level of bike skills and fitness (more details below) and is based in Aberfoyle, Stirling (approximately 1 hour from Glasgow). Bike hire is included. Accommodation is not included.
What is this course about?
This weekend biking adventure will make you a more able and confident bike rider.
But that is just the surface level change you will experience...
Below the surface, where your real power lies, it will upgrade your internal operating system (mind, body, awareness) to operate in the flow state.
Hard work and being under pressure takes you so far when you want create success and achieve your goals.
But there is a point at which it leaves you overwhelmed, exhausted and drained and doubting yourself.
THERE IS ANOTHER WAY.
It's often referred to as the "FLOW STATE".
When you are operating in the flow state, not only does it feel amazing, it feels easy, deeply satisfying and much less like hard work.
This is because you are moving beyond your limited conscious mind.
You replace hard work and struggle with going within in and connecting with what truly brings you alive and motivates you.
You bring awareness to all the ways in which you current strategy of putting pressure on yourself is sabotaging your success and learn how to let that go.
In doing so you, can harness the full power of your incredible being, including your superconscious mind.
Whether you are riding your bike or challenging yourself in your career or relationships, the principles of how to achieve the flow state are the same.
Riding your bike in beautiful natural surroundings with other like minded people provides the perfect training ground for learning and experiencing for yourself, the power (and joy) of changing your inner game and operating "in flow".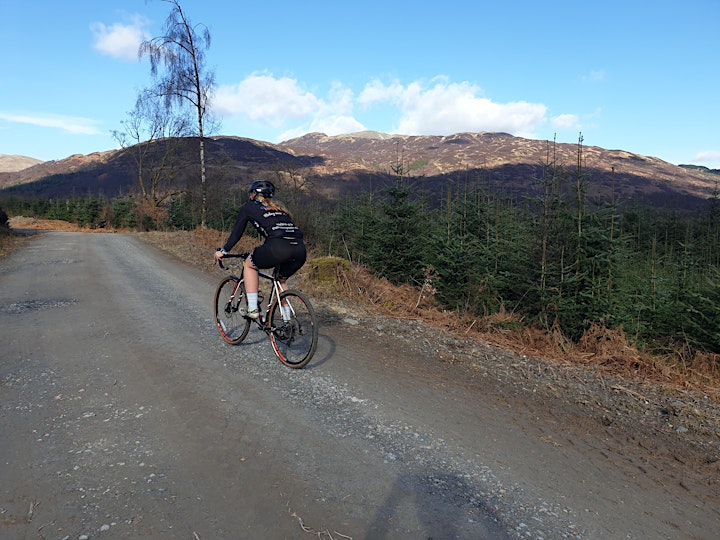 What Will You Learn?
You will learn to ride your bike better but more than that you will learn and practice the inner game skills that elevate your "modus operandi" to the flow state.
Bike Handling and Practical Skills
You will learn how to optimize your technique for:
cornering on road and rough tracks (gravel and tarmac),
for braking efficiently,
changing gears efficiently, and
descending on uneven tracks with more confidence and speed.
We will also practice changing an inner tube efficiently so you can have confidence that a flat tyre will not ruin your day or leave you in a sticky situation when you go on a ride.
Flow State Skills
You will learn and experience how to shift into deeper awareness and how the experience of being immersed in nature impacts this.
You will get to see how your own mind unconsciously responds to challenging situations, by creating fear, doubt and negative thoughts and how that can lead to unwanted outcomes that you thought you had no control over.
You will learn how to work with the subconscious responses so you can create the experience you want rather than feel the victim of circumstance you can't control.
You will learn how to engage your superconscious mind which is many times more powerful than the conscious mind. This is the really fun bit because this is where you start to be able to go faster and up your ability level exponentially in a very short amount of time and really get a taste of the flow state.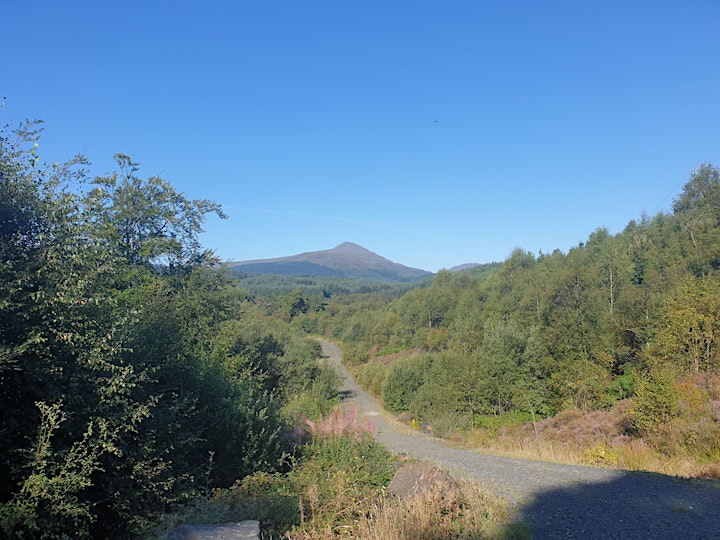 Level 1 Skill and Fitness Levels
It does not matter how good/experienced you are on your bike when it comes to learning flow state mastery, as long as you can ride one in a straight line on flat tarmac.
However, your current skill & fitness levels on a bike will influence which level of course you pick.
Level 1 Skill Level
You should be able to ride a bike in a straight line on flat tarmac, know how to stop using the brakes and at least had a go of changing gears on a bike before.
Level 1 Fitness Level
We will be riding with regular stops from 10am to 4pm with a longer stop (say 30mins to 1 hour) for lunch. The terrain includes rough forestry tracks (wide enough for vehicles) and hills (although nothing extremely steep).
It doesn't matter if you have not ridden much recently and are feeling unfit or under confident. Nobody will be left behind or made to feel they are holding everyone else up!
Have a look at the proposed timetable for the weekend below and based on that make your own judgement as to whether you have sufficient fitness levels to manage and enjoy this course. Email me if you are unsure and would like to discuss.
This course is Level 1. If you are looking for something more challenging in terms of skill and fitness, check out the Level 2 courses on mountain bikes (at Comrie Croft (Perthshire), not Aberfoyle (Stirlingshire) also on Eventbrite.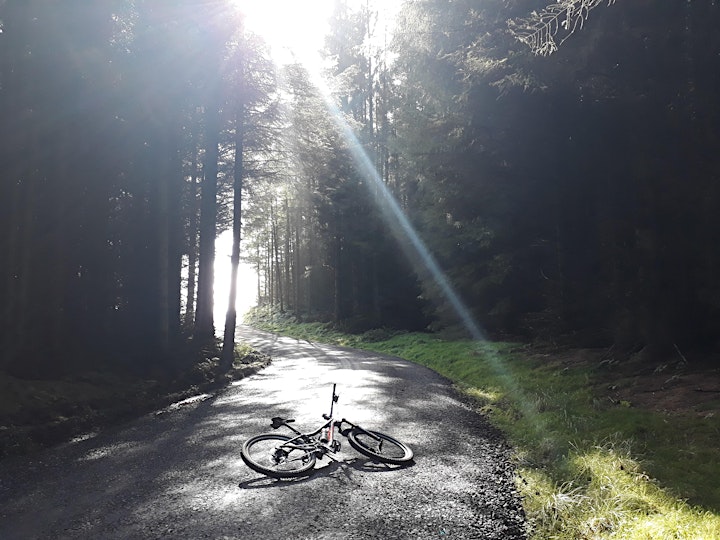 Location
The weekend is based in and around Aberfoyle, a small village surrounded by beautiful mountains, lochs and forests.
It's known as the "gateway" to the Highlands, being situated on the Highland Boundary fault line. Yet, it's still easily accessible, being less than one hour's drive from Glasgow.
It is surrounded by mile upon mile of traffic free forestry tracks which are perfect for biking.
It also has great pubs, cafes and shops including a bike hire and repair shop.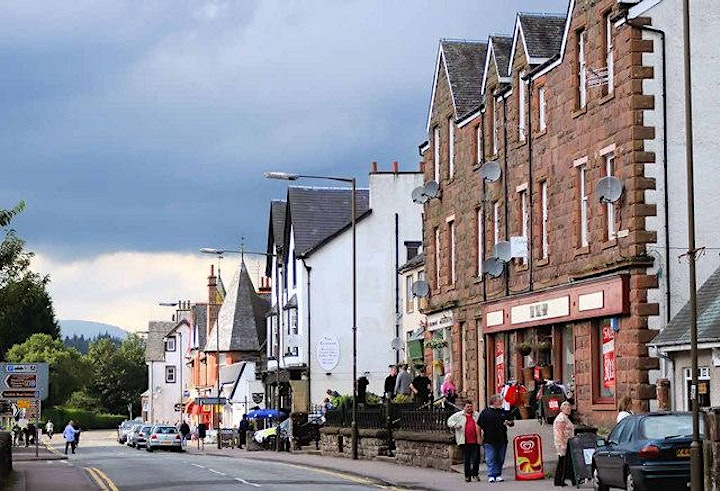 Accommodation
There are plenty of accomodation options in and around Aberfoyle.
I recommend the Karma Lake of Menteith Hotel ( 4 miles east of Aberfoyle)
We will have a table for dinner booked there for the Saturday evening.
Here are the menus
There is a 10% discount on their normal rates for us. It is important to book as soon as possible as the hotel does get fully booked.
Get in touch if you would like more recommendations for accommodation.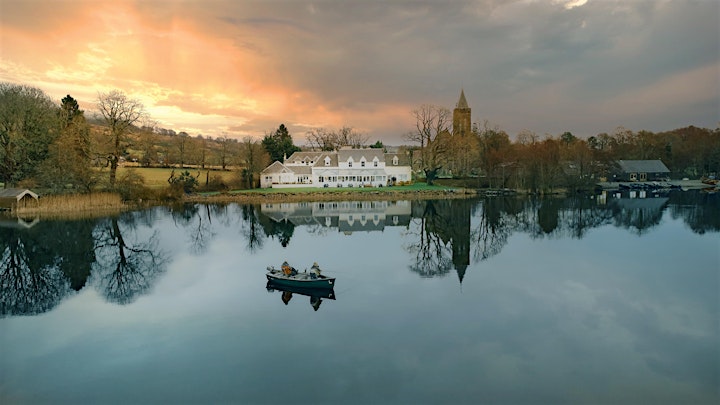 Equipment
Bike hire and bike helmet is included in the price. The bikes are hybrid bikes, ideally suited to the local forestry tracks. They are of the latest design, nice and light and well maintained by the local bike shop. It also means you don't have worry about transporting a bike or making sure your bike from home is in good enough condition
You will receive a full recommended "what to bring list" after you sign up.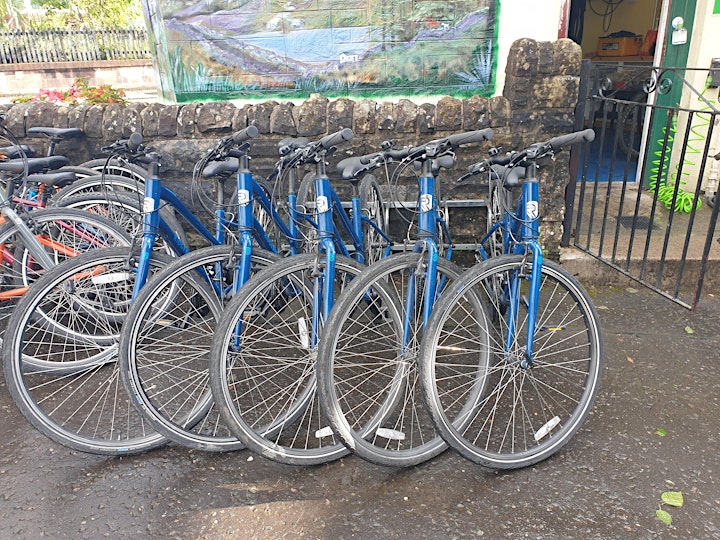 Provisional Timetable (subject to change depending on weather conditions and participants)
Friday Evening (optional for those arriving on Friday) :
7pm: Meet in the bar of Karma Lake of Menteith Hotel - a chance for those who have already arrived to meet up and chat about the weekend ahead)
Saturday
10am:
Introductions and Briefing outside Aberfoyle Bike Hire and Repair Shop (east end of Aberfoyle Main Car Park)
11am - 1pm :
Technique Skills Coaching (braking, body position, cornering, gear changing, pedalling)
Lunch (bring your own...you can buy sandwiches and snacks in the Co-op next door to the Forth Inn)
2pm - 4.30pm:
Flow State Skills (in the course of a ride circa 15km)
7pm (optional) - Meet other participants for dinner at Karma Lake of Menteith Hotel (4 miles drive east of Aberfoyle)
Sunday
10am -10.30:
Briefing for the Day - Forth Inn
Workshop on Changing Your Inner Tube Efficiently
10.30 - 2.30
Circa 15 mile easy paced forest ride with stop for lunch . The route has some undulating hills but is not very steep...we will not be riding up any mountains! - (bring your own lunch.....you can buy sandwiches and snacks in the Co-op next door to the Forth Inn)
3 - 4.30pm
De Brief & Reflections from the weekend.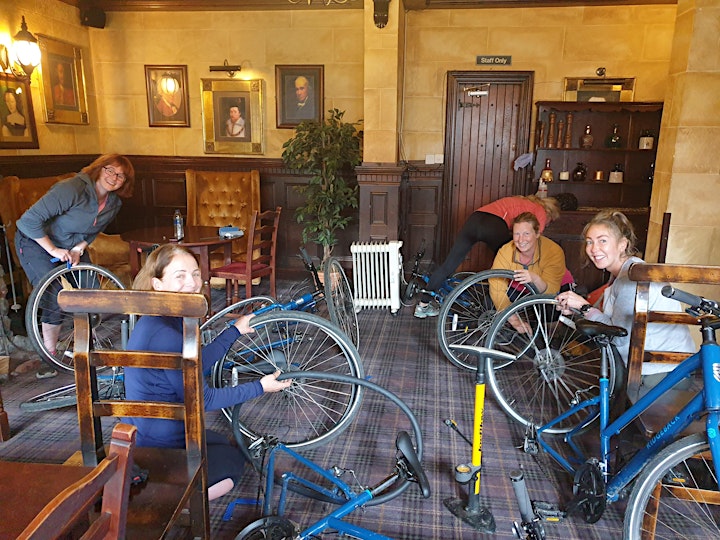 Dates:
There are other course dates also Eventbrite.
What People Say
Here's what previous riders have said about their experience:
"This was easily the most effective confidence building, empowering course I've been on. I learned to ride my bike better too and loved the adrenaline rush of whizzing down hills with increasing speed as the weekend progressed! The camaraderie of the group and mutual support & encouragement was a crucial aspect too. I want to do it all over again next weekend! "
Dianne Cantali - Senior Lecturer Dundee University
"I absolutely loved every aspect of my weekend and have already highly recommended to my friends.
Mindful cycling in idyllic surroundings with a top class instructor. Elizabeth taught with empathy, precision and enthusiasm, whilst allowing us to practise each element at our own pace.
Sharing this journey, with like-minded people, all on a path to self-care and self-improvement only enhanced the experience further.
I left for home feeling wonderful and ready to get right back on my bike with confidence!"
Kerry Smith
About Me:
Ex-lawyer turned life coach, I get that life changing power of the bike and nature in a world where there are so many demands on us all and a new approach is needed to for us to truly thrive.
Qualifications:
Certified Transformational Coach - Animas Centre for Coaching (UK) accredited by ICF
Certified Feminine Power Coach - The Institute of Woman Centered Coaching Training and Leadership (California)British Cycling Qualified Mountain Bike Coach
British Cycling Qualified Mountain Bike Leader