Event Information
Location
Design District
Building C1
1 Cripps Yard, Soames Walk
London
SE10 0BQ
United Kingdom
Refund policy
Contact the organiser to request a refund.
Eventbrite's fee is nonrefundable.
FLUX at Design District - Greenwich Peninsula FLUX Exhibition is an exciting event of international contemporary art.
About this event
FLUX Exhibition Showcasing 50 Contemporary Artists
This summer FLUX Exhibition will present a ten-day event showcasing the work of 50 contemporary artists. FLUX Exhibition is London's leading event to discover the most talented, dynamic painters, sculptors, and performance artists.
FLUX has established itself as the platform for contemporary artists to be discovered and to be part of an exceptional, inspirational art event. Held at The Design District – Greenwich Peninsula in London and curated by Lisa Gray, the founder of FLUX, this much-anticipated edition brings 50 artists to the fore. Gray has selected the very best emerging and established artists for a ten-day event.
The FLUX opening party comes alive with musical guests, performance art, and site-specific installations which complement the work and bring a new experimental approach to the exhibition.
The exhibition represents an opportunity to gain access to a vast and diverse group of gifted artists, on the path to being the big names of tomorrow, showcasing international talent in a collaborative, inclusive show. FLUX celebrates artists on the precipice of wider accolades and fame.
All guests who make a purchase will receive a Limited-Edition artwork by artist Marcus Jake worth £250.
Drag legends Anna Phylactic and Liquorice Black from Drag SOS and Marnie Scarlet will be hosts at the private view on the 16th of June.
Details:
Contact lisa@thefluxreview.com
16th – 26th June 2022
Design District
Building C1
1 Cripps Yard
Soames Walk
London
SE10 0BQ
Opening Times:
Private View 16th June 18.00-21.00pm
17th-26th June:
Mon/Sat/Sun 11.00-17.00pm
Tues-Fri. 11.00-19.00pm
www.fluxexhibition.com
www.thefluxreview.com
Tickets – Eventbrite
Featured artists:
Flora Borsi
Flora Borsi is a young fine art photographer from Hungary. She uses exquisite photo manipulation to create surreal images that are thematically focused on identity, relationships, emotions and dreams. Her immaculate technique and subtle conceptual ideas create beautiful evocations of universal emotions, from lust and desire to despair and loss. Borsi at once captures the complex strength and fragility of the human psyche. She expertly visualises dark fantasies and atmospheric dreams, utilising the uncanny and clever metaphor, while unlocking what it means to think, feel, dream and express in the urban world. Her work often features the female body, and she plays with hiding and revealing the eyes or face to leave only the feminine form, exploring questions of female representation and the relationship between body and self. Borsi has exhibited internationally with solo exhibitions in Europe and the USA and has most notably taken part in the Continental Shift group exhibition at Saatchi Gallery. She has also exhibited at the Louvre, France.
Marcus Jake
Marcus Jake is a full-time abstract and mixed-media artist born in the UK. He is currently making his home in Victoria, BC, Canada. Jake was educated in Bristol, UK, where he studied and received his BA (Hons) Degree in Fine Art and Certificate in Higher Education in Photography.
What initially appear to be two very separate and distinct bodies of work (abstract painting and mixed-media photography) are in fact profoundly connected and interlinked, both inspiring people to connect with that part of themselves that makes them feel truly alive and magnetically present. It is art that celebrates bravery and courage, the path we walk to get to where we are, portraying our beautiful individuality, deep connected humanity and energetic bond to life. Immeasurably entwined into the narrative is our human connection, our connection to all other life and our expansive connection to the planet we live on.
Jake has exhibited internationally including in London, Brighton, Bristol, Glasgow, Barcelona, Rome, Paris, Vancouver, BC, Victoria, BC, receiving several awards along the way.
Teresa Wells
British artist Teresa Wells creates figurative bronze sculptures that celebrate the dynamism, resilience and the emotive capacity of the human body. Whether portraying figures in movement, dancing nudes or contemplative portraits, Wells has a knack for capturing human likeness in her art. Some of Wells' sculptures are life-size, whilst others are made smaller or bigger, reflecting either the intimacy or impact of each piece. Wells' art is inspired by the question of how humans behave, with a particular focus on the endurance and strength of the human body.
Bronze is integral to Wells' practice, not only because of its smooth and refined surface texture, but predominantly because of its extremely high tensile strength. The durability and ductility of bronze allow Wells to experiment with composition and arrangement, resulting in dynamic poses and energetic subjects. Wells uses the lost wax process to create her sculptures, and she often places her sculptures high up on plinths to enhance the sense of movement.
Pedro Sousa Louro
A textural tangibility is immediately evident in Pedro Sousa Louro's work. Earthy and material-focused, an unassuming beauty is found within the play between dark woods and a muddied palette. Furthermore, geometry plays a crucial role here, as clean white lines converse with blocks of muted colour. There is an almost archival, collage-like approach to the application of materials and hues, and it is as if Sousa Louro has assumed the role of archaeologist, unearthing layers of forgotten history. Educated at Chelsea College of Arts, Sousa Louro is one of the most talked-about LGBTQ artists at the moment.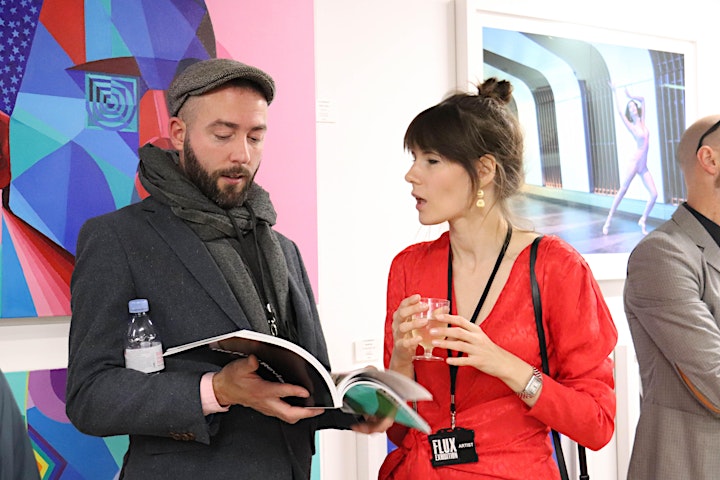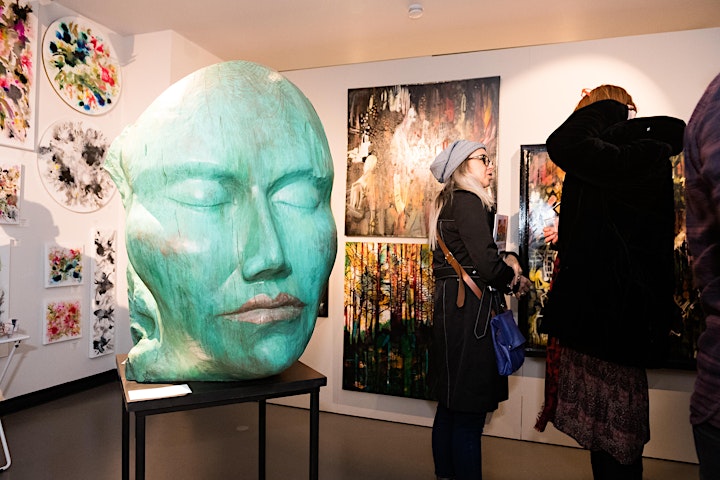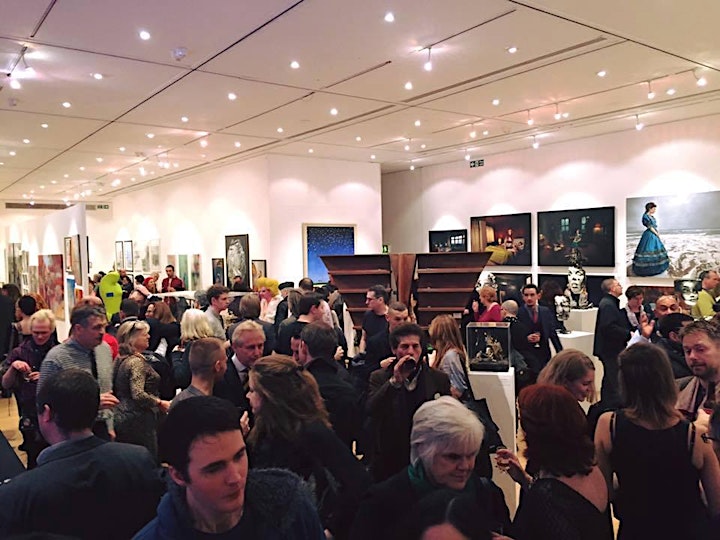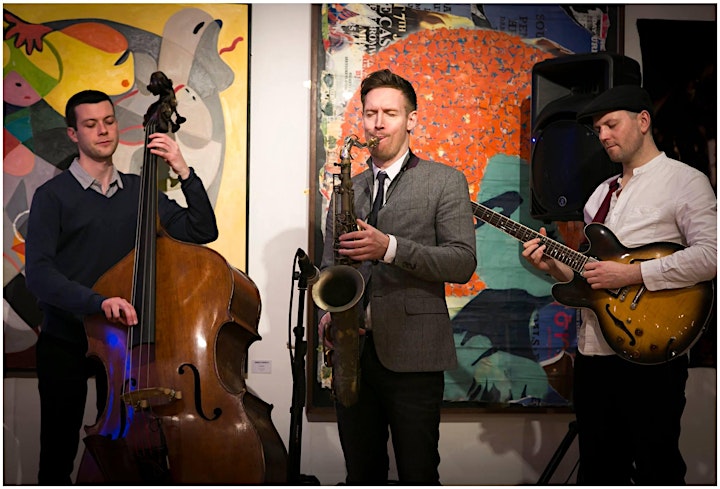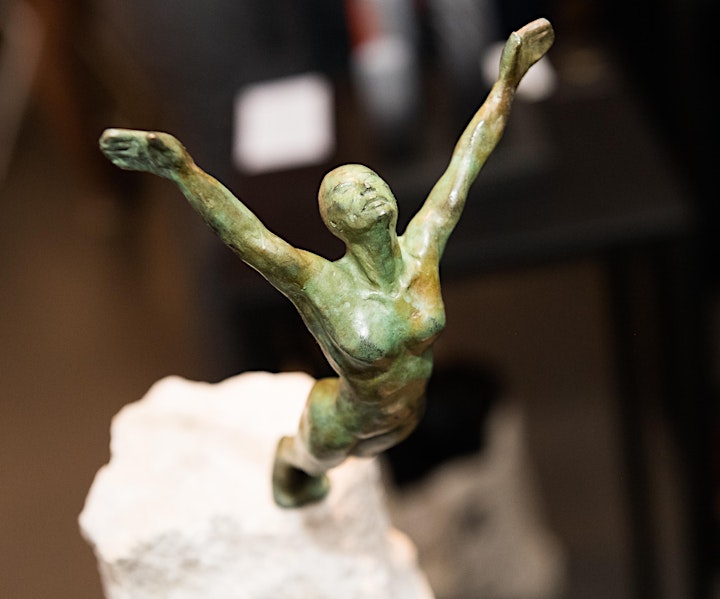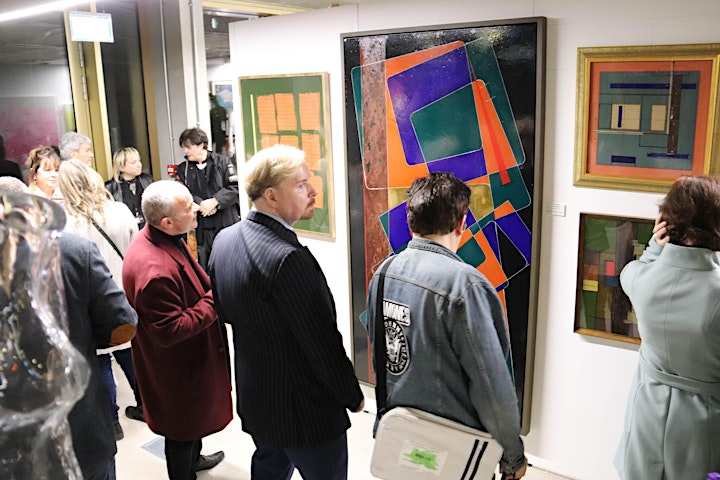 Location
Design District
Building C1
1 Cripps Yard, Soames Walk
London
SE10 0BQ
United Kingdom
Refund policy
Contact the organiser to request a refund.
Eventbrite's fee is nonrefundable.