FLY HIGH (High On Life Ecstatic Dance Retreat) Ecstatic Campout 2021
Join us for 5 magical nights in the wilds of Mid Devon! DJ & Live Music Ecstatic Dance, Cacao, Hammocks, Campfire and much, much more!
About this event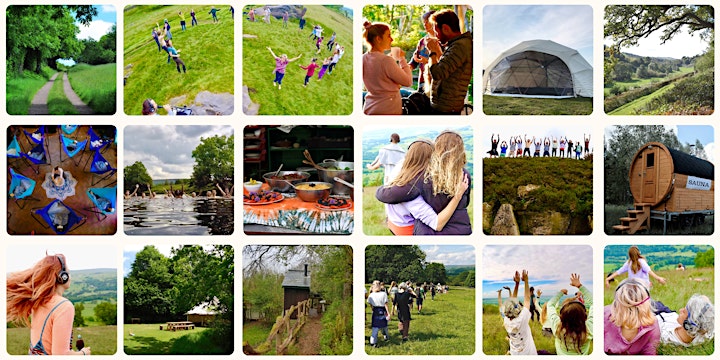 COVID-19 INFO
Our planned Ecstatic Campouts will be going ahead in our spacious outdoor venue in Mid-Devon! We were able to host 2 Covid compliant retreats last year in August and September and are very excited to offer Camps this year.
ECSTATIC CAMPOUT 2021
Get your camping gear ready & join fellow conscious dance, music, nature and healthy living enthusiasts! Our intention is to help spread inner peace, joy, relaxation and, a kind-hearted soul connection with Nature and your wider circle. And after the lockdowns and restrictions we are seriously in need of coming together in safe and secure ways!
This is a real invitation to get Back-to-Nature, is an Eco, Off-grid Solar Powered camping adventure and is held in a very beautiful outdoor setting with minimal infrastructure, (no electricity/no power etc) with awesome people who love nature, wellbeing, dance, movement, music and healthy living. 20-minute drive by car from Tiverton Parkway train station in Mid Devon (exact location will be provided to registered participants only). Surrounded by more than 90 acres of woodland and wild meadows you're totally welcome to wander in. Lots of stunning walks and a nearby river to swim in. Abundant nature and tranquil surroundings create an ideal atmosphere for our second annual Ecstatic Campout.
No experience required to join the retreats. All welcome!
A Digital Detox! We invite you to co-create this unique experience of togetherness with us! Attune to Nature, Dance on the Earth and beneath the Summer Sky! Beautiful dance temple space - as well as dancing outdoors and around the campfire, we will have a large outdoor shaded/waterproof dome space for all retreat sessions.
We're offering 4x different Ecstatic Campout Micro-Retreats from 5-30 August, see below overview of 4 camps. Book the whole month or individual retreats, you are welcome to stay onsite in between the retreats if attending any back to back retreats or the whole month (included in the cost). Numbers are extremely limited, book soon to avoid disappointment! Scroll down to Practical Information for costs.
💙RSVP and invite your friends on Facebook
*Respectfully Socially Distanced & Covid compliant* *Alcohol and drug-free environment*
OVERVIEW OF THE 4x DIFFERENT ECSTATIC CAMPOUT RETREATS IN AUGUST 2021:
1) ROOTS & WINGS: Bioenergetics, Breathwork & EcoTherapy Camp (Thu, 5 - Mon, 9 Aug) 4 days of: Bioenergetics, BodyMind Integration Practices, Breathwork, Ecstatic Dance with Sound System & Silent Disco Headphones, Active Meditations, Yoga, Relaxation, Yoga Nidra and Sound Journeys in Hammocks, Singing & Kirtan, Drumming, Nature Walks and delicious food.
2) RECLAMATION: Tantra & Conscious Connections Camp (Wed, 11 - Mon, 16 Aug) 5 days of: Conscious Connections, Authentic Relating, Tantra, Group Therapeutic Processes, Ecstatic Dance with Sound System & Silent Disco Headphones, Bioenergetics, Breathwork, Trance Dance, Active Meditations, Yoga, Drumming, Singing & Kirtan, Relaxation, Yoga Nidra and Sound Journeys in Hammocks, Cacao Ceremony and delicious food.
3) RESTIVAL™ : Yoga, Dance & Relaxation Camp (Wed, 18 - Mon, 23 Aug) 5 days of: Guided meditations, Yoga Nidra and Sound Journeys in Hammocks, Yoga & Yin/ Restorative Yoga, Gentle body-mind practices, Creative Flow Meditations, Nature Walks, Forest Bathing, Ecstatic Dance with Sound System & Silent Disco Headphones, Bioenergetics, Breathwork, Drumming, Singing & Kirtan, Cacao Ceremony and delicious food.
4) FLY HIGH: The High On Life Ecstatic Dance Camp (Wed, 25 - Mon, 30 Aug) SOLD OUT, WAITLIST ONLY 5 days of: Ecstatic Dance (Live & DJ music) with Sound System & Silent Disco Headphones, Various Body-Mind Integration Practices, Bioenergetics, Breathwork, Trance Dance, Active Meditations, Yoga, Drumming, Singing & Kirtan, Relaxation, Yoga Nidra and Sound Journeys in Hammocks, Cacao Ceremony and delicious food.
WHAT IS THE ECSTATIC CAMPOUT ABOUT AND WHAT TO EXPECT?
Ecstatic Campout is an experiential playground for co-creating transformational experiences.
It is full of Life-affirming transformational workshops beyond the old Drug and Alcohol paradigm.
Ecstatic Campout is an invitation to awaken the dancer within! Dance to feel alive, find your creativity and freedom through conscious dance!
Live music with outstanding musicians (FLY HIGH: High-on-Life Camp only)
Connection with ourselves and our bodies explored through a cross-section of approaches.
Learn powerful exercises for grounding, releasing fear/stress/ tension/ trauma from the body and developing deeper presence and body awareness.
Explore as individuals and a group, a wide variety of ecstatic dance and active meditation processes.
Using music, movement, ritual, and connection to achieve a unified field of being.
Rest, Relax & Rejuvenate
Attune to Nature and the living environment, release stress and come home to your Ecstatic-Self!
Experiential not-to-be-missed retreat!
♥ EXAMPLE DAILY SCHEDULE:
7:30 AM – 9:00 AM Good Morning Meditation/ Yoga
9:00 AM – 10:00 AM Yummy Breakfast
10:00 AM - 10:30 AM Free time
10:30 AM – 1:30 PM Morning Workshop
1:30 PM – 2:30 PM Magnificent Lunch
2:30 PM – 6:00 PM Free time/ Relaxation / Workshop/ Nature Walk / Yoga/ Massages
6:00 PM – 7:00 PM Delicious Dinner
7:00PM - 8:00 PM Free time
8:00 PM – 10:00 PM Evening Workshop
10:00 PM – 11:30 PM Campfire/ Singing/ Drumming/ Sauna
BELOW IS A VIDEO OF THE ECSTATIC DANCE FESTIVAL WE OFFERED IN PORTUGAL, 2019 (Filmed pre-covid)
WHAT TO EXPECT AT FLY HIGH CAMP?
Whether you are looking for a way to better deal with the everyday stresses of life, get away from the City life and connect to Nature or whether you just simply want to try new body-mind based exercises, dance & laugh, meet and connect with new people, we invite you to explore the tools & practices during this deep dive of the whole month or individual retreats and discover positive benefits for yourself.
MORE INFO ABOUT OUR WORKSHOPS:
ECSTATIC DANCE - Enter an open space...and with your bare feet explore the exhilarating feeling of moving your body freely. You are invited to move, play, connect, sweat, stretch, sound, unwind, renew, release, improvise, transform. Be true to yourself, while respecting your body, in this space that we co-create together. Warm-up: stretch, move/dance and reflect on the intention for the dance to a gentle sound wave. The Practice: freestyle dancing to a large sound wave featuring Live DJ set. Some guidance & facilitation will be provided. And then we will let the music, the community and our own inner space direct our steps, our movements, our expression, our journey. Ecstatic Dance usually ends with a relaxation.
BIOENERGETIC ALCHEMY™ - We work with our bodies to transform and to heal. A unique movement experience, where we begin to soften the muscular tension and chronic holding in our bodies through a series of gentle stretches, grounding and self-expression exercises.
BREATHWORK TRANSFORMATIONAL HEALING - Release Energetic, Emotional & Physical layers of negative imprints & conditioning. We will be exploring Neo-Reichian Breathwork- practice is a deep conscious, circular connected breathing and is a beautiful way to peel back the layers of the self, connect to essence, and embrace every part of yourself. Each participant becomes the leader of their own healing journey, towards wholeness and health.
DRUMMING - this is an off-grid Eco-Camping workshop. There is no power! We will have drumming & percussion workshops, drum circles. Experience the uplifting power of rhythm. Realign with yourself, aligning with others and go deep through rhythm & trance. Drums have been utilised in every culture down through the ages, for many purposes from religious rituals, ceremonies, and as a way to communicate. There is this interesting phenomenon called "Entrainment" which occurs when different vibrating objects/ particles/ or even people come into proximity: they will often start, after a little time, to vibrate together at the same frequency. They "sync up/entrain," sometimes in ways that can seem mysterious.
SINGING - As everything is vibrating so are we. There can be no sound without a vibration. Explore and let your voice be heard in a safe environment. Discover the joy of singing, the non-judgmental aspect of singing, the communal part of it, the part where differences are reconciled and we're all just in it together, that's the truly uplifting power of singing. The history of music and singing has always been communal. Meditate, sing or listen. Yes, even just listening can activate some of the oxytocin release, that social bonding hormone. A beautiful and powerful way to start/end our day together at the retreats.
AERIAL RELAXATION PODS™ - Each day we'll offer Relaxation/Breathwork/Sound journey in hammocks. Repetitive motions, like those experienced in the gentle rocking of a hammock, can soothe anxiety. Dr. Herbert Benson, founder of Harvard's Mind/Body Medical Institute, recommends repetitive movement to elicit your body's relaxation response. This reaction allows a lower heart rate, blood pressure, and muscle tension.
SOUND JOURNEYS - Multi-sensory sound journey experience with live ambient music, and aromatherapy to soothe your stresses away and lift your spirit! An immersive restorative experience inviting your body and nervous system into a deeply relaxed state. An opportunity to relax and reconnect with yourself through deep relaxation and guided meditation while basking in Cosmic, Ethereal Vocals and Electronic Soundscapes, Textures, Crystal Singing Bowls, Gongs and much much more .
YOGA NIDRA - Conscious Sleep Guided Meditation for Deep Body Relaxation and Mind Alertness. Yoga Nidra is an ancient form of guided meditative practice that focuses on breathing techniques, body sensing, emotional relaxation, and guided consciousness meditation. Be supported by our Aerial Relaxation Hammocks while you dive deep into the relaxation Journey. A very unique experience!
ACTIVE MEDITATIONS / YOGA - Get present with a selection of powerful meditation practices, wake up your body and ease your way into the day.
TRIBAL TRANCE DANCE - Dive deep into your Wild Nature. It's an invitation into deep liberation, driven by our breath, our intentions, and energy, and not controlled by our conditioned mind, we let go. Natural body movements and intuitive expressive dance are simply forms of an ancient pre-verbal language. It is an expression of intelligence of our creative unconscious. Honouring the evolutionary intelligence encoded in our cells!
GROUP SHARINGS / HEART CIRCLES - Speak your truth & let yourself be heard in Community. There will be many opportunities to share openly and intimately (small group sharings).
TANTRA / CONSCIOUS CONNECTIONS - For us, Tantra is the total experience of life, multi-dimensional human life! Of course, sex and sexuality are a part of life, we wouldn't be here without it. But it is not the main focus of our work. The main focus is on deepening our connection to the Heart! Tantra is an invitation to slow down and bring your awareness back into the present, back to your body and felt sense and to simple, yet, precious moments. Creating a safe and respectful space, we will explore simple exercises aimed at strengthening our ability to connect to one another and to become more comfortable with honesty and vulnerability. Learn to honour your personal boundaries, learn to enjoy your desire for intimate contact, and to communicate both with authenticity. Become more grounded and vital, more sensual and more connected with your feelings and your heart.
Tantra is about: -Developing our sensitivity to ourselves and what we are experiencing, - Allowing ourselves to be, and to be seen,- Developing love and acceptance for ourselves, - Becoming aware of the ways we shut down.
Physical contact: all exercises are designed not to involve any physical contact due to Covid, however if guidelines are eased at the time of retreat, physical contact will be optional. ''You never have to do anything you don't want to do'' is our mantra.
CACAO - Expansion of the Heart and Spirit through Cacao - the Elixir of the Gods! Cacao is the ultimate heart opener, it will give you energy, revitalise your BodyMind inviting you to express, release & unleash your creativity during the dance! Our Raw Vegan Cacao is prepared lovingly by Diana (who makes the best, velvety tasting cacao in town for sure!). She uses ethically sourced, highest quality ingredients from Guatemala, directly from a reliable cacao bean farmer.
... and much, much more with amazing people who love Nature, music and dance!
♥ VIDEOS OF THE SOME OF THE WORK WE WILL BE EXPLORING:
(Please note that some videos were filmed pre-covid!)


<<<<<*~ PRACTICAL INFORMATION ~*>>>>>
VENUE:
WHERE: Eco Campsite is located 20 minute drive by car from Tiverton Parkway train station in Mid Devon (exact location will be provided to registered participants only once the full payment has been transferred).
LIFT SHARES/TRAINS: Attendees will receive a link to a WhatsApp group to arrange lift shares and train journeys. Group discount applies on trains if travelling in a group of 3 or more, please check https://www.thetrainline.com for train tickets and train schedule. There are local taxi services and we will send a list with contact details to all participants. One way journey from station to venue will cost between £25-£28. We do encourage car & taxi sharing if possible as it's more eco friendly.
WHEN: FLY HIGH: The High On Life Ecstatic Dance Camp (Wed,25-Mon,30 Aug) You are welcome to stay onsite in between the retreats if attending any back to back retreats or the whole month (included in the cost).
ARRIVAL & DEPARTURE: We ask participants to arrive between 4-6pm on the first day to allow time to check-in, set up tents, explore the grounds and settle in before we start. Retreat will start with dinner at 6:30pm followed by a welcome session from 8pm. The retreat will end at 2:30pm after lunch on the last day and there will be plenty of time to pack down tents and depart. Please do not leave before the end of the retreat.
CAMPING: Camping for everyone in a beautiful camping terraces secluded by trees. Please bring your own camping gear: tent, mattress, sleeping bag or duvet, pillow, extra blanket etc. Get your camping gear ready and join fellow conscious dance, music, nature and healthy living enthusiasts! Very limited spaces for campervans for an additional cost, please select this option at the checkout. If coming by car, there is car park on site.
FACILITIES: Please note this is off grid, solar powered Eco Campsite. Compost toilets & hot outdoor shower, bucket shower & fire heated baths, beautiful nearby river swimming spot about 35min walk. There will be access to sauna & massages for an additional cost. As well as dancing outdoors and around the campfire, we will have a large, beautiful outdoor dome dance temple space for all retreat sessions so lots of fresh air and plenty of space to move around freely! Covered eating area, there is also an outdoor kitchen for all participants to use to make tea/coffee at any time.
FOOD: All meals are included (3 meals per day). The venue runs a vegetarian/vegan kitchen and does its best to meet the most common food requirements for guests such as gluten free and vegan and all dishes will be clearly labelled (in your order confirmation email will be a link to participant registration form which will include dietary requirements, please complete this). They try to source their ingredients, either from their own farm, or from local and mostly organic sources. Very delicious meals and plenty for seconds! All utensils are provided however you are welcome to bring your own if you wish to. There will be a washing up area to wash the dishes after each meal. Certain taps will be labelled: drinking water from the spring. Water has been tested and is safe to drink.
WHAT TO BRING:
We encourage all participants to have a Digital Detox during the retreat. There will be a secure place for everyone to leave their phones. Maybe bring a simple alarm clock so you can wake up for morning meditations.
-Camping gear (tent, pegs, mattress, sleeping bag or duvet, pillow, extra blanket, hot water bottle etc.)
-Camping chair if you have one (more comfortable for sitting around the fire)
-Reusable water bottle
-Yoga Mat & blanket
-Coffee & Cafetiere for coffee lovers (venue has limited cafetiere's so please bring your own if you have one)
-Torch (head torches are really useful)
-Lights to put inside the tent or around (solar powered or with batteries are a great option)
-Clothing in layers suitable for movement/ dancing
-Clothing & boots/shoes suitable for hiking/ outdoors
-Waterproofs or umbrella in case of rain
-Warm jacket or jumper for evenings as temperature will drop during the night
-Swimsuit/ swim shorts for sunbathing & swimming (river is 30 min walk away)
-Towel + extra towels for swimming/sunbathing & sauna
-Ear-plugs (if you're a light sleeper)
-Toiletries: (natural & biodegradable products please)
-Suncream & a hat/scarf for sunny weather
-Acoustic music instruments if you wish to such as guitar, ukulele, drums etc.
-Snacks such as nuts/dried fruit/flapjacks/ chocolate etc for when you get peckish
-Personal items such as phone/ charger/ card/ keys etc.
-Anything else you think will make the retreat and camping more comfortable for you!
PRICES:
COST: Honesty based pricing system is in effect
*HELPER/CONCESSION TICKETS: Limited availability! Please send an email to us if you are interested in joining as a helper: youareyoubeyou@gmail.com We will then send you a link to the discounted helper/concession ticket.
What will be expected:
If attending the whole month, arrival for helpers earlier on Wed, 4 Aug by 1pm, departure for helpers on Tue, 31 Aug after 6pm to help with set up & pack up.
If attending individual retreat, arrival for helpers on the day by 1pm, departure for helpers on the day after 6pm to help with set up & pack up.
Throughout the retreat help with session set up as and when required, about 1.5h per day. More details will be provided once you've booked helper ticket.
PAYMENT:
• Deposit via Eventbrite to reserve your space (non-refundable, unless the retreat is cancelled due to Covid restrictions). We have set a donation option to reduce your ticket fee cost. Any tickets that are booked below the indicated donation amount will be refunded immediately. 1 ticket per transaction, please. Limited spaces & ticket availability.
• Remaining balance via Bank transfer. Once you have booked a deposit ticket, please check your Eventbrite order confirmation email which will include bank details to transfer the remaining balance. You are welcome to make transfers in instalments. All balance to be settled 1 month prior to the start of the retreat.
EVENTBRITE ORDER CONFIRMATION: Email might be in the spam folder. Please check. It should be the same email address you registered your ticket with. Do not print any paper tickets, we will check you in by your name.

THE SMALL PRINT, DO READ THE SMALL PRINT!
We offer this retreat in order to support the growth of physical and mental wellness as well as nature awareness in the world. It requires many hours of organisation and planning. We ensure we have sufficient funds to do this with the following policy:
- Participants join the retreat at their own risk. Urubu School of Transformational Arts accepts no responsibility for spontaneous joy, open-heartedness or sore cheeks from too much smiling.
- Unfortunately no dogs/ other pets are permitted on site.
- Pictures/Videos: Please be aware that from time to time some workshops may be photographed or filmed for educational, quality or promotional purpose (this happens occasionally).
CANCELLATION POLICY: - Due to situations beyond our control, URUBU School or Transformational Arts reserves the right to change booking or cancel the retreat and shall inform the customer as soon as possible. You may transfer your full payment to another retreat or you may request a refund of your payment to us, constituting a full settlement. Alternative arrangements will be offered but we do not accept responsibility for any costs incurred, including travel. URUBU School or Transformational Arts is not responsible for your expenses incurred in preparation for any cancelled retreat such as travel costs, loss of work, and/or other costs associated with preparing for your trip. As organizers of this retreat, we do not take any responsibility for any matters beyond our control or for any COVID related matters that occur during the retreat.
- We do not offer refunds if you cannot attend though If you won't be attending, please do let us know ASAP. You are welcome to pass on your ticket to a friend, colleague or family member or consider gifting your place to someone else - there are many people in our network who do not have the funds to attend such retreat. However please let us know name and email address of the person attending in your place for track & trace purposes (send us an email with replacement person's details to: youareyoubeyou@gmail.com).
- If you are showing COVID symptoms, please do not attend the retreat. No refunds will be issued. Sorry. If you develop any COVID symptoms during the retreat, you must inform the organizers straight away. You will be expected to return home immediately for both your own safety, and for the safety of the group. stay in your own home while you self isolate. No refunds will be issued. Sorry. You may wish to consider an insurance policy to cover the risk of illness.
FACILITATORS:
Seth Newman: As a coach, Seth is dedicated to helping people calm, empower and rejuvenate their busy minds and bodies to achieve the best versions of themselves. Seth brings a wealth of experience holding heart-centered spaces.
As a musician, Seth is very passionate about rhythm & drumming, has an MA in Community Music from Goldsmith College, worked as a world music percussion teacher in East London schools for almost 20 years and started URUBU collective back in 2009 as a Live Music Ecstatic Dance experience with Afro-Brazilian drummers & musicians.
Seth has been running various body-mind integration classes and workshops for many years. His inspiration comes from many sources including Humanistic & Body Psychotherapy, the Human Potential Movement, 5 Rhythms, Tantra and Active meditations.
Diana Upite: Trained in classical music from a young age, and later in contemporary music, Diana carries a life-long passion for singing, improvising and re-imagining traditional Celtic and folk songs with her own melodic vision.  A singer at heart, she connects deeply with the melodies and harmonies of ancient Europe and beyond.
Diana is passionate about bringing practices of rest and embodiment to others. Through her singing, her intention is to guide you on a journey of reconnection and self-discovery, reuniting you with the source of who you are.
Diana also has a keen interest in making delicious raw chocolates and raw cacao drinks for cacao ceremonies, private clients and is constantly experimenting with new flavours. She is a co-creator of many URUBU wellbeing classes, workshops and retreats.

♥ FEEDBACK FROM PREVIOUS RETREATS:
"That was a very beautiful experience. An amazing journey inward & out. To express in a free space filled with joyful vibes & gorgeous smiling faces. In sound, in rhythm, in motion, in colour, in sweat, the Dance, the Soul." Cath
"The smiles, the kind eyes, the bits when I lost myself in the music, the joy of the moments when it felt as if the whole room was jumping in unison." Salvo
" What a profound experience! The music was so beautiful ... it carried me effortlessly inward facilitating a deep connection to Spirit, moving my body in a way that I felt I had little control over. It was magical! Thank you " Ashley
"Thank you guys. This was an exceptional experience of deep healing, awakening, and opening. I feel so light, peaceful, and full of Love. Through the workshops we took, I touched some of my wounds, gently but deeply releasing and healing what was ready to be alchemised. Thank you to all the other lovely participants. Please organise the next one soon! " Tanja
" The workshop gave me the opportunity to go deeper into my body and discover new experiences which I hadn't been able to tap into before. It was a good mix of different exercises, and I had a really blissful experience with the breathwork." Vijay
" I feel so grateful I had the opportunity to attend this workshop. I felt that Seth, through his presence, allowing, way of being, created a very unique, safe space in which I could release, discover, explore and meet different aspects of myself. I was amazed how during the two days I was – often unexpectedly and gently – led to bring forth and embrace a child, an ancient woman, an animal, a spoiled brat, a mother, a lover, a goddess… Also through Seth's guidance and suggestions I felt within very short spaces of time both my immense sorrow/yearning/pain and my immense joy/gratitude, realising how close to each other these seemingly opposites are. Today I feel a more solid belonging in the world, and a heightened awareness of the soles of my feet on the floor, like the earth, was more magnetic!" Maria

*RESPECTFULLY SOCIALLY DISTANCED & COVID COMPLIANT*
We hope that by August Covid restrictions will be eased and our planned Ecstatic Campouts will be going ahead unless government restrictions are still in place and we need to cancel (in which case we will offer a full refund). We were able to host 2 Covid compliant retreats last year in August and September and are very excited to offer Summer Solstice retreat and Ecstatic Campouts in August this year.
SAFETY GUIDELINES & PREVENTION MEASURES:
We kindly ask that you respect and follow the below outlined safety guidelines. We ask that each participant takes full responsibility of their own health and wellbeing during this retreat. We reserve the right to exclude and ask to leave any participant who does not honour the below safety guidelines:
NUMBER OF PARTICIPANTS: Retreat is limited to a small number of attendees within UK Government guidelines at the time.
CONTACT DETAILS: name and contact details will be kept for 21 days by the organiser for track and trace purposes. If you have booked 2 or more tickets under your name, we will need to obtain name & email address from other attendees.
CHECK IN: please arrive from 4pm on the day for the check in. This is to avoid overcrowding and ensure smooth check in for all participants.
TEMPERATURE CHECK: upon the check in. Anyone with temp above 37.50C will not be allowed to join the retreat and will be asked to leave immediately. No refunds, sorry.
SYMPTOMS: If you are showing any Covid-19 symptoms (a high temperature, a new, continuous cough, a loss or change to your sense of smell or taste) please DO NOT attend the retreat. Any participant repeatedly coughing during the retreat will be asked to leave immediately. No refunds, sorry.
SOCIAL DISTANCING: We ask that all participants keep at least 2m physical distance at all times. If you would like to wear a face covering at any point during the retreat, that's fine.
PHYSICAL CONTANT: All sessions are carefully designed and do not involve physical contact. If you are attending the retreat with your beloved or with your social bubble, it's up to you to communicate your boundaries of physical contact.
WORKSHOP SPACE: As well as dancing outdoors and around the campfire, we will have a large, beautiful large outdoor dome dance temple space for all retreat sessions with big windows and doors so lots of fresh air and plenty of space to move around freely!
HAND WASHING: Wash and sanitise your hands regularly and after using the bathroom. All touch hotspots will be regularly cleaned with disinfectant throughout the retreat.
ACCOMODATION/SHARED FACILITIES/MEALS: Camping for everyone (bring your own camping gear: tent, mattress, sleeping bag or duvet, pillow, extra blanket etc). Antibacterial wipes and hand sanitisers will be provided during the retreat. All meals will be prepared for us by experience chefs. There is an outdoor kitchen for all participants to use for making teas etc and we ask that everyone takes extra care to wash hands before and after the use of the kitchen. Please wash your dishes properly. All utensils are provided however you are welcome to bring your own if you wish to. Raw Vegan Cacao will be prepared in a clean kitchen and served in eco friendly paper cups.

Organiser of FLY HIGH (High On Life Ecstatic Dance Retreat) Ecstatic Campout 2021
Our intention is to offer a VARIETY OF TRANSFORMATIONAL EXPERIENCES designed for supporting you in your personal life journey, enhancing community wellness and togetherness. We bring a wealth of experience, knowledge, heart centred and humanistic approach into all our work. We create and facilitate all our workshops and continue to develop new practices which we are very excited to share!
Originally formed in 2008 as a Live Music Ecstatic Dance Collective 'Urubu' by founder Seth Newman, has since developed into a holistic wellness event organiser based in London facilitating Workshops, Retreats, Festivals & Trainings for living a Healthy and Embodied Life!
Pioneering Conscious and Wellbeing Events since 2009 in London and UK!
Ecstatic Dance London (DJ, Live Music & with Silent Disco Headphones)
Body-mind Integration Practices
Active Guided Meditations
Creativity Coaching
Cacao Ceremonies
Gong Baths & Sound Journeys
Aerial Relaxation Pods & Sunday Hammock Sessions
Conscious Connections & EcoTantra
and much much more! COME ON A JOURNEY WITH US TO DISCOVER YOUR TRUE SELF!
URUBU - You are you, be you! 
INSTAGRAM: @urubu_school_of_transformation, @ecstaticdance_london  #urubu #youareyoubeyou #ecstaticdancelondon
FACEBOOK: www.facebook.com/EcstaticDanceLondon, www.facebook.com/urubucollective