Description
On Wednesday 8th June, KJ West One will team up with Focal and Naim Audio to host an exclusive UK premiere of the newest Focal loudspeaker, Sopra N°3.
Announced at the High End Show in Munich, the new Sopra N°3 features the original Sopra technologies in a speaker developed for larger listening spaces, making it an ideal partner for Naim high-end Classic and 500 Series systems.
Sopra N°3 perfectly combines dynamics, space optimisation and harmonic richness. With its two 8¼" (21cm) woofers, this loudspeaker offers solid, rich and perfectly defined bass for music lovers looking for optimum performance.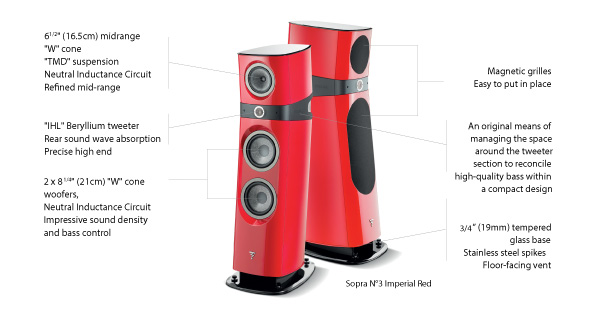 Throughout the event, we will be demonstrating the Naim range from Mu-so to the 500 Series and in our main demonstration room will be Naim's flagship Statement amplifier powering the Sopra N°3. This event will be the perfect chance to discover the results that Naim are able to achieve from their entry products to their reference pieces.
Naim's UK Sales Manager Jason Gould and a representative from Focal will be on hand to give insider knowledge and expertise on the products.
Refreshments will be available on the day.
Space will be limited and our recent events have been extremely popular and filling up fast so we recommend registering soon to avoid missing out.
Sopra N°3 will retail for £15,750 (per pair) and will be available from June 2016.