Event Information
Location
The Jago
440 Kingsland Road
London
E8 4AA
United Kingdom
Description
This night is a very special one because this is where everything started 9 years ago!
Our very first event was at Passing Clouds, now
The Jago.
We would like this night to be full of colours, joy and rhythm with
AWALÉ
fronted by the charismatic
Biram Seck
from Senegal and
DialloKora
a Kora master from Guinea Conakry for an exclusive acoustic session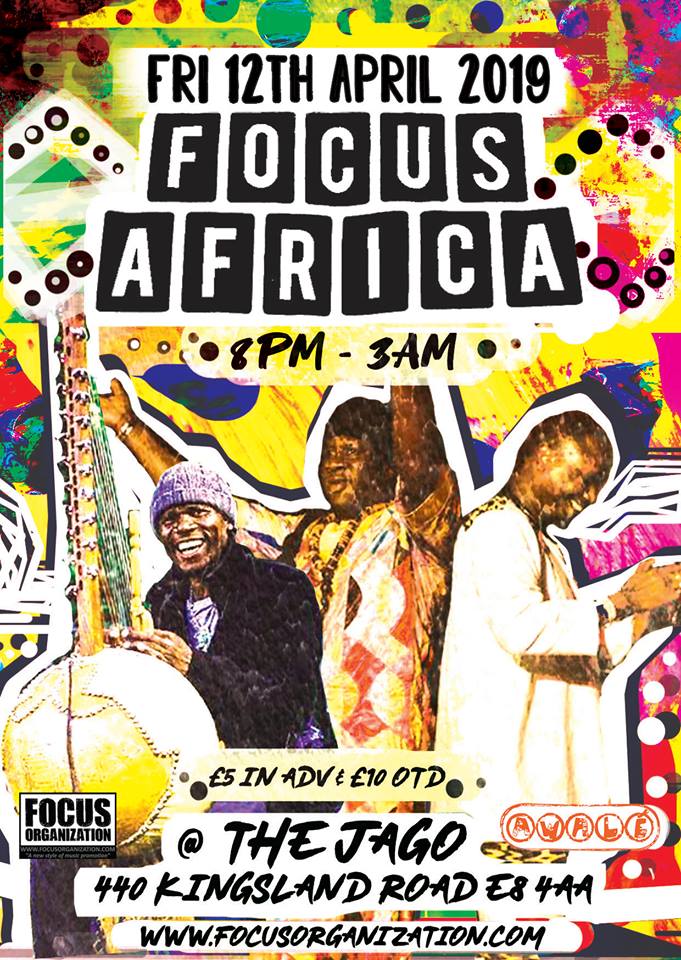 Only £5 Advance - £10 on the door
DJs will be playing the Best Afrobeat, Afrobeats, Azonto, Coupe' Decale', Kuduro, Afro house etc...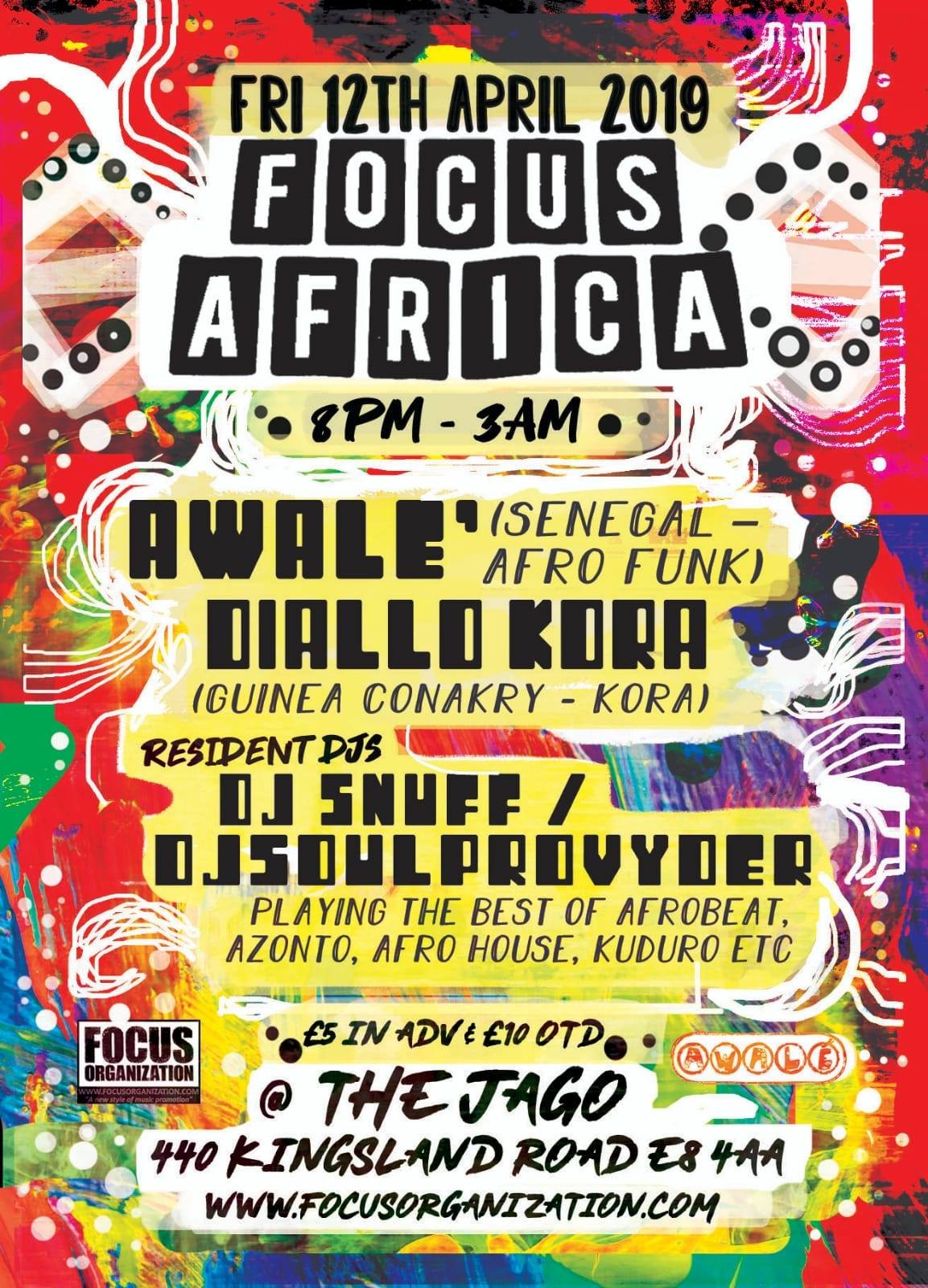 London-based band Awalé returns with a new sound, Senegalese soul. Biram Seck's soaring voice evokes messages of love and peace, underpinned by heavenly poly-rhythm groove explorations. Intense and spiritual Sabar Senegalese percussion and Afro-Latin drums conversations, weaving intricate guitar patterns and horn lines with catchy bass riffs. Like a spinning kaleidoscope of sounds, their tunes travel from afrobeat to soul, deep Afro-jazz to Latin. Awalé is on a mission to experience happiness together in these fractured times.
'A truly magical and uplifting cross-cultural collaboration, bringing together Afro-latin, funk and soul elements with a Senegalese twist. The wonderful voice of Biram Seck and Thibaut Remy's compositions make for an unmissable combo. Must See!' - Tim Garcia (Jazz FM/Musica Macondo)
'Most Impressive, echoes a lot of greats like Orchestra Baobab and Youssou N'Dour but with very much it's own sound' - Jamie Renton (DJ, fROOTS)
A Kora master from Guinea Conakry
As a record collector and DJ since 1991 DJ Soulprovyder originally started playing 70s soul jazz funk and rare groove alongside a ten piece funk band called Black 2 Basic. They ran a live music jam session for over ten years called "Spontaneous Construction". His current sets include a selection of past and present music with a flexibility of joining the dots and crossing over many musical genres, journeying from his disco and afro latin jazz funk roots to a deep electronic tech house sound.
Ian has played at many venues across London over the years including Ronnie Scotts, Jazz Café, Koko, Sketch, Momo's, East Village, Plan-B, Trapeze, POW to name a few as well as big festivals such as the Isle of Wight and V Festival for the award winning Barcardi B-Bar. In 2013 he had the honour of being asked to DJ at the legendary Southport Weekender (SPW) afterparty in the SunCeBeat Dome arena. 2014 had him playing at the second Love Supreme Jazz Festival in the Matua Bar with the Jazz FM DJ's.
He became one of the resident DJ's at the SUNSPLASH FESTIVAL in Turkey since its inception in 2009 playing alongside artists and djs such as Louie Vega, Kenny Dope, Giles Peterson, Norman Jay, Phil Asher, AtJazz, Shuya Okino, Zara McFarlene, Osunlade, and Karizma.
aka Dogon Dagda, dipping deep into Afrobeats, Afroswing, UKG, Broken Beats, Kwaito, Azonto, Sungura, Ndombolo, Coupe Decale, Singeli, Kuduro, Gqomwave and Afrohouse vibes for the dancefloor.
West Belfast raised. South London based. Rooted in Hip-Hop, DJing at breakin' (break-dance/house-dance) events from an early age as part of Belfast City Breakers in the early to late 90's. Regular party starter in London town since 2000. A frequent dj at club and dance events across east and west Africa since 2010. Regular at many of Kampala's underground clubs. Scratch dj in the Congo Natty live band. Has been tour dj for artists as diverse as Snoop Dogg, Roots Manuva, Maverick Sabre and Shadia Mansour. Been a member of numerous Hip Hop groups. Organiser of many iconic events. Dancers choice DJ for parties, cyphers and battles run by House Of Absolute, Rain Crew, Foundationz Crew, Floor Rippers and Breakfast Jam Uganda. Often collaborating live with musicians and vocalist. Known for having an unquenchable and unpredictable thirst for fresh and exciting rhythms, from the homegrown sounds of London's diverse underground bass culture, to the roots and cultured sounds of original soul funk breaks, jazz and hip hop, deep house to deep crates of jungle, reggae and dancehall, kizomba, baile and reggaeton to the freshest popular and alternative sounds of the African continent and diaspora. Whether djing at dance workshops, concerts, festivals or basement jams, this Irish man got layers of flavour.
www.focusorganization.com
Date and time
Location
The Jago
440 Kingsland Road
London
E8 4AA
United Kingdom
Refund policy