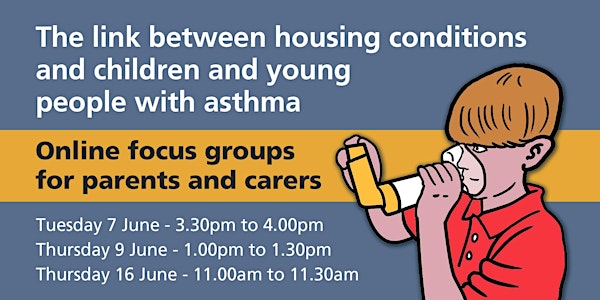 Focus group for parents and carers of children and young people with asthma
Half-hour focus group aimed at parents and carers of children and young people to look at the link between poor indoor air quality, housing
About this event
These 30-minute focus groups are aimed at parents and carers of children and young people living in West Yorkshire. If you live in another part of the country, you are also welcome to attend. We want to get your thoughts on the content of draft patient information leaflets. The leaflets look at the link between damp, mould and poor indoor air quality in the home with asthma.
Your feedback will help to improve the leaflets and make sure that they meet your needs and the needs of other parents who have children and young people with asthma. We are developing the leaflets together with NHS England, initially as an online resource, and which we hope will become a nationally available source of information for any family experiencing asthma.
We are running the same focus group on three different dates so you can choose which one suits you best. Please only register for one of the groups. The dates and times are:
7 June from 3.30pm to 4pm
9 June from 1pm to 1.30pm
16 June from 11am to 11:30am
Attendance is voluntary, and by attending you consent to take part in this virtual focus group and confirm you are the parent or carer of a child or young person under the age of 18 with confirmed or suspected asthma. We will send you the joining instructions once registration closes for each event.